Stunt drivers, beware: This Las Vegas intersection has rumble strips
Updated March 29, 2023 - 6:59 am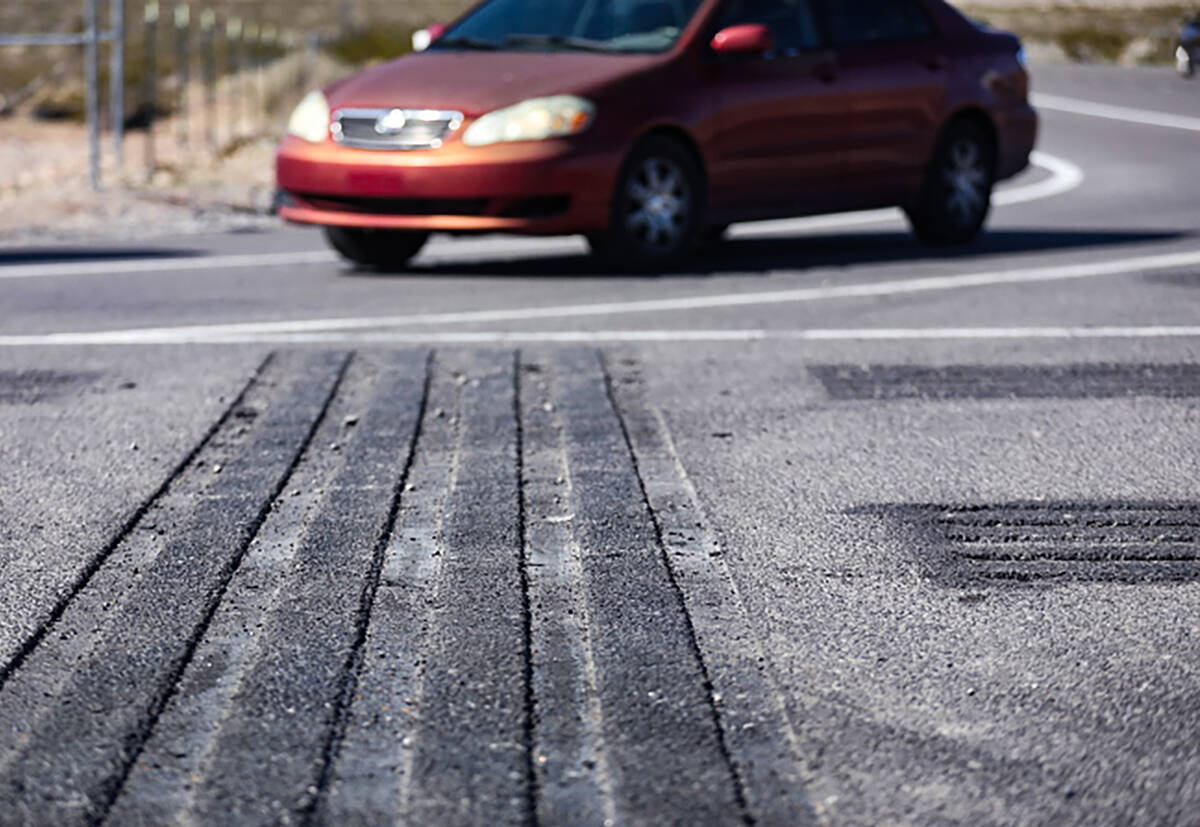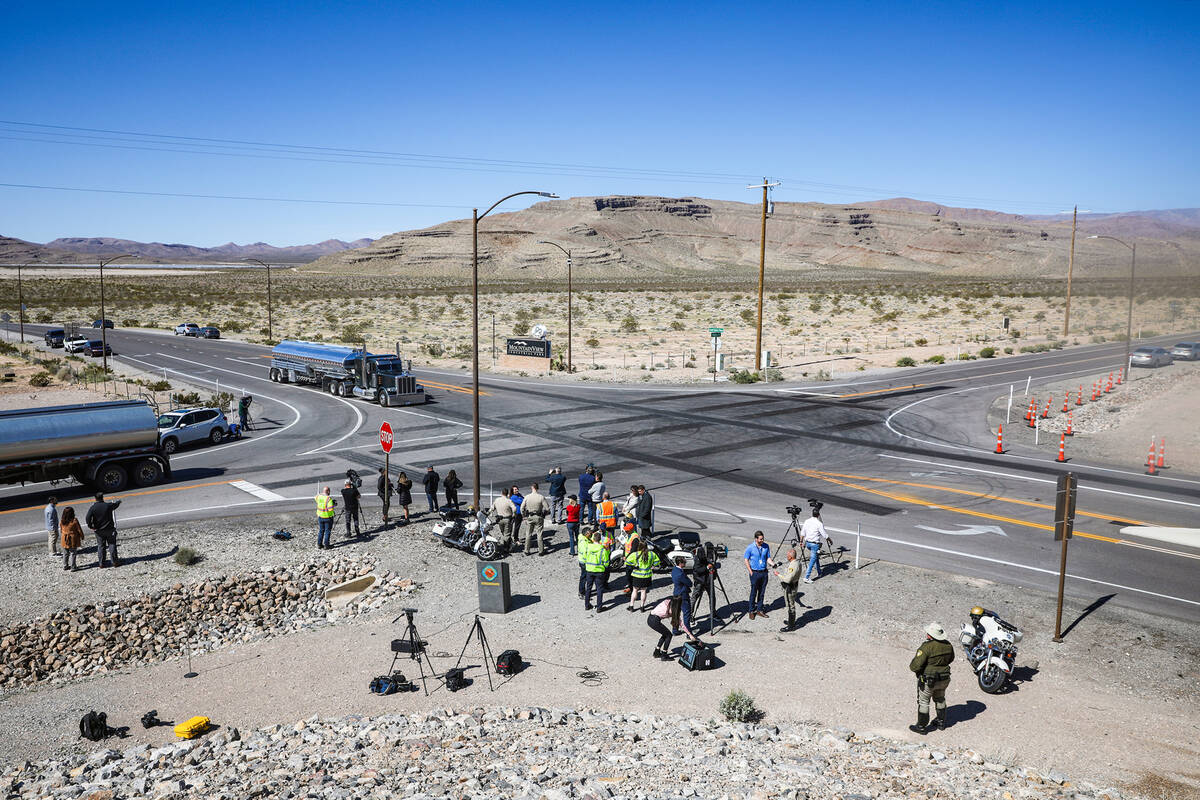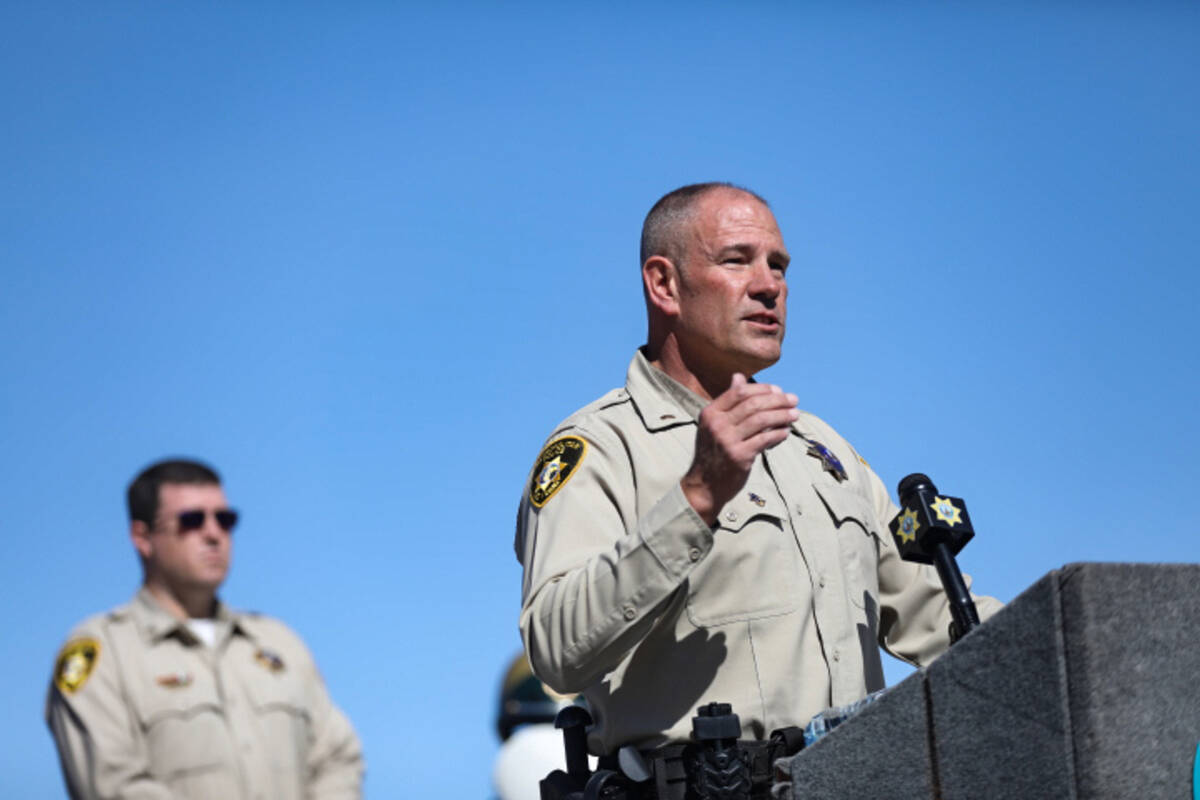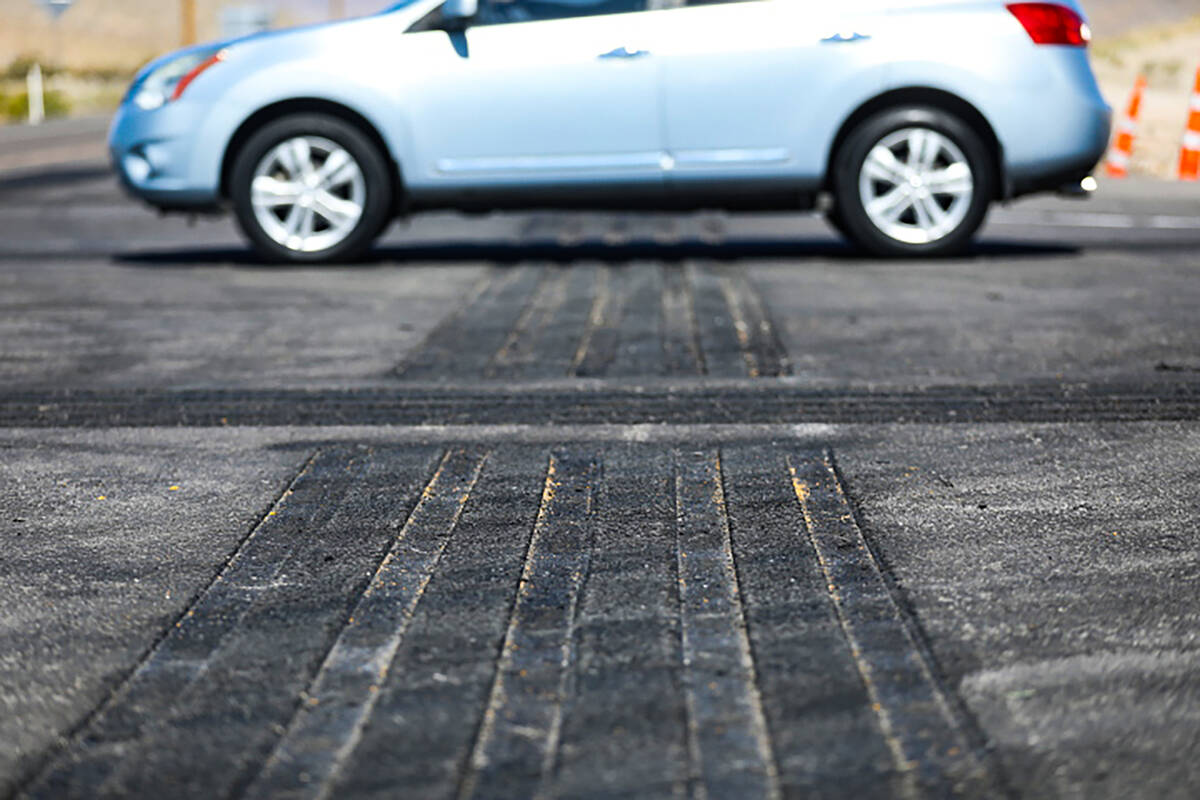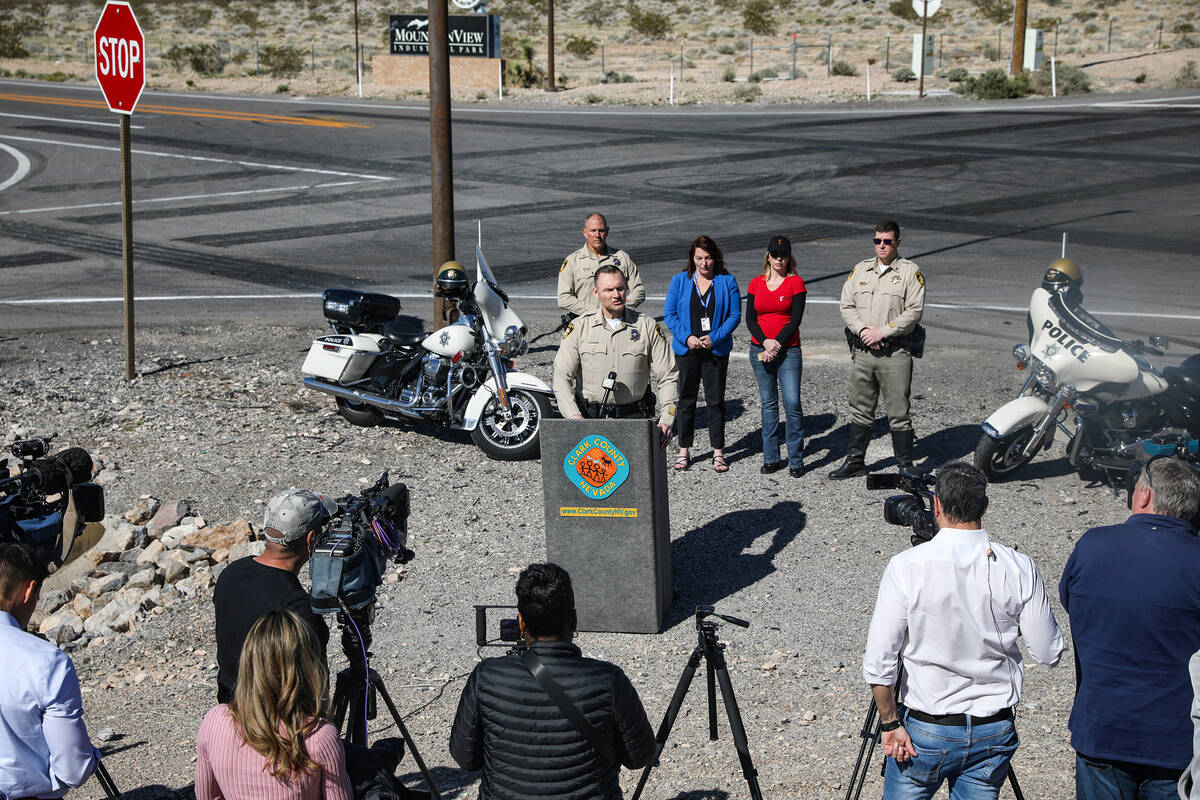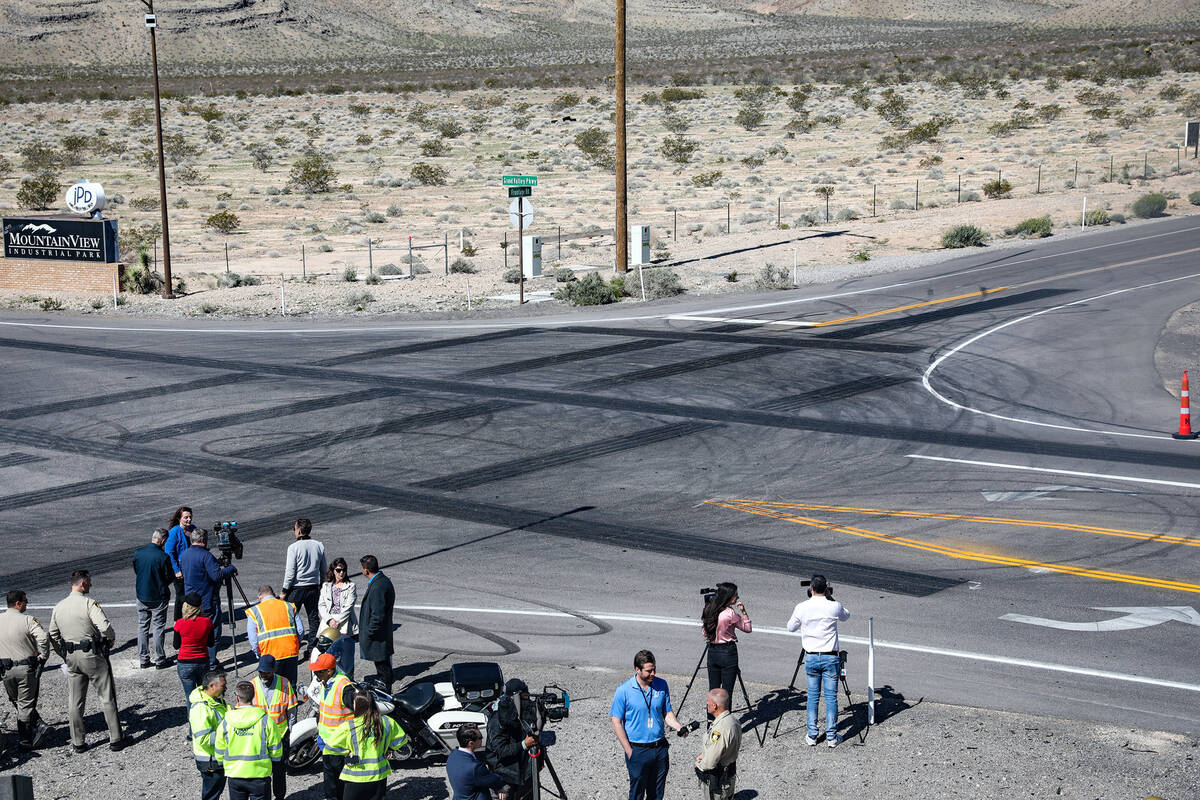 A new latticework of rumble strips at a remote Las Vegas Valley intersection was unveiled Tuesday as part of an effort to cut down on so-called street takeovers.
The takeovers, which feature swarms of souped-up cars doing burnouts and doughnut maneuvers, threaten public safety but also block the movement of trucks moving fuel from a nearby fuel terminal to the city, police and other officials said in a news conference Tuesday morning.
"It's a growing trend that has to be stopped, and that's why we're here," said Lt. Daryl Rhoads of the Metropolitan Police Department's traffic bureau.
The rumble strips, which crisscross the asphalt at Grand Valley Parkway and U.S. Highway 93, a desert intersection about 2½ miles northwest of Interstate 15, cost about $70,000, said Nevada Department of Transportation spokesperson Justin Hopkins. The money came from NDOT's maintenance budget.
Asked why the Grand Valley and U.S. 93 intersection was chosen instead of an intersection in a more populated residential area, Hopkins said in an email that it was picked because it has been a "hot spot for illegal street racing and drifting."
He also said the intersection "is an NDOT right-of-way, unlike some other intersections which are under the control of Clark County or a municipality."
The strips, which are basically long divots dug into the asphalt, are intended to deter drivers who spin their cars out in what is often a show for other drivers and spectators. Commonly seen on highways as a means for rattling drivers awake if they start to fall asleep and their car then begins to drift off the road, the rumble strips are being used for the first time in the valley to stop reckless driving, said Metro Traffic Bureau Capt. Jeff Coday.
"These events demonstrate a complete lack of regard for the safety of those involved as well as citizens attempting to use these public roads," Coday said of street takeovers, which he said often involve dozens or hundreds of participants and spectators.
Grand Valley and U.S. 93 is also the only intersection in the valley with such anti-stunt driving rumble strips, and it's being used as a pilot project, officials said. If it proves effective in deterring street takeovers, the rumble strips could be installed at other intersections. The project is a collaboration between Metro, NDOT and Clark County, Coday said.
Rhoads said that trucks delivering fuel from a nearby fuel terminal have been blocked from passing through the intersection during such takeovers.
"We had drivers driving these semitrucks, delivering fuel to Las Vegas, that couldn't make it through this intersection because of this illegal activity," Rhoads said. "Absolutely ridiculous."
The ability to get fuel to Las Vegas became an issue in February when the Calnev fuel pipeline, which supplies gasoline, diesel and jet fuel to parts of California and Nevada, including Las Vegas, was shut down after a leak was detected, prompting fears of shortages, a run on local gas stations, and emergency declarations from both Gov. Joe Lombardo and Clark County.
Marlys McGrew, the chief legal officer for Rebel Oil, said a situation occurred around the Memorial Day weekend in 2022 when the company's truck drivers reported street racers were blocking them from getting through the intersection. McGrew said the intersection is crucial to getting fuel from the terminal, which gets fuel from the UNEV pipeline that stretches from Utah to the Las Vegas Valley.
"Fingers crossed that it works," McGrew said of the rumble strips.
Contact Brett Clarkson at bclarkson@reviewjournal.com. Follow @BrettClarkson_ on Twitter.