6 weekend events to kick-start spring break
April 10, 2014 - 10:59 am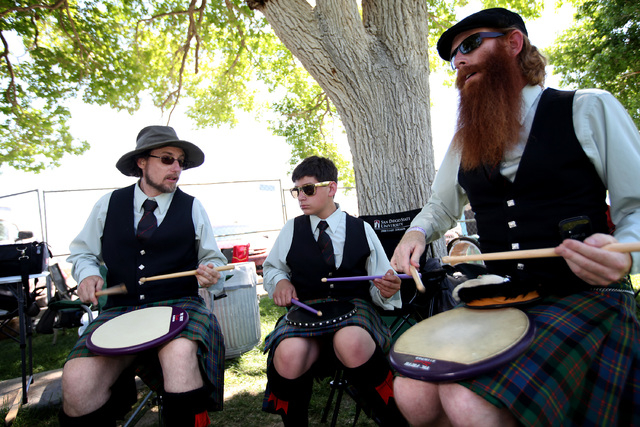 Spring break is right around the corner for the Clark County School District. Instead of struggling to find a babysitter this weekend, we have six suggestions of how to kick-start your kid's week.
For those of you not on spring break, fear not! All events are family-friendly.
Festival of Communities at UNLV/GREENFest
For the second year, GREENFest is joining forces with UNLV's 18th Festival of Communities. The festival celebrates the cultural diversity of the school and Las Vegas. GREENFest will be providing activities honoring National Earth Day. The event website says this year's festival will feature Bavarian dancers, ballet Folklorico, Ethiopian dance, local rappers and hip-hop performers, Taiwanese pop dancing, kung fu, Thai dance, Irish spoon dancing and Taiko drumming. This year's festival will have 250 booths, food from around the world, family-friendly activities, live entertainment, raffles, various exhibitors and on-site pet adoption.
When: Saturday, 11 a.m. until 6 p.m.
Where: Center of UNLV campus, Tropicana Avenue and Maryland Parkway
Cost: Free
2014 Las Vegas Highland Games
Maybe you're in the mood for some bagpipes?
The Highland Games are put on every year by the Las Vegas Celtic Society. They bring together Celtic games such as the caber toss and hammer throw, piping, Highland dance competitions and a whole lot of fun for the whole family. Enjoy the great scenery of the park while embracing Celtic culture.
When: Saturday and Sunday
Where: Floyd Lamb State Park, 9200 Tule Springs Road
Cost: Free for children under 5, $10 for active military/police/fire, seniors over 60, children 6-12, $15 for 13+
Wet 'n' Wild opening for the season
Southern Nevada's "bigger 'n' best water park" is opening for the season on Saturday, with a lot of new features. The Tornado is a new ride opening this season, catapulting you 36 feet through the air into a 110-foot tunnel. It's bound to make grandma sick, but put smiles her grandkids' faces. The park will be open more days and for longer hours this season, staying open some nights until 10.
When: Opens Saturday through September
Where: 7055 S. Fort Apache Road
Cost: There are many packages available including season and group passes, but general admission starts around $40 for the day for those above 42 inches and $30 for those below
Sin City Rollergirls Double Header
Yes, this exists outside the movies, and yes, it's awesome.
The Fabulous Sin City Rollergirls are continuing their ninth season at the Riviera this Saturday night with a double header: Flying Aces vs. Hoover Damned at 6 p.m. and The Notorious VIP vs. season 8 champions Tommy Gun Terrors at 8 p.m. They say two full bouts may be a lot for first-time derbygoers so anyone is welcome to watch only one. This event is family-friendly.
When: Saturday, doors open at 5:30 p.m.
Where: Grande Ballroom, Riviera Hotel and Casino, Las Vegas Strip
Cost: Children under 10 are free, tickets available for $12 until 3 p.m. Saturday or at the door for $17 (cash only), with discounts for military, fire, police and EMT
Henderson Stroll 'n Roll
Get ready for the best detour of your weekend. The Stroll 'n Roll follows in the footsteps of the Ciclovia celebration in Bogota, Colombia, where the streets are closed to cars and all other wheels are welcome. It's a street fair with fun and games for the whole family that provides an exciting way to get outside and take advantage of this great spring weather. Rollers are encouraged to bring bicycles, strollers, skateboards, roller skates or just to walk (free bicycle valet available).
When: Saturday, 10 a.m. – 2 p.m.
Where: Starting at Henderson Multigenerational Center, 250 S. Green Valley Parkway, to Valle Verde Drive
Cost: Free and open to the public
2nd Annual Spring Cleaning Event at Galleria at Sunset
Spend your Saturday helping those in need at Galleria of Sunset.
The Las Vegas Rescue Mission will be on site accepting donations of nonperishable food, clothing, bedding, small electronics and more. Retail discount vouchers will be given to those who donate $5.
When: Saturday, 11 a.m. – 4 p.m.
Where: Galleria at Sunset mall, 1300 W. Sunset Road, Henderson
Cost: Free and open to the public
For more local events, visit http://calendar.reviewjournal.com/
Contact Kristen DeSilva at kdesilva@reviewjournal.com or on twitter @kristendesilva.