'A Streetcar Named Desire' pulls up at UNLV
October 7, 2011 - 1:00 am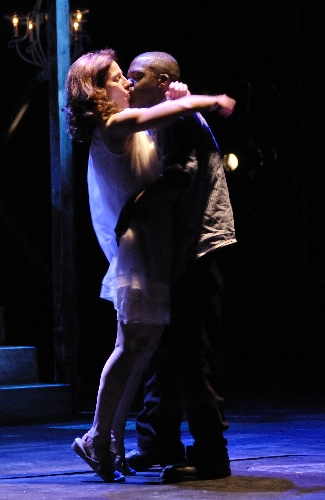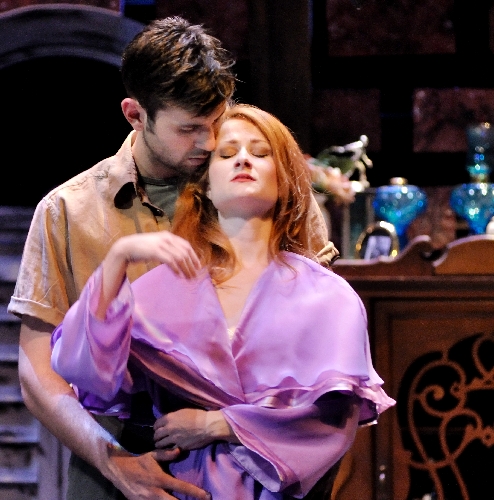 Dress rehearsals?
Try undressed rehearsals.
Dude's bare-chested about as much as he's T-shirted.
Either way, GQ photographers aren't likely to descend on Stella and Stanley Kowalski's place on Elysian Fields Avenue.
That's as it should be in the gritty world Tennessee Williams conjures in the classic "A Streetcar Named Desire," interpreted by Nevada Conservatory Theatre starting this weekend at the Judy Bayley Theatre at the University of Nevada, Las Vegas.
The production is a nod to the centennial of Williams' birth in 1911.
"If you examine the play, the themes hit in 2011 and will probably always hit, that phrase we've come up with in the last 20 years of the dysfunctional family," says director Jeffrey Koep — who doubles as the dean of UNLV's College of Fine Arts — about "Streetcar."
Making its first Broadway appearance in 1947, it rocketed Marlon Brando to the tippy-top of the acting heap, amplified by his muscular performance in the 1951 film version. Brando's howl of "Stella — Hey Stellaaaa!" placed 45th on the list of 100 most memorable movie quotations compiled by the American Film Institute.
The latest revival of "Streetcar" is set to star Blair Underwood and bow on Broadway next spring. Past revivals have starred Alec Baldwin, James Farentino, Aidan Quinn and John C. Reilly. Succeeding original stage star Jessica Tandy and movie queen Vivien Leigh in the equally compelling role of Blanche were, among others, Jessica Lange, Glenn Close and Natasha Richardson.
Set in the French Quarter of New Orleans, "Streetcar" famously zeros in on the indisputably dysfunctional Blanche DuBois, a faded, mentally fragile Southern belle who moves in with her sister, Stella, and is tormented by her rough-hewn brother-in-law, Stanley.
"I don't avoid films, but neither do I show them to the cast, though there are very good directors who do that and say, 'Follow the Brando take,' " says Koep, who spares his leading man, Gerrad Taylor, the burden of the iconic Brando in his brain.
"I think what Gerrad brings is a different kind of intelligence to the role. I think Brando has this in the film, but if Stanley is not looked at as intelligent, you don't have a play. If you play him in a purely animalistic fashion, there is no opponent."
(Filling out the main cast are Ann-Marie Pereth as Stella, Paris McCarthy as Blanche and Jordan Bondurant as Mitch, Stanley's pal and Blanche's would-be suitor.)
While some directors of classics are wont to try novel spins to freshen them or attempt to wring new elements and insights out of them, Koep is not among them.
"I think this is a very straightforward play in terms of the audience viewing it, not a play I would try a new concept on," he says. "That doesn't mean there aren't a lot of levels and nuances within the characters. You should leave the theater with questions and wondering about relationships."
Those relationships are, to say the least, complex, and often volatile.
Blanche's preening about virtue and culture barely disguise her drinking problem and delusions of grandeur. Stella, her sister, is deferential and dominated by the often brutal but sensual Stanley — part of the dysfunction that underlies their sexual attraction — which leaves Blanche baffled.
Strutting about in her delusions and lies, Blanche enrages Stanley, setting them on a collision course that ends in a rape and a nervous breakdown.
Theatrical scholars believe Blanche is based on Williams' sister, Rose, who wrestled with mental problems and had a lobotomy. Indeed, "Streetcar" is largely about what we'd now call mental illness but during Williams' era was simply known as madness.
(The title derives from an actual streetcar named "Desire" that Blanche must take to reach Stella and Stanley's place.)
Given the fragility and in some ways naivete that Williams assigns to Blanche, it might seem an anachronism to young theatergoers who have matured in a much more savvy and ironic world, but Koep says the differences are not as stark as we might imagine.
"When I look at students, a lot of them have a savvy front and certain parts of them are coming into bloom at a younger age," Koep says.
"But I look at these students and I find that inside, they're still pretty fragile. Blanche's fragility is out there a little more, but we have a lot of delicacy in young people today that they cover up."
Which is more than can be said of Stanley Kowalski's wardrobe.
Contact reporter Steve Bornfeld at sbornfeld@ reviewjournal.com or 702-383-0256.
Preview
"A Streetcar Named Desire" by Nevada Conservatory Theatre
8 p.m. today, Saturday, Thursday, Oct. 14-15; 2 p.m. Sunday, Oct. 16
Judy Bayley Theatre on the campus of the University of Nevada, Las Vegas, 4505 S. Maryland Parkway
$17-$25.50 for students, seniors and military personnel; $20-$30 general admission 895-2787;
pac.unlv.edu