Amazing Las Vegas Comic Con draws the curious and the costumed — PHOTOS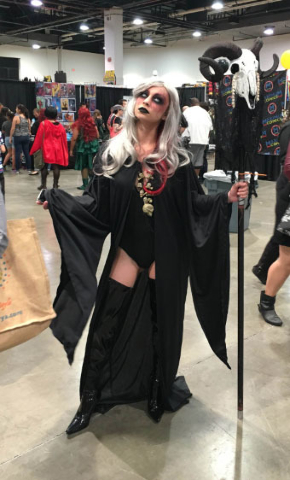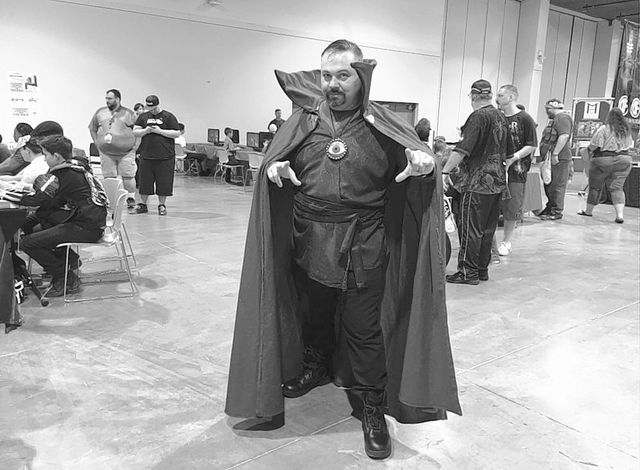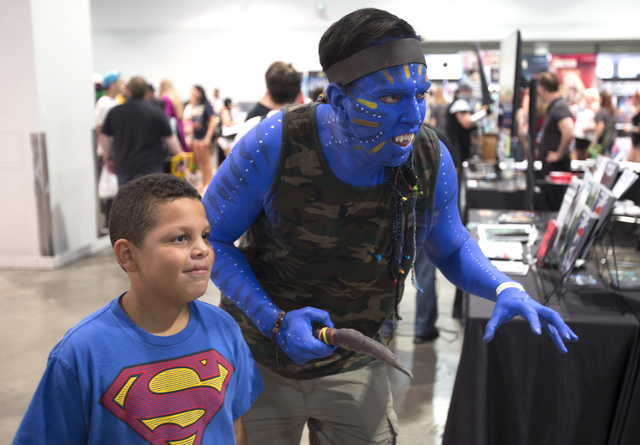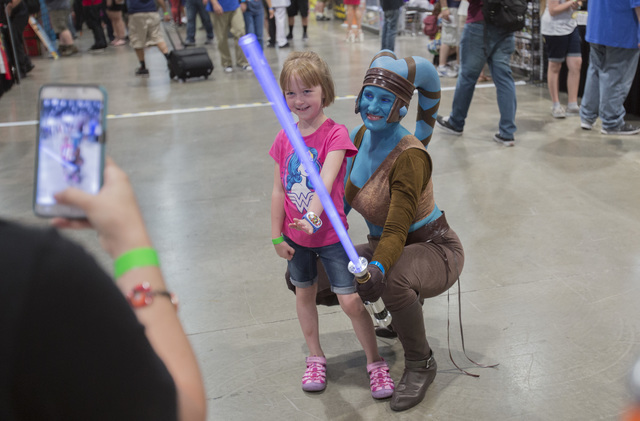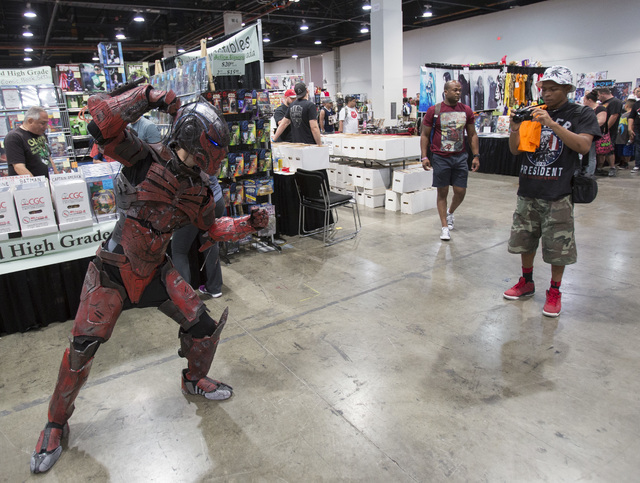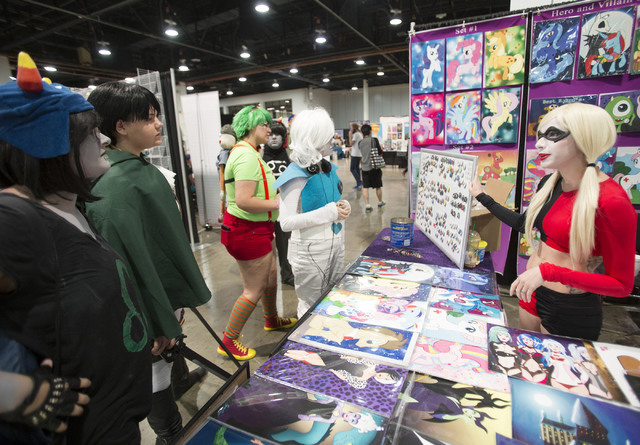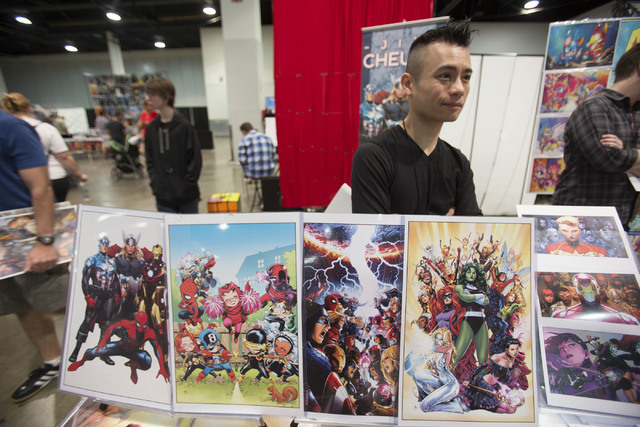 Primrose Martin strolled the rows of exhibits with her mother and brother Saturday afternoon at the Amazing Las Vegas Comic Con.
It was the first time all three Las Vegas residents attended a comic convention, and Martin and her mom came dressed to impress — she costumed as Catwoman, a DC Comics character commonly associated with Batman, and her mother outfitted as Storm, a superhero from Marvel Comics' X-Men.
"We're powerful women superheroes," her mother, Dorothy Martin, said. "I like that the little girls here are seeing these kinds of women walking around."
Martin said she has been to several anime events before but never a Comic Con. She also was jazzed that her mother was along for the experience. "My mom has watched me make costumes for other events so I'm excited to have her here with me."
Guardians of Las Vegas Cosplay was one of the more than 200 exhibitors at the weekend-long event held at the Las Vegas Convention Center.
The group of nearly 20 dresses up together as characters from a movie, book, or video game.
Member Josh Cutler said the group, which launched nearly two years ago, started among a group of friends with a shared passion for comic books.
"After I watched Captain America, I wanted to be Captain America and carry that shield," he said. "I started cosplaying with friends and we hang out every week."
The group also has started partnering with local charities such as Nevada Partnership for Homeless Youth and is looking to visit children's hospitals dressed in costume to brighten patients' lives, Cutler said.
"We want to go around and inspire people," he said. "I love it here in Las Vegas, and there's such a great comic community and we love to put a smile on people's faces."
Ronald Wellington, store manager for Cosmic Comics, said the most popular item at the Las Vegas store's booth was blank comics, which people can purchase to have artists sketch in them.
"It's cool to like comics now," he said. "The jocks are wearing Superman T-shirts now, and when I was growing up, I got beat up for wearing a Superman T-shirt."
He added, "People love the storytelling and artwork in comics and the rich history of the characters. Also, the movies based on comics help draw more people too."
Everywhere they walked at the convention, Adrian Rosenbush, his wife, Danyette, and 9-year-old stepdaughter, Aliciana Duarte, got noticed, with people calling them over to take pictures.
Rosenbush was dressed as the Joker, his wife as Harley Quinn and Aliciana as Poison Ivy, all characters from Batman.
The couple even incorporated their love for their favorite comic book characters at their March wedding.
"We don't just dress up for Halloween," Rosenbush said. "We do it all the time, and it's great to be around others who enjoy doing the same."
For Danyette, dressing up is about more than having fun.
"I'm able to teach [my daughter] not to care what other people think," she said. "Now when people say to her, 'You're so weird,' she says, 'Thank you.'"
To which Aliciana responded, "Normal is boring!"
Las Vegas resident Shirnice Villano also spent Saturday bonding with her daughter at Comic Con. The duo bought a three-day pass to explore all Comic Con has to offer.
She, like Aliciana, was also dressed as Poison Ivy and her daughter, Danielle, as RWBY from a three-dimension anime-influenced animated web series.
"We've gone every year," Villano said. "It's become a family tradition. It keeps getting bigger and better. You never know who I'll be dressed as tomorrow."
Contact reporter Ann Friedman at afriedman@reviewjournal.com or 702-380-4588. Follow @AnnFriedmanRJ on Twitter.
ARTIST SPOTLIGHT
Las Vegas native Ismael Samayoa, 43, has been drawing for decades. The Las Vegas Art Institute graduate and graphic illustrator grew up doodling with his mother, trading childhood reading lists of Dr. Seuss picture books for comics full of characters like Thor, Aquaman and Nightwing.
"She didn't mind the rhymes, it's the fake words. She was trying to teach me real words. So, she never bought me Dr. Seuss. She would go to the drugstore and buy two or three comic books and read them as bedtime stories," Samayoa said. "By kindergarten, I knew who Crom (the Barbarian) was and what a beer wench was before I knew 'Green Eggs and Ham.'"
His first heroes included Conan, the Barbarian, Superman, Spider-Man, Thor and Captain America.
"I asked her years later, 'Why those comics?'" Samayoa said. "She goes, 'Those were the guys who had the cutest butts.'"
Years later, Samayoa just hopes Hollywood does these beloved characters justice in the movies.
"I'm excited for Aquaman. I love when someone says he doesn't have any powers. He can run at 10,000 feet per second, his trident has powers and he's bulletproof!" Samayoa said. "I don't care who plays him, as long as they can act."
— Ashley Casper