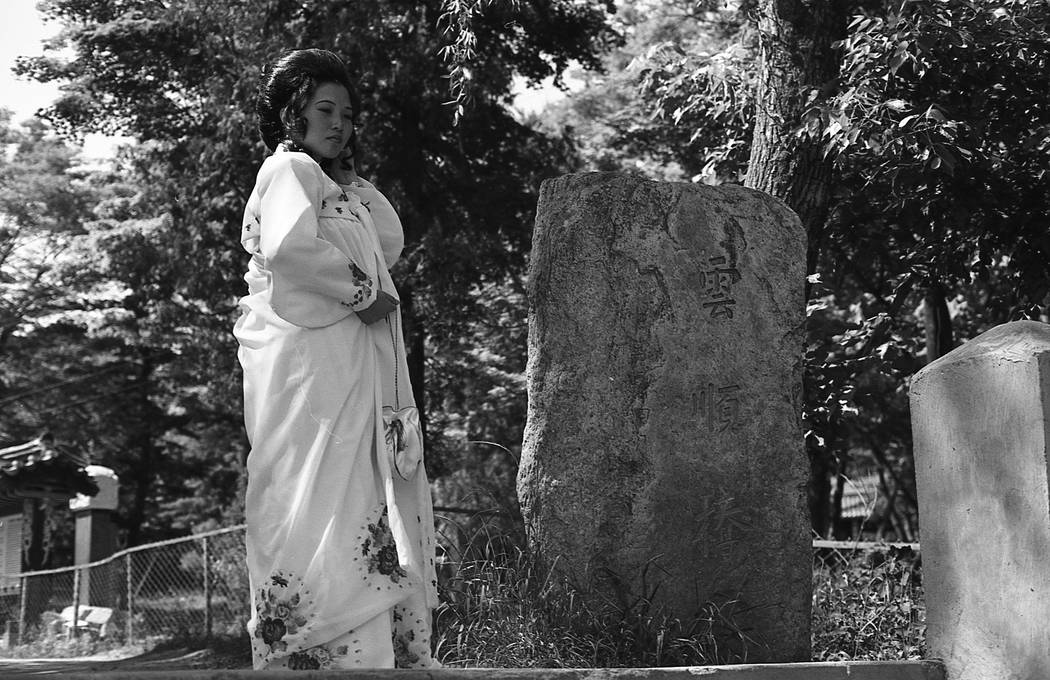 Eugene Rolfe
Photographs of the Republic of Korea taken by former U.S. Air Force officer Eugene Rolfe while stationed at the Osan Air Force Base are on display in the exhibit "Korea '76." Sahara West Library, 9600 W. Sahara Ave. lvccld.org
Hearts4Vegas
Drawings, banners and cards sent from people around the world to Las Vegas after the Route 91 Harvest festival tragedy are on display in the Hearts4Vegas Traveling Exhibition. Durango Hills Community Center/YMCA, 3521 N. Durango Hills Drive. artslasvegas.org
City Lights Arts Gallery
Photographic art by Eric Courtney is on display in the exhibit "Under Water." 3 E. Army St., Henderson. citylightsartgallery.com
'Vessel'
The exhibition of ancient West Mexican ceramics explores the relationship between form and function. Braunstein Gallery at UNLV's Marjorie Barrick Museum of Art, 4505 S. Maryland Parkway. unlv.edu/barrickmuseum
'Celebrating Life!'
The annual juried exhibit features works by artists ages 50 and older. Charleston Heights Arts Center, 800 S. Brush St. artslasvegas.org
'Golden Anniversary'
The "50 Years of Preserving History: Celebrating the Golden Anniversary of the Clark County Museum" exhibit presents the museum's history through a collection of photographs and objects. Clark County Museum, 1830 S. Boulder Highway, Henderson. clarkcountynv.gov/museum
Blue Angel
The Blue Angel Motel's statue, signs from the Neon Museum's collection and Blue Angel-inspired artwork on display in the limited exhibition "Blue Angel: Between Heaven and Earth." Neon Museum's Ne10 Studio, 1001 W. Bonanza Road. neonmuseum.org
'Vibrance'
Sign designer and artist Brian Henry uses everyday lighting elements in his new series of light art explorations. Windows on First at Las Vegas City Hall, 495 S. Main St., located along First Street.
'Finding Fremont'
Expedition maps, modern color photographs, an archaeological discovery of mountain howitzer carriage parts and the mountain howitzer believed to be explorer John C. Fremont's lost cannon are among the objects on display in the exhibit "Finding Fremont: Pathfinder of the West." Nevada State Museum, 309 S. Valley View Blvd., next to the Springs Preserve. nvculture.org/nevadastatemuseumlasvegas
Sin City Gallery
Sin City Gallery's international juried art exhibit "12" of Sin" explores the diverse landscape of sexuality through paintings, drawings, sculptures, photography and mixed media. Core Contemporary, 900 Karen Ave., Ste. D222. corecontemporary.com
Andrew Schoultz
The Marjorie Barrick Musuem of Art hosts "In Process: Every Movement Counts," a museumwide installation with murals by Los Angeles-based artist Andrew Schoultz. UNLV, 4505 S. Maryland Parkway. unlv.edu/barrickmuseum
Carnevale Gallery
Mixed-media pieces from photographer Art Wolfe's "Human Canvas" project and limited edition fine art prints are on display. Carnevale Gallery, located at Appian Way at Caesars Palace, 3570 Las Vegas Blvd. South. humancanvasproject
Juried show
Artwork in a variety of styles and media by Las Vegas Artists' Guild members is on display in the annual members' juried show "For the Love of Spring." Sahara West Library, 9600 W. Sahara Ave. lvartistsguild.org
Photography exhibit
Up-close photographs of whales feeding, diving and swimming in the Sea of Cortez off the Baja California Peninsula are on display in Michael Fishbach's exhibit "The Great Whales." Summerlin Library, 1771 Inner Circle Drive. lvccld.org
Spring Show
Local artists explore subjects through watercolor paintings of landscapes, portraits, abstracts and still life in the Nevada Watercolor Society's Spring Show. Big Springs Gallery at Springs Preserve, 333 S. Valley View Blvd. springspreserve.org
'Monuments'
Inspired by Gold Butte, Tule Springs Fossil Beds, and Basin and Range national monuments, artists created paintings, wall murals, photography, sound and sculpture works. The Studio at Sahara West Library, 9600 W. Sahara Ave. friendsofgoldbutte.org/monumentsexhibition
Artists in residence
Artwork by Whitney Lynn, Allison Wiese and Karl Orozco are featured in the new exhibit "Neon AIR: Radiant Residents." Nevada Humanities Program Gallery, 1017 S. First St., No. 190. nevadahumanities.org
Yvonne Betts
Individual colorful butterflies have been shaped into the wings of a single butterfly in the 10-foot art wall exhibit "#ButterflyMe." Created by Yvonne Betts, the interactive exhibit encourages visitors to pose with the wings and post images to social media. Boulder City Art Guild Gallery at Boulder Dam Hotel, 1305 Arizona St., Boulder City. bouldercityartguild.com
CSN art show
Artwork created by students in the CSN Fine Arts Department, Art and Art History courses are on display in the "2018 Juried Student Exhibition." The show includes drawings, paintings, sculptures, printmaking, ceramics, jewelry and design. Fine Arts Gallery and Artspace Gallery at CSN's Cheyenne campus, 3200 E. Cheyenne Ave., North Las Vegas. csn.edu/artgallery
'World Heritage Collection'
Mario Basner's photographic art collection, celebrating culture, diversity and humanity. Next to Cafe Leone at Tivoli Village, 400 S.Rampart Blvd. mariobasner.com
Modernist Cuisine
Chef, photographer, scientist and author Nathan Myhrvold's collection of food photography. Modernist Cuisine Gallery in the Forum Shops at Caesars, 3500 Las Vegas Blvd. South. modernistcuisine.com
To submit gallery listings, email mrhynes@reviewjournal.com.