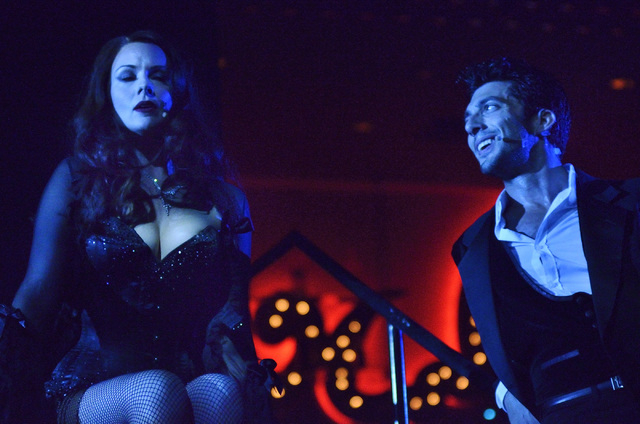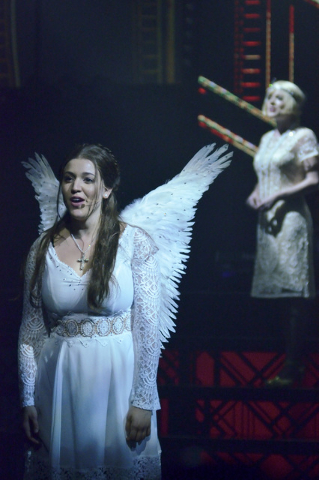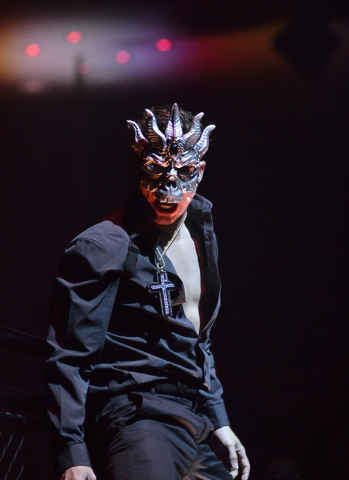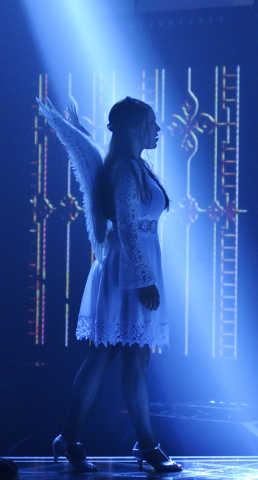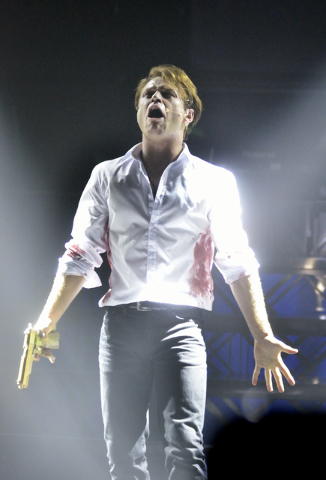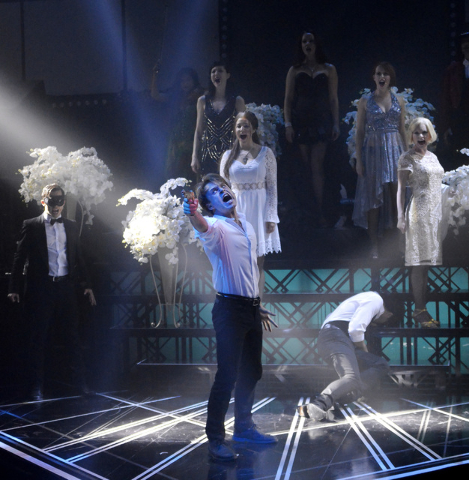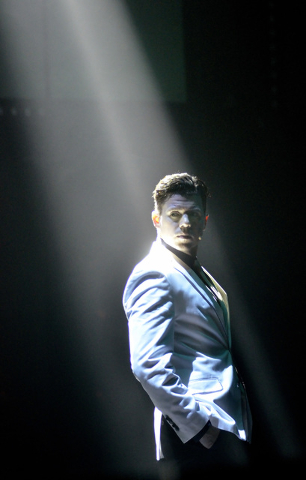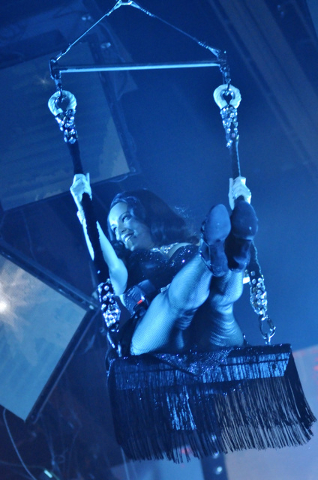 This "Baz" thing is all over the place.
Literally, if you're trying to stage an "immersive" theater piece in a club. Light at Mandalay Bay seems much larger once the show starts than it did when you walked in.
And figuratively, if you're mashing up two literary works and a screenplay into a tribute to director Baz Luhrmann. Remember that he's a filmmaker celebrated for anachronistic pop music, and you've really scattered your source material to the four corners of the club.
You end up celebrating "Baz" more for being brave and different than for being entirely successful.
Clubs may be all about posturing. But here, as in Luhrmann's movies, there's no room for detached cool. "Baz" dives right into unabashed romanticism. The narrator and senior cast member (Jason Paige) explains to the strains of "Nature Boy" that the tales of "Romeo + Juliet," "Moulin Rouge" and "The Great Gatsby" will be cross-cut and star-crossed in their thematic link.
(Luhrmann's debut feature "Strictly Ballroom" is somewhere in the mix as well, but it's pretty hard to find.)
When the show fires up Fergie's "Gatsby" declaration "A Little Party Never Killed Nobody (All We Got)," chases it with the memorable resurrection of "Lady Marmalade" from "Moulin Rouge," and caps it off with Satine (Ginifer King) sailing in on a swing to "Smells Like Teen Spirit," you think this could be the start of something special.
But even then, we are coming to some realizations. Hard truths that may also have snuck up on Cirque du Soleil, which runs Light, and For the Record, the Los Angeles theatrical troupe that's had some success doing these mash-up revues in smaller spaces.
First, the 38,000 square-foot club is indeed a lot of ground to cover. Even for a cast of 11, willing to run up and down the center aisle, or jump up on the back of your booth. (Bathroom dashes must be carefully timed here, or alternative routes planned).
And a state-of-the-art light and sound system was designed for DJs to scramble your GI tract and pummel you with high-contrast lighting, not for theater. The opening-night vocals were almost inaudible for much of the early going, though clarity did improve as more songs dropped down from the six-piece band to sparse piano or violin backing.
We also realize it's not Shakespeare's or F. Scott Fitzgerald's fault that Baz Luhrmann made movies from their works.
Since this is live theater and not a movie built on camera gymnastics, we are inevitably going back to the literary sources for "Romeo" and "Gatsby," chopped into CliffsNotes versions. Too much dialogue to simply set up the songs, yet not enough to do each story justice. Would it shock you to hear that a tribute to an over-the-top director is, well, too much?
All of this must have worked better in the smaller spaces where For The Record started. Looking upon a dramatic showdown between Gatsby, Daisy and Tom from all angles must have seemed more like theater in the round, rather than simply awkward.
But "Baz" country is a sincere, irony-free zone. Director Anderson Davis is trying to do right by all three stories, and a rhythm does emerge in bundling them. When they reach their tragic conclusion to the strains of U2's "Love Is Blindness," it would take a hard heart not to melt under the combined assault.
The pop songs from the movies are the key ingredient, even if many seemed shortened in the misguided effort to add more context through dialogue. If some of these tunes weren't written for theater, they should have been: Our Juliet (Olivia Harris) singing "#1 Crush" and "Kissing You," or the showstopping Ruby Lewis as Daisy, just killing Lana Del Rey's "Young and Beautiful" and Florence + The Machine's "Over the Love."
The guys — especially James Byous as Romeo, Constantine Rousoulis as "Moulin Rouge" writer Christian — also have singing voices that exceed their acting chops, and the ensemble slowly lures us into a serious mood. Funny enough, Shakespeare in the Club was determined to be a better Las Vegas fit than For The Record's first choice: its Quentin Tarantino tribute, which was deemed too harsh and violent.
But look at other past For The Record titles and what do we see? Ah, there's a tribute to the '80s teen movies of John Hughes, whose audience is now an optimum Las Vegas demographic chased by other shows. Is it too late to switch?
Oh, it is?
Well, then, to paraphrase Fitgerald, go to a club to sober up. The nearest library is still a long way from the Strip.
Read more from Mike Weatherford at bestoflasvegas.com. Contact him at mweatherford@reviewjournal.com.
REVIEW
What: 'Baz'
Wwhen: 8 p.m. Wednesday-Monday
Where: Light nightclub at Mandalay Bay, 3950 Las Vegas Blvd. South
Tickets: $71.10-$93.10 (800-745-3000)
Grade: B