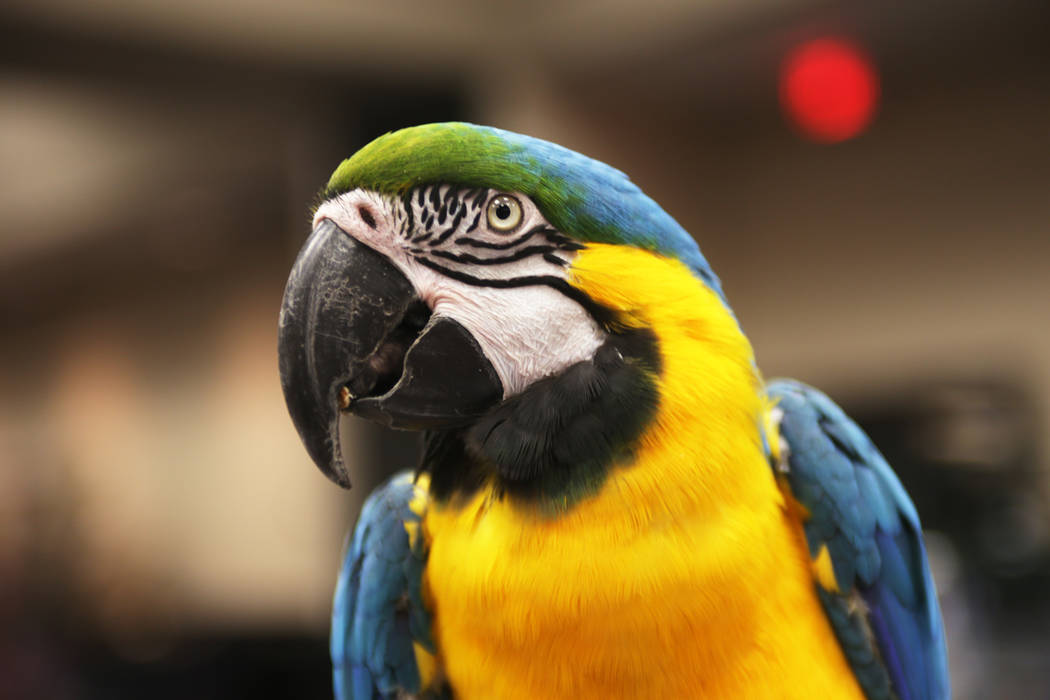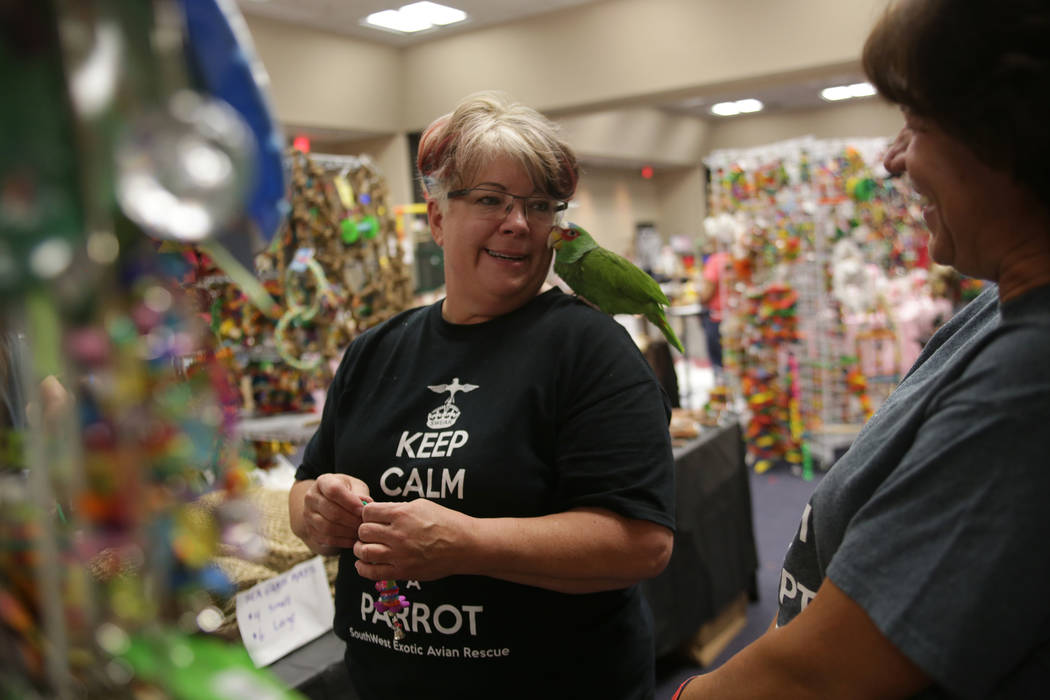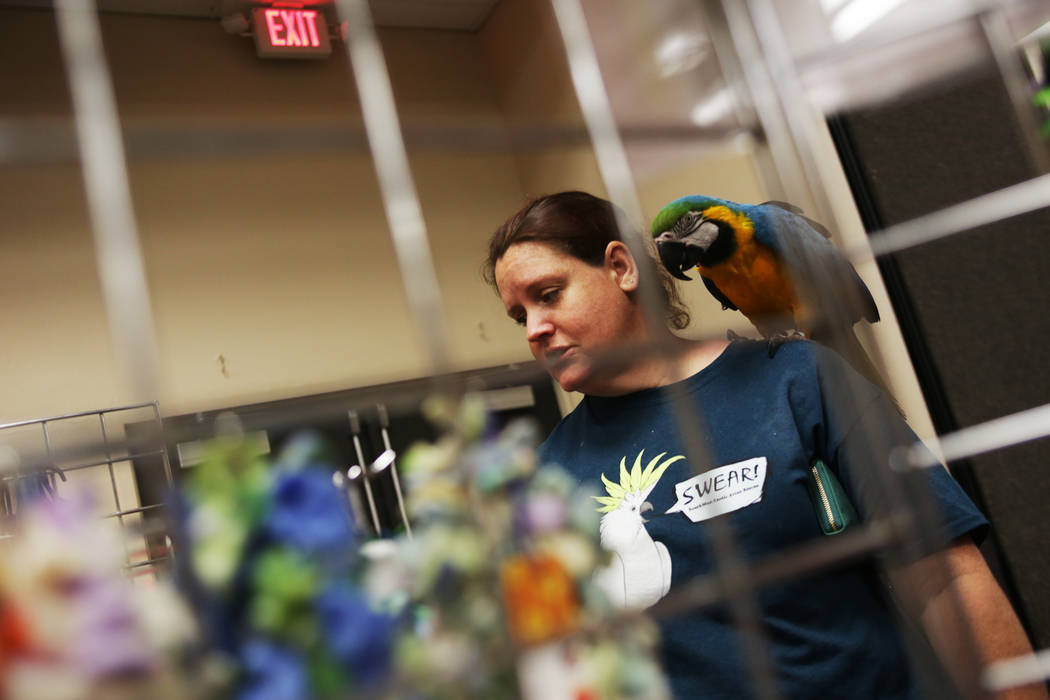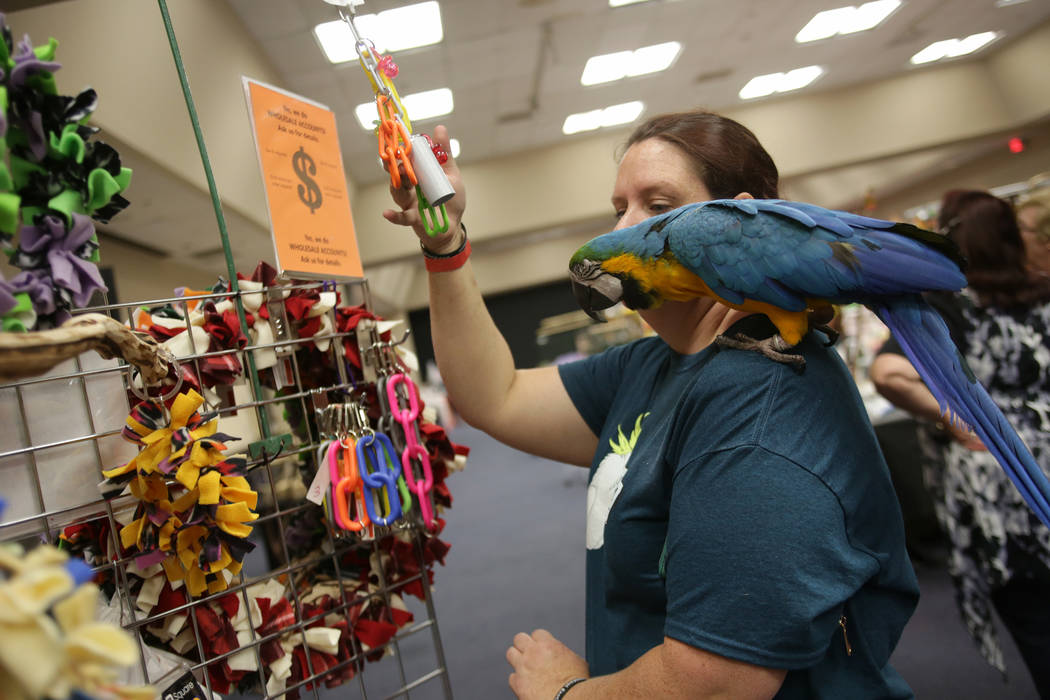 Bird owners might often feel snubbed at pet shows, which tend to favor four-legged animals.
But not Sunday. Not at the Las Vegas Aviculture Society's semiannual Bird Mart show.
By late morning, a few dozen avian aficionados had flocked to the Henderson Convention Center — bird on shoulder — to pick up pet supplies and show off their fine, feathered friends.
"Beyond the products itself, you have the opportunity to talk to people who have had birds for a long, long time," said Noël Benoit, one of the event's organizers.
The Aviculture Society, which most of its members call simply "The Bird Club," hosted the market. A smattering of booths offered bird feed, habitats, cages, toys and handmade crafts. A bird rescue group also was at the show.
Benoit and his husband, Ken Hebert, run Priscilla's Pantry, a Henderson bird paraphernalia shop named after their 23-year-old rose-breasted cockatoo. The couple had a booth at the convention center and sold mock branches for birds to climb along with handcrafted picture frames and stained glass ornaments.
Would-be bird owners should be prepared for the long haul, because some species can live to be 80 years old, he said.
"You want to be involved in their care, because it's a lifetime commitment," said Vern Born, who helped found the club 40 years ago.
Born raises doves for magicians in Las Vegas and unabashedly calls himself The Birdman. He said the club originally started as a group of about 50 breeders. Now the group's 100 or so members are mostly pet owners.
Attendees gawked at Born's yellow-naped Amazon parrot, Doogie, which had perched atop a cage by the show's entrance.
The show occurs twice annually. The next show is scheduled for Oct. 15.
Contact Blake Apgar at bapgar@reviewjournal.com or 702-387-5298. Follow @blakeapgar on Twitter.
Best of the nest
The Las Vegas Aviculture Society holds meetings on the second Sunday of every month at the Henderson Convention Center, 200 S. Water St. Visit lasvegasbirdclub.com for more information.