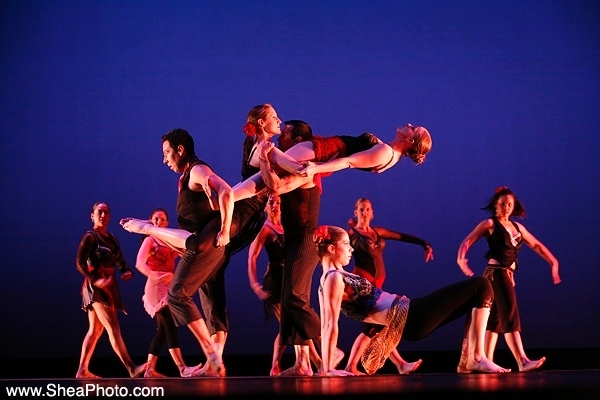 Dance
FESTIVAL SHIFTS
TO LIBRARY STAGE
The annual Las Vegas Dance in the Desert Festival celebrates its 15th anniversary by stepping out in a new direction — and landing on its feet.
After 14 years at the College of Southern Nevada, the two-day, three-performance event moves to the Summerlin Library Performing Arts Center for three free performances this weekend — one Friday and two Saturday.
This year's festival will feature 38 works, performed by 22 dance ensembles, at the free performances.
Seven of the visiting companies are from Arizona, three hail from Southern California — and one, Anna Cuellar, is coming all the way from Florida to dance.
Eleven of the participating companies are based in Las Vegas, including Las Vegas Contemporary Dance Theater and the CSN Dance Ensemble — continuing the CSN connection despite the festival's move to the Summerlin Library.
Festival director Kelly Roth, who also heads CSN's dance program, thinks the change in venue also changes the festival's dynamic.
"This is an opportunity to really expand to a whole new audience," he says. "It's a good step for the festival."
In addition to the public performances, master classes will be at 10:30 a.m. Friday and Saturday at Summerlin Library for a $10 charge.
Free Dance in the Desert performances will be at 7 p.m. Friday and 2 and 7 p.m. Saturday at the Summer Library Performing Arts Center, 1771 Inner Circle Drive. For more information on the festival, visit www.newdancefoundation.org.
Music and dance
FOLKLORICO TROUPE
LEADS MEXICO TOUR
A tour of Mexico's various states — and their distinctive dance traditions — is as close as the Winchester Cultural Center on Saturday evening as Las Vegas' Ballet Folklorico Izel headlines "Herencias Mexicanas."
Ballet Folklorico Izel has performed at Winchester previously; joining the troupe will be Mariachi Mexico Antigua and the folkloric group WA-KUSHMA, from Chula Vista, Calif.
"Herencias Mexicanas" will be presented at 6:30 p.m. Saturday at the Winchester Cultural Center, 3130 S. McLeod Drive.
For tickets ($10 in advance, $12 on concert day), call 702-455-7340.
Author visit
QUINN EXPLORES
'MORMON EXAMPLE'
The Clark County Library's "OutWest @ the Library" series continues Sunday afternoon as gay Chicano historian D. Michael Quinn discusses his award-winning book "Same-Sex Dynamics Among Nineteenth-Century Americans: A Mormon Example."
Quinn's book focuses on long-term relationships among Mormon gay and lesbian couples and how they flourished in the early years of the Church of Jesus Christ of Latter-day Saints.
The author has taught history at Brigham Young University, the University of Southern California's Center for Feminist Research and at Yale University, where he received his doctorate in history.
The free program will begin at 2 p.m. Sunday at the Clark County Library, 1401 E. Flamingo Road. For more information, call 702-507-3459 or go to the Las Vegas-Clark County Library District's website at www.lvccld.org.
Family fun
MARIONETTE TROUPE
PRESENTS 'DRAGON KING'
All good things must come to an end — including Las Vegas' series of family-friendly summer shows, which concludes next week with the Tanglewood Marionettes' award-winning "The Dragon King" at Charleston Heights Arts Center and the Historic Fifth Street School.
An underwater fantasy based on Chinese folklore, "The Dragon King" follows a wise grandmother who journeys to the bottom of the sea to seek the king — and determine why he's forsaken the land above.
Master puppeteers manipulating hand-crafted marionettes animate the various characters — including colorful sea creatures — in a production that also features colorful sets and integrated lighting and sound. "The Dragon King" earned a UNIMA Award, puppetry's highest honor, one of two captured by the New England-based troupe, which was founded in 1993.
Tanglewood Marionettes will present "The Dragon King" at 10:30 a.m. Wednesday at Charleston Heights Arts Center, 800 S. Brush St., and 10:30 a.m. Thursday at the Historic Fifth Street School, 401 S. Fourth St.
Tickets are $3 and are available online at www.artslasvegas.org or by phone at 702-229-3515 or 702-229-6383.
Art
GALLERY PREVIEWS
MASK SHOWCASE
Off the face — and on the wall.
That's the thinking behind the UnMasking the Mind 2013 Mask Showcase, which debuts next week at Jana's RedRoom in the Arts Factory downtown.
A variety of masks created by local artists will be auctioned Oct. 19 at the fifth annual UnMasking the Mind, to benefit students at Innovations International Charter School of Nevada.
Starting Thursday evening, however, Jana's RedRoom will sneak preview the featured masks.
In addition to the Thursday preview, from 6 to 10 p.m., the masks will remain on display at the gallery through Aug. 24.
Jana's RedRoom, located in Suite 160 of the Arts Factory, 107 Charleston Blvd., also will be open from 6 to 10 p.m. Aug. 2 during First Friday festivities.
Regular hours are 11 a.m. to 4 p.m. Sundays, Wednesdays and Thursdays, 4 to 8 p.m. Fridays and Saturdays by appointment Mondays and Tuesdays. For more information, visit http://janasredroom.com.
— By CAROL CLING