Chalk artists spread the hues at northwest Las Vegas event
September 30, 2017 - 7:55 pm
Updated September 30, 2017 - 8:01 pm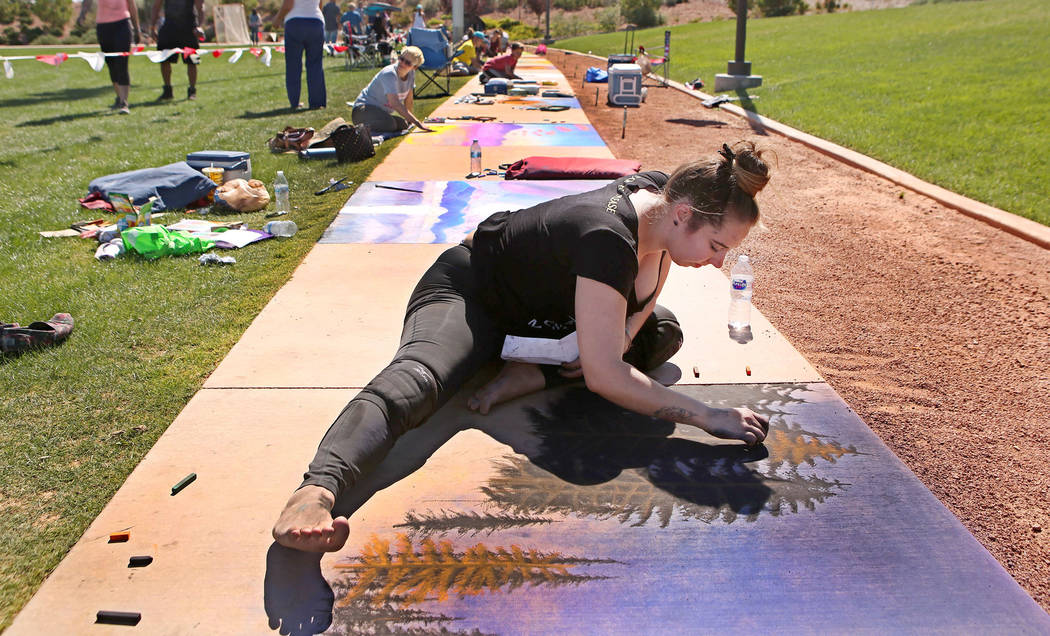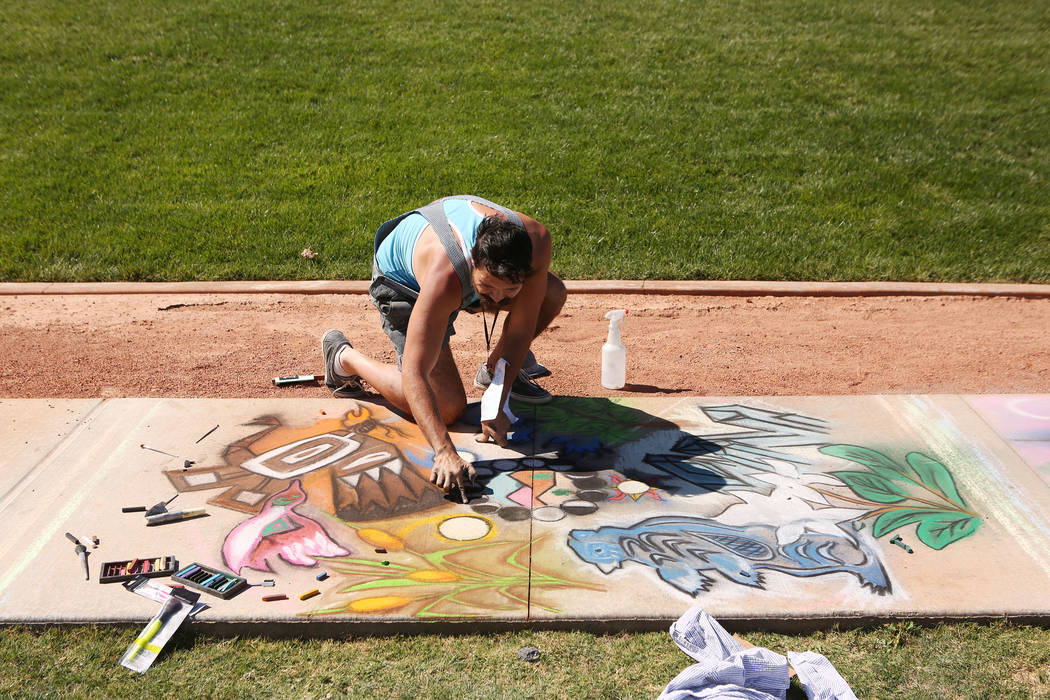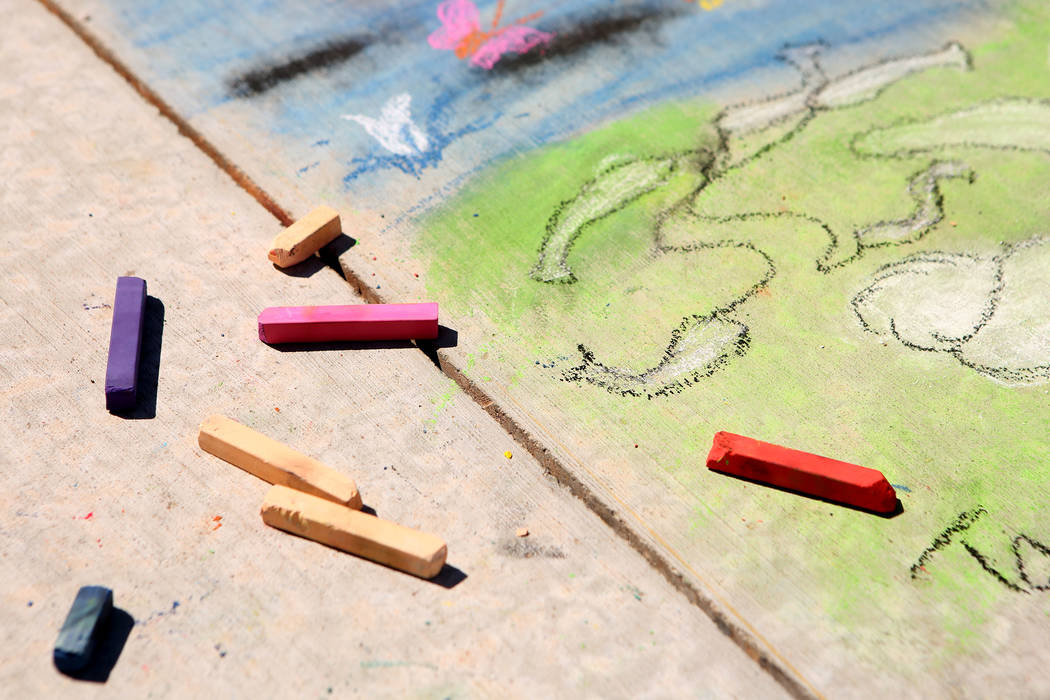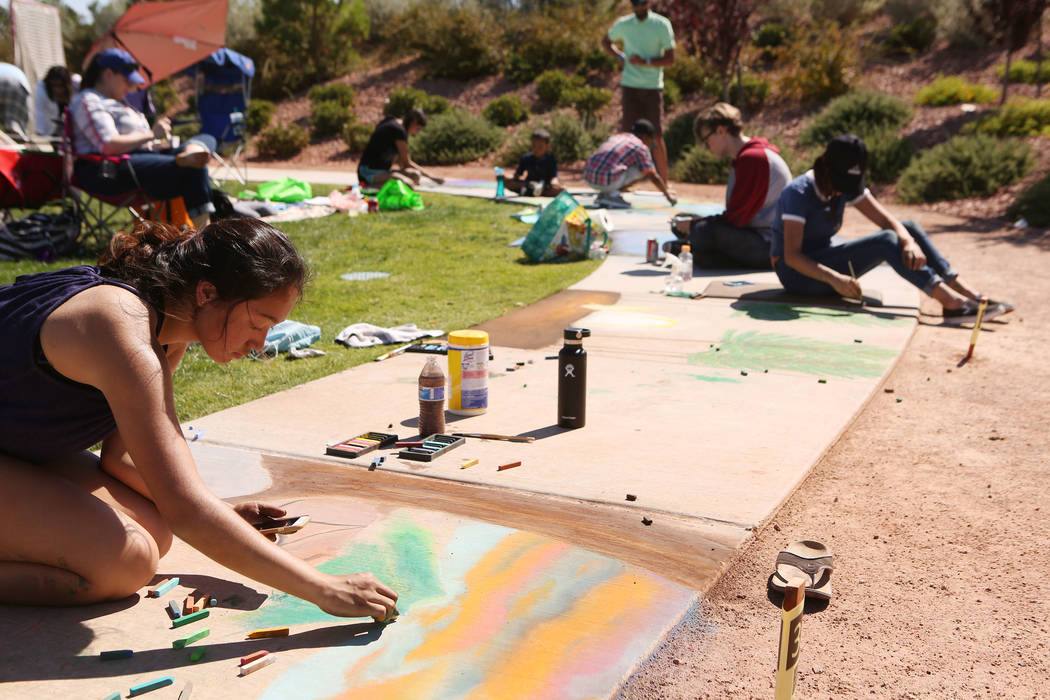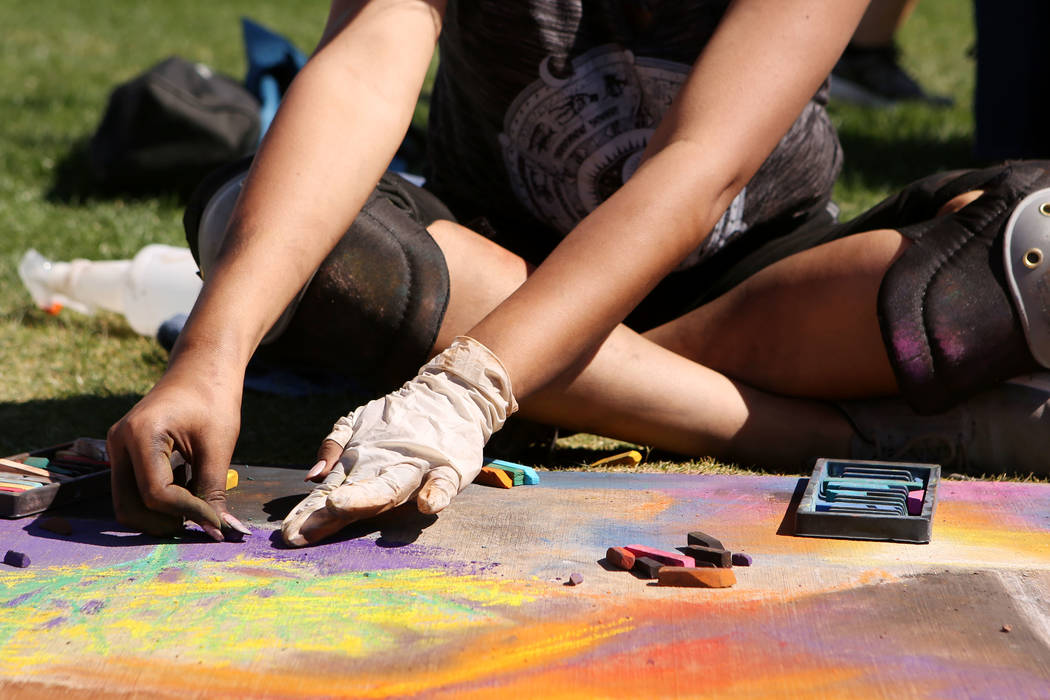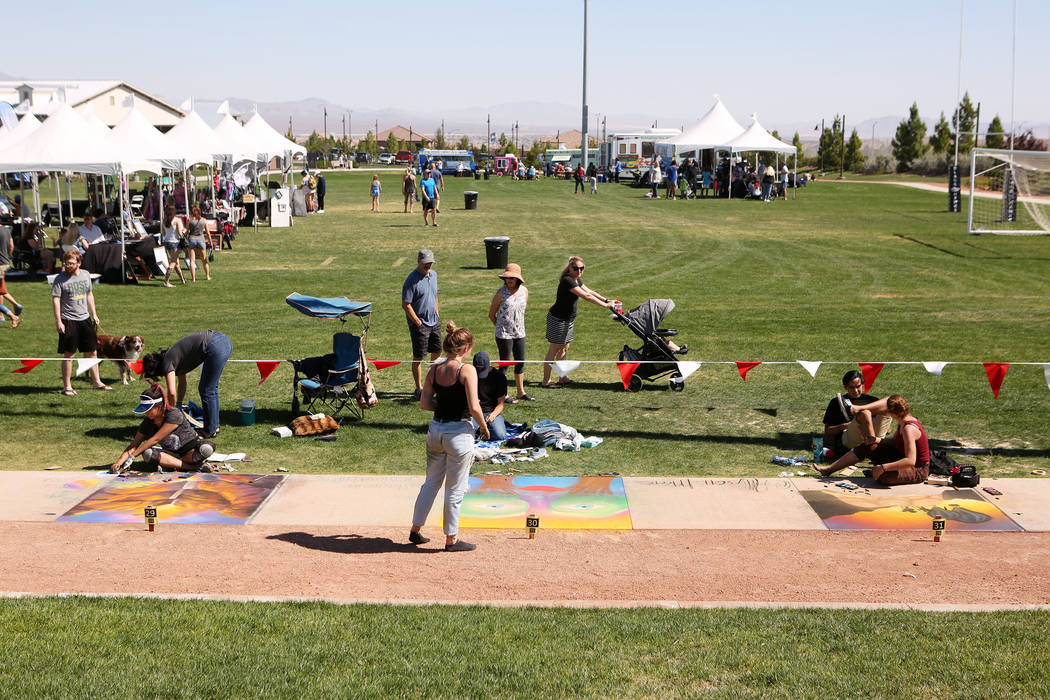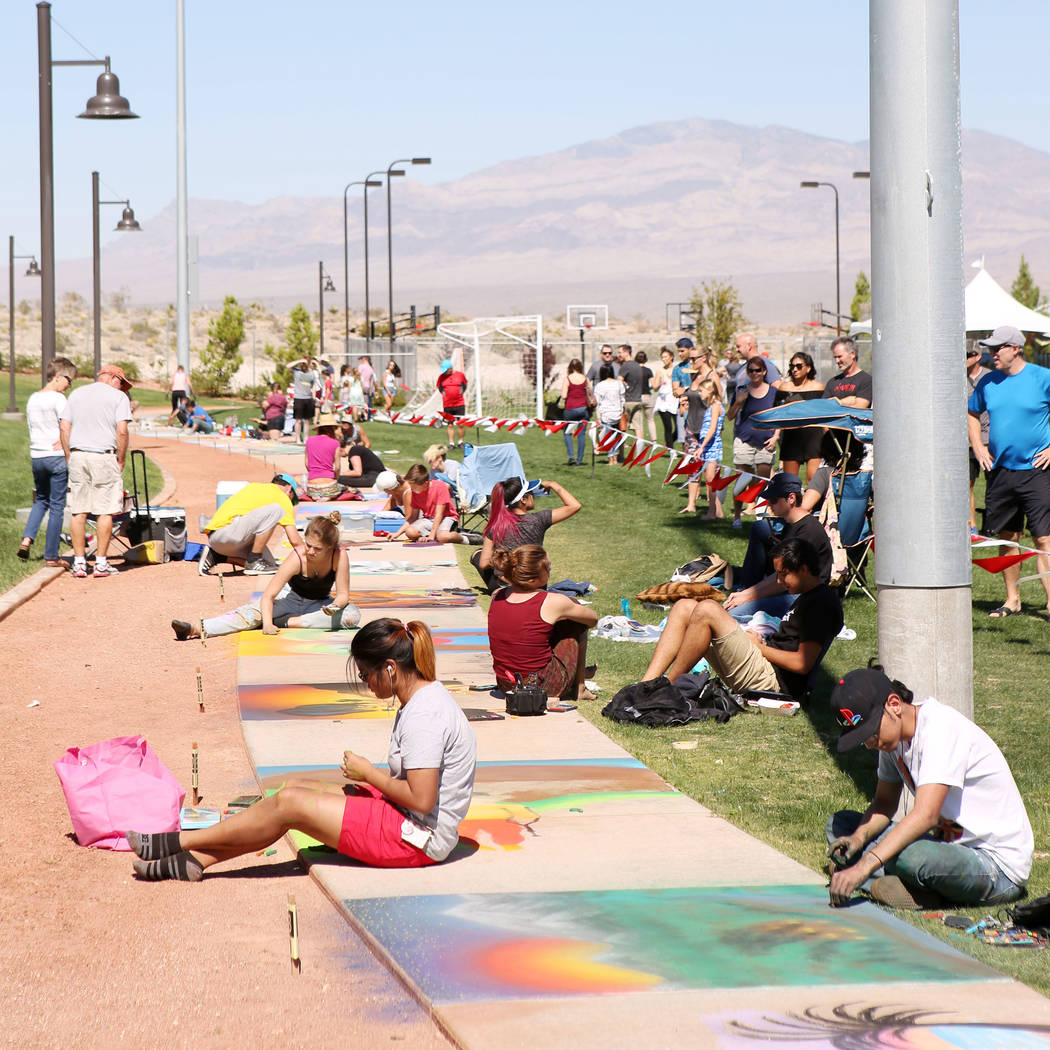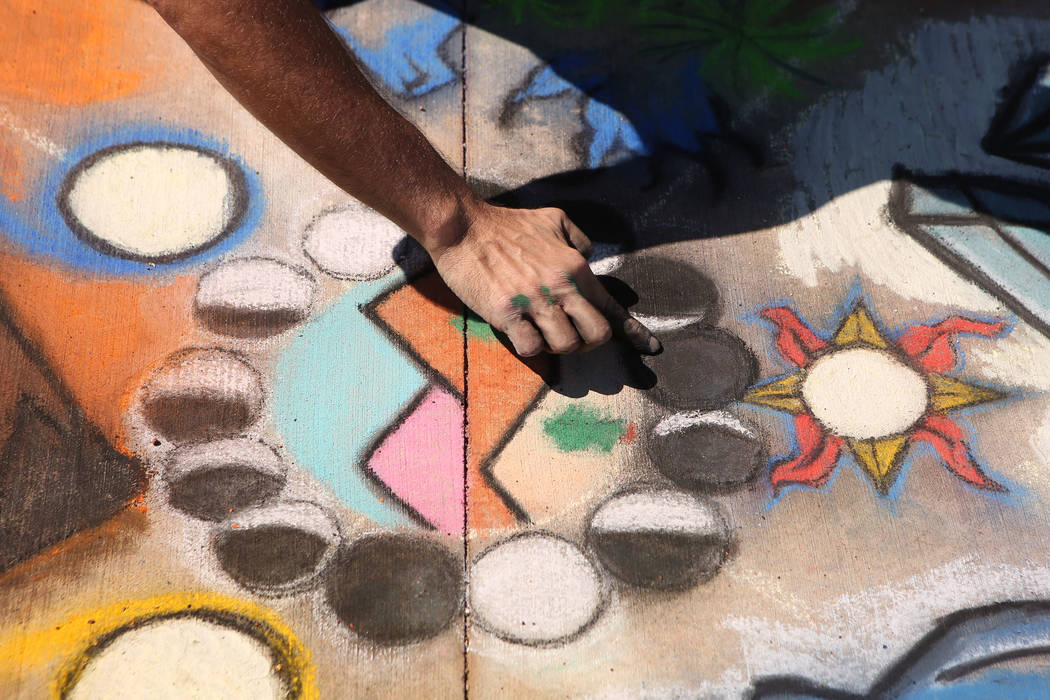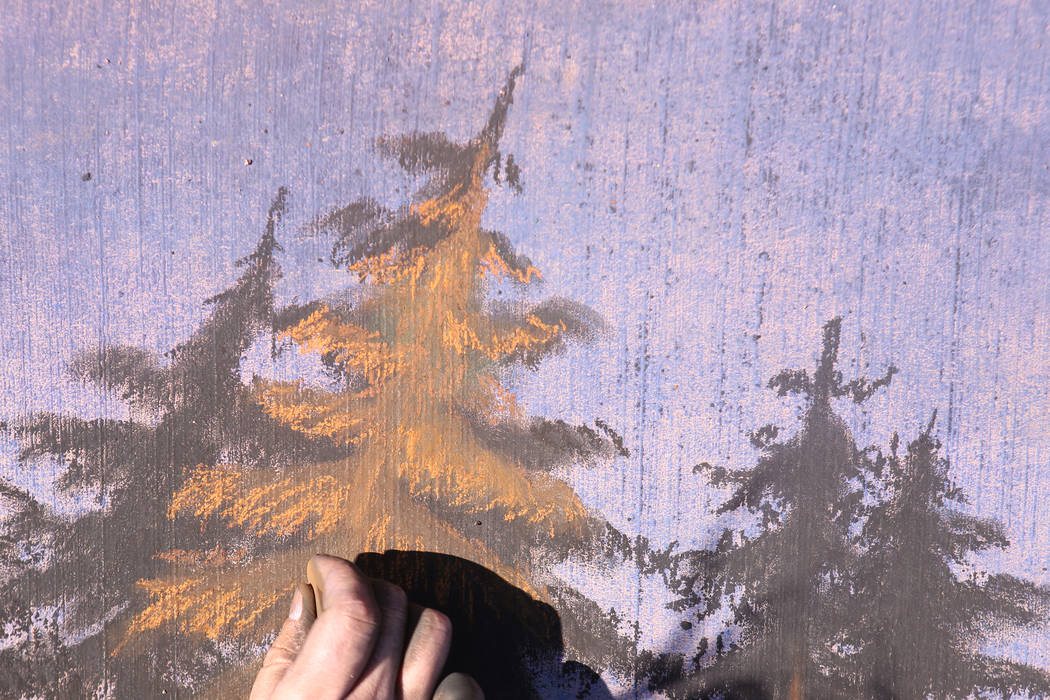 The crowd strolling across the lawn of Skye Canyon Park Saturday afternoon was one-part artist and one-part art enthusiast, the artists distinguishable by the colorful smears of chalk on their overalls and cheeks.
Hits by Smash Mouth and the Jackson 5 played over loudspeakers as park visitors wove through vendors selling paintings and hand-woven bags and traipsed toward the sidewalk edging the park.
There, about 25 people sat crouched over concrete, diligently filling in lines and smearing color onto their chalk masterpieces at the Chalk and Cheers event in the northwest valley's Skye Canyon Park.
The art show also served as a fundraiser. Proceeds from alcohol sales between noon and 5 p.m. benefited New Vista, a nonprofit organization aiding the intellectually disabled.
"This is my first sidewalk chalk since I was a kid," said Gabby Antonio, 16, who goes to Palo Verde High School. Gabby's illustration of a canyon waterfall won her second place in the high school category of the competition.
"Well you remembered a lot," one man said in admiration.
Another Palo Verde student, 16-year-old Allyson Moore, sat leaning sideways over her sidewalk slab to fill in a golden desert tortoise. The tortoise was framed by drawings of hot air balloons, hikers and mountains silhouetted against a yellow-orange sunset. The scene won first place in the high school category at Saturday's event.
"I'm not a big desert person, so everything that makes me like the desert I kind of put in there," said Moore, whose hands and feet were coated in black chalk dust. She chose a tortoise because she likes their texture, and because "they're goofy and goony and they're always different."
Kris Relph's slab featured a circle of 12 shadowed moons surrounded by animals and plants. He started the piece about 8 a.m. Saturday and was still working about 2 p.m.
"It had to fall within the theme of a campsite, so I thought I would a campsite in the center, very much indicative to the Las Vegas valley and the campgrounds around here," Relph said.
"And then I threw in my medicine wheel around it because I'm an artist," Relph, 40, said, grinning from behind his dark beard. "The Native Americans were indigenous to the meadows before Las Vegas was built, and they used to use a medicine wheel to mark the changing seasons like we use a calendar."
Relph's chalk art placed first in the university-amateur category of Saturday's event.
Norah Siller, a former resident artist at Red Rock, began painting the purple-gray slopes behind her onto a 5 feet-by-5 feet canvas at 11 a.m. Saturday and was still working about 3 p.m.
"Landscapes for me are very intimidating because it's just so beautiful, how can you put that into this?" Siller mused, gesturing toward the canvas. "You don't lack inspiration when it comes to landscapes."
Across the park from Siller, an 8-year-old girl observed that inspiration can also come from within.
"I love art because you get to draw or create whatever you want," Alyssa Carlson said, pushing her blond hair away from her purple-framed glasses.
Alyssa had colored a bright orange goldfish in one square of the park's sidewalk, designated as a "freestyle" chalk area, and had begun drawing a panda in another.
"Sometimes when you're having a bad day you can just draw something, and that will express how you feel to other people if you're too sad to tell it."
Contact Kimber Laux at klaux@reviewjournal.com. Follow @lauxkimber on Twitter.
Upcoming public events at Skye Canyon Park include:
— Pick-a-Pumpkin patch on Oct. 14. The park will transform into a pumpkin patch with face-painting, food trucks and live entertainment. Children can "pick" one pumpkin to take home for free, while supplies last.
— Pray for Snow on Nov. 4. As temperatures drop, Skye Canyon, teamed with Lee Canyon, will host a pre-ski-season party replete with hot chocolate, chili, live music and the last opportunity of the year to by ski passes for Lee Canyon at a reduced price.