Chihuly's art blossoms at Bellagio and beyond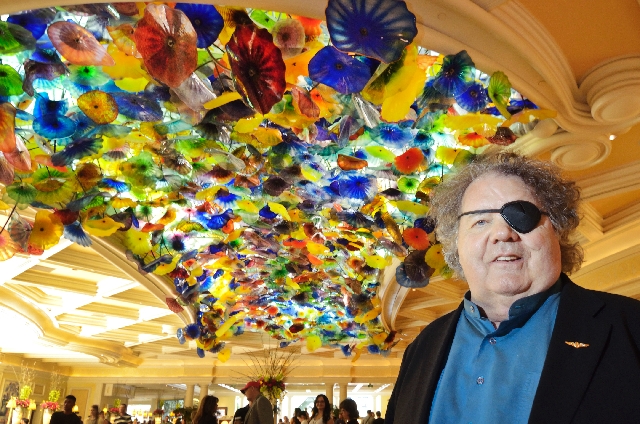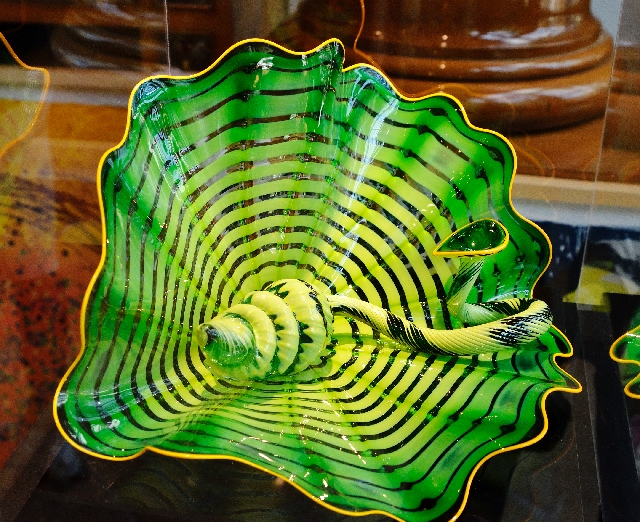 Hardly a day goes by that someone doesn't mention Bellagio to Dale Chihuly.
He can be in his home state of Washington, where he was born in 1941, or he can be in England for an exhibit. It doesn't matter where he is or what he's doing, someone will say to him, "Are you the guy who made the Bellagio glass?"
Chihuly is the artist who created "Fiori di Como," the glass sculpture that hangs from the ceiling in Bellagio's lobby.
A well-established artist long before Steve Wynn commissioned him to create a piece for the hotel- casino's opening in 1998, Chihuly has gone on to do hundreds of exhibits, shows and museum installations around the world. He has become an icon in Seattle, where he recently opened "Chihuly Garden and Glass," a long-term exhibition at Seattle Center.
A Fulbright scholar, a premier glass artist, a teacher of others and the man responsible for redefining modern glass sculpture as fine art, Chihuly has been heaped with praise and accolades.
Still, his reputation and success in the past 15 years is centered around those glass blossoms in the Bellagio lobby. Recently, he returned to the resort to sign copies of his new book, "Chihuly Silvered."
"It certainly influenced my popularity," Chihuly says of Las Vegas. "I'm constantly having people come up to me and asking about ('Fiori di Como')."
The piece cost $10 million but has surely paid for itself many times over; it has been popular since the resort opened. It is a perennial favorite on published lists of things to do in Las Vegas, says Erden Kendigelen, executive director of Bellagio's hotel operations.
Every day, an average of 15,000 to 20,000 people come to the hotel-casino's lobby just to see the conservatory and Chihuly's sculpture, Kendigelen says.
Guests have been known to spend hours sitting in one of the chairs under the sculpture, staring up at it. Others lie down on the floor to comfortably take it all in. The piece covers 2,100 square feet.
Chihuly recognizes it as one of his most important pieces for several reasons. Not only did it launch him to superstardom, it also taught him several lessons. The lighting was complicated and the support structure was aesthetically challenging, he recalls.
"It's still one of the largest pieces I've ever done," Chihuly says. "We had a lot of technical things to figure out."
The sculpture consists of 2,000 hand-blown glass blossoms that weigh about 40,000 pounds. They are supported by a 10,000-pound steel armature. Every morning between 2 and 5 a.m., a team of eight to 10 engineers cleans and maintains the sculpture, Kendigelen says.
Though it is clearly an attraction for the for-profit resort, "Fiori di Como," and by extension, Chihuly, is the standard-setter for public art in the valley, art experts say.
"I think he was instrumental in the perception of public art in Las Vegas," says Michele Quinn, owner of MCQ Fine Art.
She curated the collection for the Nevada Cancer Institute; Chihuly donated a piece that Quinn installed several years ago. Outside of the Chihuly Gallery, a retail shop in Bellagio, there are no other Chihuly works to be found in Las Vegas.
Quinn curated CityCenter's public art program, something that might not have been possible if not for the impact of Chihuly's work.
"That was one of the most grand public art statements that has happened in Las Vegas. Ever," Quinn says. "It really was impressive. It sort of has transcended time."
Contact reporter Sonya Padgett at
spadgett@reviewjournal.com or 702-380-4564.
Follow @StripSonya on Twitter.