Galleries spread across Las Vegas Strip, delighting fine-art collectors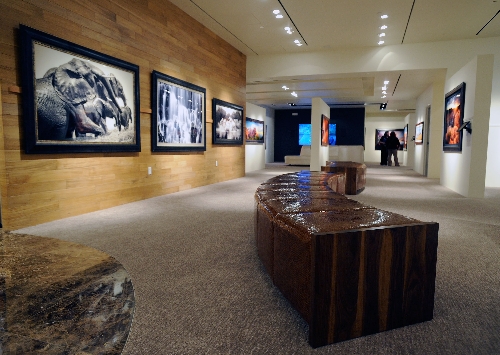 Art collectors know, when you want to buy some serious art, you go to the big art cities: Chicago; Santa Fe, N.M.; Washington, D.C.; San Francisco; New York.
Add Las Vegas, specifically the Strip, to that list, thanks to the opening of several private galleries in recent years.
Last month, Natural Wonders Gallery opened in the Shoppes at Palazzo. In August, Martin Lawrence Gallery opened in the Forum Shops at Caesars. Peter Lik is now in The Venetian and Mandalay Place, while fine art photographer Jeff Mitchum has been at Bellagio for almost a year. He's even thinking of opening another Strip location.
While the Strip has offered art-viewing opportunities — Wynn Las Vegas, Bellagio, CityCenter and The Cosmopolitan of Las Vegas are among the hotel-casinos that display fine art — never before have so many retail options been available. Want to buy an Andy Warhol or an Erte? Martin Lawrence Gallery sells both. And more.
Just what is behind this fine art "movement"?
The Strip is, surprisingly, an artist's ideal location. It has the high volume foot traffic that a successful gallery needs and it has people looking to spend money.
"That's pretty much a standard within the art world, being around a lot of people where there's high foot traffic and also having a clientele who are educated about art," Mitchum says. "One person could walk in and buy an entire body of work from you."
Martin Lawrence has galleries in nine other tourist destinations, so when it came time to open the 10th, the company wanted to be on the Strip, says Stacie Goulet, gallery director of Martin Lawrence.
It took about three or four years to identify the right space. They counted foot traffic and researched the potential clientele before choosing the Forum Shops.
"We knew we wanted to be in Vegas but a lot goes into picking a location," Goulet says. "We are very diligent about research and we are really careful about where we go. It has to be a luxury store in a high-volume area. We just wanted to make sure we had the right space, the right concept and that we would attract the people we wanted."
Apparently, even art in Las Vegas needs a gimmick, because the gallery, at 26,000 square feet, is promoted as the "world's largest private gallery." But that doesn't make it any less serious. The gallery displays about 1,100 pieces of art, many of them by Warhol, Erte, Marc Chagall, Roy Lichtenstein and other famous artists.
Goulet says when new galleries open on the Strip, they're not necessarily considered competition. All other great art destinations are known for having multiple galleries; people go to those cities to buy art, she adds. The Strip, Goulet says, could become a mecca for art purchasing.
But several galleries feature landscape and nature photography; those could end up competing for the same clientele, she notes.
"You're looking at, like, nine nature photographers on the Strip. It will be interesting to see how that pans out," Goulet says.
Robert Park, one of three photographers whose work is featured at Natural Wonders, thinks the art for sale on the Strip is so diverse that no one gallery is in direct competition with another. Their focus is on nature photography with no more than 100 prints for each photo. Park specializes in landscape photography while the other two artists, Art Wolfe and Robert Rotella, are known for their nature and macro flower photography, respectively.
They decided to open their Strip gallery for the same reasons Mitchum and Goulet cite: high volume foot traffic, big spenders.
"The idea was to launch a signature gallery in a high profile city surrounded by high-dollar retail," Park says. "Why Las Vegas? It's America's playground, right? This is where all the greats go. Elvis, Gucci, Versace. This is where all those iconic things are."
Canadians Perry and Dorothy Dunn have been visiting Las Vegas since the 1980s. While Perry Dunn is a self-described photography hack, he says he is as far from a fine-art collector as one can be. That didn't stop him from spending $50,000 on a print he saw at a Strip gallery.
Last year, while staying at Bellagio, he and Dorothy visited the Jeff Mitchum Gallery. They bought a photo book for $140 and met Mitchum. He talked about his work and posed with them for a photo. They went back to their room, called their children, then returned to the gallery and purchased a piece from one of Mitchum's most famous collections, "Third Day."
The couple didn't come to Las Vegas intending to collect art, Perry Dunn says. But he considers it money well-spent. And he would spend it again.
"We have three kids, we'd like to leave something behind for them," says Dunn, who is in the brewpub business. "We didn't buy it because it may increase in value, but knowing that it may, or that someday we may be able to loan it to a museum, was a big consideration."
The print resonated with them, Dunn says, and they have since formed a personal relationship with Mitchum. They exchange occasional emails and phone calls.
"I'm not a large gambler, I like to have something concrete in my hand for my money," he says.
While they had an overall positive experience in Mitchum's gallery, the Dunns got the hard sell in another Strip gallery. It was an uncomfortable experience, Perry Dunn says, and one that he thinks other tourists experience frequently.
"I find them very interesting," Dunn says of galleries on the Strip. "They give you the opportunity to explore without leaving Las Vegas. But I think if people are seriously thinking of buying the art, they should not be like us. They should be really educated before they walk into a gallery so that they don't walk into one and get talked into doing something that they'll regret. Be fully aware that they're in the business to make money. I think you should understand and know what you're buying before parting with your money. "
Contact reporter Sonya Padgett at spadgett@reviewjournal.com or 702-380-4564. Follow @StripSonya on Twitter.