George Hamilton getting top billing in 'La Cage aux Folles,' coming to Smith Center
August 10, 2012 - 1:29 am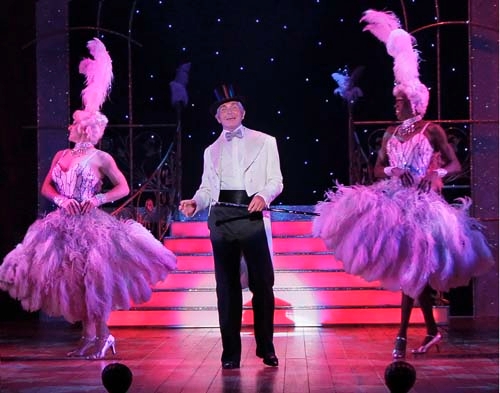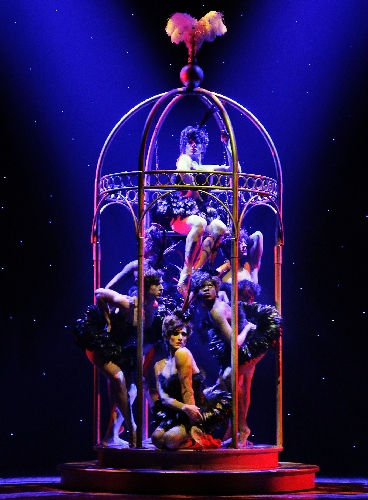 Eat your heart out, Tom Jones – because the guy getting the panties thrown at him onstage these days is George Hamilton.
Of course, most of them are granny panties. (Or "bloomers," as Hamilton describes them.)
But they still count.
When Hamilton signed on for the national tour of the Tony-winning musical "La Cage aux Folles" – which begins an eight-performance run Tuesday in The Smith Center's Reynolds Hall – he figured he'd be seeing "a lot of gay audiences" in the front rows.
After all, the musical focuses on the farcical complications that envelop a devoted couple: Georges , the debonair proprietor of the title St. Tropez nightclub, and his longtime partner Albin , alias the club's resident diva and chanteuse, Zaza.
Instead of gay men, however, "I started seeing a sea of blue hair" in the front rows, notes Hamilton, on the phone from a tour stop in Orange County.
"Then, the other night, things were being thrown at us and I thought, 'No, this is not good,' " until he noticed the projectiles were panties – from female, octogenarian audience members who had included "their names in them!"
Then again, those ladies probably have been swooning over the man with the perpetual tan since he first began fluttering hearts a half-century ago as a big-screen leading man.
Back then, Hamilton turned up in everything from Westerns (1961's "A Thunder of Drums") to dramas (1962's poignant "Light in the Piazza") to the campy 1960 fun-in-the-sun romp "Where the Boys Are."
That was before Hollywood showcased Hamilton's comedic gifts in the hit disco-era Dracula spoof "Love at First Bite" (1979) and its 1981 follow-up, "Zorro, the Gay Blade," in which Hamilton portrayed not only the title swashbuckler but his long-lost twin, alias the flamboyant Bunny Wigglesworth.
All of which would seem to be ideal preparation for "La Cage aux Folles."
But there's a catch: In "La Cage," Hamilton plays the show's "straight" man.
Sure, Georges may be gay, but Albin/Zaza (played by Christopher Sieber ) is undoubtedly the queen of "La Cage."
Although "in comedies, I like to be the comedian," in this case, "I'm the straight man," Hamilton admits.
As a result, there are times "you feel like a really good caddy suggesting, 'Try the 9-iron,' " to the golfer he's assisting.
In part, that's because Zaza gets more time in the spotlight. To say nothing of "La Cage's" signature song, the rousing "I Am What I Am," which became an unofficial gay anthem when the original production opened on Broadway in 1983. The show won six Tonys, including best musical, best score (by "Hello, Dolly!" and "Mame" legend Jerry Herman) and best book (by Harvey Fierstein).
An adaptation of Jean Poiret's 1973 French play and its 1978 movie adaptation (Hollywoodized in 1996 as "The Birdcage"), the musical's 2004 and 2010 Broadway revivals also won Tony Awards, making "La Cage" three-for-three when it comes to Broadway's top award.
On the current U.S. tour, the dapper Hamilton gets top billing.
But co-star Sieber knows how he feels – because he played Georges on Broadway last year opposite playwright Fierstein's Albin/Zaza.
Sieber is "very professional" and "wouldn't volunteer" any advice on playing Georges "unless you ask for it," Hamilton says.
But, "many nights I would hear something coming out of his mouth and realize, that's my line!" Hamilton jokes.
But seriously, folks, "live theater is an incredibly challenging thing," Hamilton reflects. "I like it that I've gone this distance."
Of course, he's been there before: Hamilton played silver-tongued "Chicago" lawyer Billy Flynn and "built a very good relationship" with Broadway producers Fran and Barry Weissler, who also produced the 2010 "La Cage" revival.
Hamilton says he had three Broadway offers this year, but "I felt this was the biggest challenge for me."
In more ways than one.
On the tour's first day, "I tore my Achilles tendon," he says.
His immediate reaction: "Get me to a sports medicine guy, and he can get me back in the game."
So, "in every city, I've had somebody work on it," Hamilton explains. "I'm stabilized; I can work on it."
At least until the tour ends in Toronto in November, after which he'll seek further treatment.
Hamilton is happy to return to Las Vegas, where his memories extend far beyond New York-New York's now-closed Hamilton's cigar bar.
He and his ex-wife, Alana Hamilton, Stewart were married in 1972 in Elvis Presley's suite at the International, which later became the Las Vegas Hilton – and is now known as LVH.
Hamilton also paid court to the King (a resident of Hamilton's hometown, Memphis) backstage on occasion.
But his favorite Vegas memory may be the time he played a week at the International "between Aretha Franklin and Perry Como."
Hamilton headlined in the showroom, and "Ike and Tina Turner were in the lounge," he recalls.
"And that's an inequity if I ever heard one."
Hamilton punctuates the anecdote with a dry, rat-a-tat chortle – "Hah hah hah!" – that surfaces often in conversation.
Despite his ready wit, however, Hamilton says he appreciates both sides of "La Cage aux Folles" – the farcical and the heartfelt.
"What's happened with his new version," he says, is that "we've made it a bit more real."
As a result, "it's more of a play with music than a musical," Hamilton observes. "We hit all the notes of funny, but it's meaningful too."
And that meaning, in his view?
"It's a very basic theme," Hamilton says. "It's simply about love and being who you are."
Contact reporter Carol Cling at ccling@reviewjournal.com or 702-383-0272.
Preview
"La Cage aux Folles"
7:30 p.m. Tuesday-Thursday; also 7:30 p.m. Aug. 17, 2 and 7:30 p.m. Aug. 18-19
Reynolds Hall, The Smith Center for the Performing Arts, 361 Symphony Park Ave.
$27-$141 (749-2000, www.thesmithcenter.com)