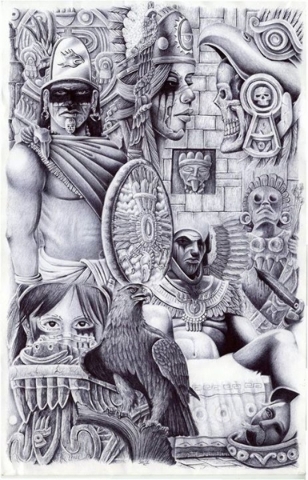 They may be behind bars, but their artwork isn't.
The new exhibit, "Ink From the Pen," features more than a hundred artworks by prison inmates from throughout the U.S. at the Corner Gallery inside the Arts Factory, 107 E. Charleston Blvd.
In conjunction with the display, actor MC Pancho (who's appeared on TV's "Sons of Anarchy") and Jose "Grumpy" Lopez, a former inmate in California's Pelican Bay "supermax" prison, will present 6 p.m. Preview Thursday talks.
Ink from the Pen magazine founder Pamela Delgado will host, reports gallery owner Christina Frausto.
They'll all be back for First Friday, along with Quiet Riot founder Kelly Garni, who'll sign his book "Angels With Dirty Faces." Garni's artwork also is on display at the Corner Gallery.
For more information on the Preview Thursday and First Friday speakers, or the Corner Gallery exhibit, visit www.facebook.com/ArtistsInBoulderCity/.