Las Vegas Philharmonic shows music's healing power at concert
October 12, 2017 - 3:31 pm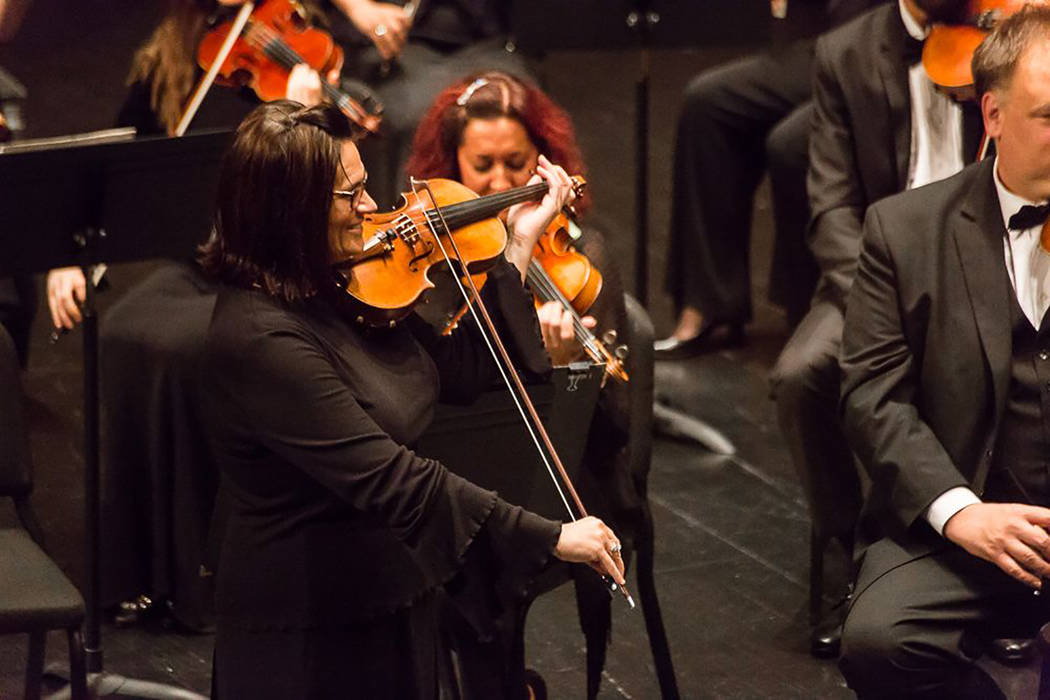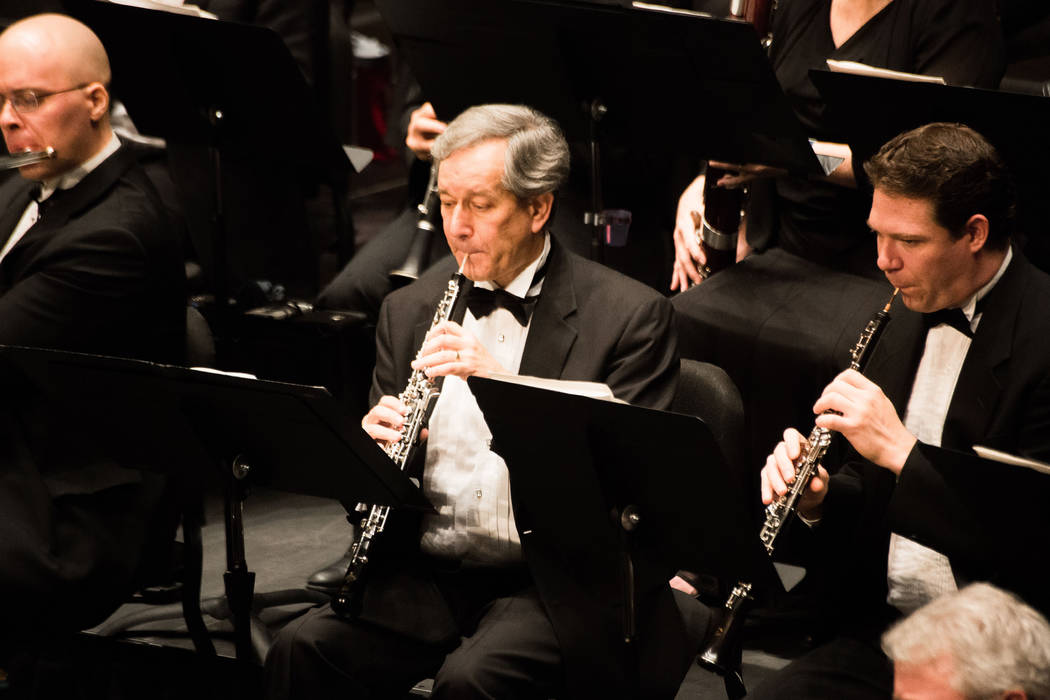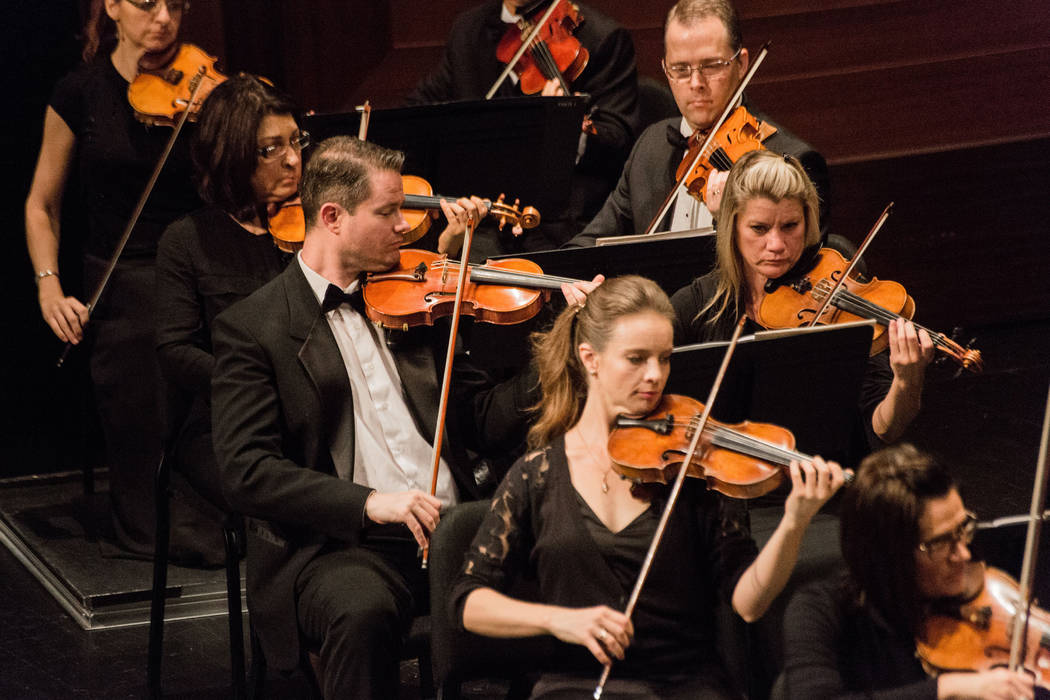 As Las Vegas reels, music heals.
Donato Cabrera, the Las Vegas Philharmonic's music director, has firsthand knowledge of music's healing power — and will help the orchestra demonstrate exactly that at Saturday's Smith Center concert.
Initially conceived as an Oktoberfest celebration, the performance has metamorphosed into a musical tribute keyed to "standing strong," Cabrera notes, in the wake of the Oct. 1 mass shooting at the Route 91 Harvest country music festival.
First responders from Las Vegas' police, fire and emergency services, along with victims and their families, have been invited to attend the concert at no charge. (Limited free tickets were available on a first-come, first-served basis at the Smith Center box office or lvphil.org, with the redemption code LVPHPM.)
'We're all in this together'
Cabrera, who was based in New York City when the 9/11 terrorist attacks occurred, remembers "what really helped us as New Yorkers were all the concerts" performed by the city's musical ensembles — at the beginning of their seasons.
"I remember feeling so thankful those concerts went through," the conductor notes. (He also felt thankful he was at the Manhattan School of Music that fateful day — and not at his part-time job in a building across from the World Trade Center.)
"I'll never forget those first few concerts" following the attacks, Cabrera adds, citing the " 'we're all in this together' feeling" they generated.
One concert in particular struck a chord with Cabrera: legendary maestro Claudio Abbado leading the Berlin Philharmonic in an all-Beethoven program at Carnegie Hall, "especially the Fifth Symphony," which "in essence is about overcoming adversity."
Memories of that particular concert came to Cabrera the day after the Route 91 tragedy. After a subsequent conference call with Las Vegas Philharmonic officials, Saturday's Oktoberfest concert became "a more somber" occasion. (One Oktoberfest element remains: a 6 p.m. pre-concert Beer Garden reception with German fare, for those 21 and older, in the Smith Center Courtyard, with a $35 ticket price.)
Beethoven's Coriolan Overture (written for Heinrich Joseph von Collin's 1804 tragedy "Coriolan," about the same Roman general who inspired Shakespeare's "Coriolanus") remains on the program, as does Mozart's Clarinet Concerto in A Major.
But Samuel Barber's Adagio for Strings — which Cabrera says has been "classical music's piece (for) mourning" since President John F. Kennedy's 1963 assassination — is now Saturday's opener. (And "we're asking the audience to not clap" following the Philharmonic's rendition of the elegiac piece "associated with tragedy," he adds.)
'Part of the healing process'
The concert's major switch: replacing the planned Anton Bruckner symphony with Beethoven's Symphony No. 5, which Cabrera describes as "the perfect symphony," one that is "perhaps the most famous classical piece ever written."
The Philharmonic last performed Beethoven's Fifth in 2011, but "it never reveals everything there is to the piece in any one performance," the conductor says. "It's constantly shedding off new challenges and new revelations for everyone onstage."
Although Philharmonic musicians were well into Bruckner preparation, they were "so appreciative we changed the program at the last minute" to the Beethoven symphony, according to Cabrera. "They're very excited about the program and what it means to the community."
Besides, the rehearsal process will provide the orchestra, and its conductor, a chance to start the healing process as well.
"For us to make music with one another is part of the healing process," Cabrera comments. And by concert time, they'll be ready to help the audience do the same.
"It's incumbent upon arts organizations, particularly performing arts organizations" such as the Philharmonic, "to lead the community in a positive, forward direction," the conductor says. "There's nothing greater to bring people together than music."
Clarinetist in the spotlight
Corey Tiffin, the Las Vegas Philharmonic's principal clarinetist for seven seasons, steps into the solo spotlight at Saturday's Smith Center concert, performing Mozart's Clarinet Concerto in A Major with his musical colleagues.
It's a piece he — and every clarinetist — knows well.
Tiffin learned the first movement when he was an eighth-grader — and now teaches it to his students at Loyola University in Chicago, where he's lived for 14 years.
"This piece is like a cornerstone for every clarinet player," Tiffin explains in a telephone interview.
"It's a true masterpiece" by Mozart — and "one of the last things he wrote" before the onetime wunderkind died at 35.
Beyond that, the concerto "legitimized the clarinet," Tiffin adds. Its debut marked "the moment the clarinet came into the spotlight."
As standard repertoire, Mozart's concerto is easy for clarinetists to take for granted. But Saturday's concert will enable Tiffin to not only revisit but "embrace the piece" — and consider how far he's come since his student days.
"It's a good way to check in with myself as a musician," he says. And playing the concerto "feels more familiar and comfortable, more like a cohesive whole."
During rehearsal, "I think back to when I was struggling to learn one phrase," Tiffin says. "My concerns are much broader now."
Contact Carol Cling at ccling@reviewjournal.com or 702-383-0272. Follow @CarolSCling on Twitter.