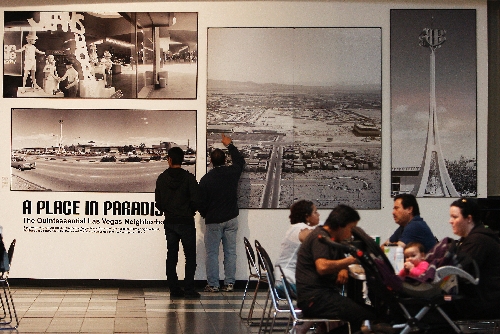 Life was good, paradisiacally speaking. (Unless someone challenged you to spell "paradisiacally.")
Stars were out at night. And the morning. And midday. Celebs of Las Vegas' storied past seemingly dwelled in every other house. Paradise, indeed.
"It was the quintessential Las Vegas neighborhood because it was the first master-planned community in Las Vegas," says Brian Paco Alvarez of the Las Vegas News Bureau. Through its vast archives, the bureau assembled "A Place in Paradise," a photographic tribute to historic Paradise Palms, lining the walls of the food court at one of the neighborhood's anchors, the Boulevard Mall.
"It was the first attempt to create the storybook suburb with a mall and schools and tree-lined streets in the modern style," Alvarez says. And it was stuffed with star residents who surely jacked up property values — Johnny Carson, Bobby Darin, Shecky Greene and Sonny Liston among them.
Twenty-four large-scale photos depict aerial views of Paradise Palms, the early days of the mall and mostly stars who called its houses at least part-time homes. "They had been planning it in the late 1950s," Alvarez says. "It was a testament to what Las Vegas would be many years into the future."
Strolling through the exhibit turns up intriguing images: Dick Cantino (residence: Nahatan Way), accordion strapped to his chest as he sits sideways off a diving board poolside at the Flamingo, backed by a squeezebox band of young accordionists in March 1964. Boxers Liston (Ottawa Drive) and Floyd Patterson at the weigh-in for their fight at the Las Vegas Convention Center in July 1963. Young Arnold Palmer teeing off, in perfect midswing form, at the Tournament of Champions at the area's Stardust Golf Club (now the Las Vegas National Golf Club) in April 1967.
"The great thing about this neighborhood is that it's housing for all different types of people that worked in the hotels, whether they were housekeepers or hotel executives," Alvarez says about the wide range of socio-economic levels accommodated at Paradise. "You had apartments, small midcentury modern homes, and a slew of architects that designed these homes. When they planned this area, they really thought it out well."
Envisioned by local developers Irwin Molasky and Merv Adelson and designed by Los Angeles architects Dan Palmer and William Krisel, Paradise Palms would anchor major developments along Maryland Parkway, including the mall, UNLV (then Nevada Southern University), Sunrise Hospital and the golf course.
"It was moving away from downtown as a way of bringing homes to where the (hospitality industry) workers were along Las Vegas Boulevard," Alvarez notes about the area that became a kind of star in itself when it was featured in Martin Scorsese's "Casino," starring Robert De Niro, Joe Pesci and Sharon Stone.
Surely it earned the cameo, judging by the stars who peopled its streets and are captured in these images.
Caesars Palace developer Jay Sarno (Maricopa Way) with bandleader Xavier Cugat in July 1966. Darin (Cayuga Parkway) at his finger-snappiest performing at a teen dance at the Las Vegas Convention Center in June 1959. Frank Sinatra with Frank "Lefty" Rosenthal (Spender Avenue) on Rosenthal's TV show in August 1977. Outrageously costumed Phyllis Diller (Cayuga Parkway) in midshtick on the Sands stage in May 1965, huge butterflies sewn into her minidress, an odd feathered concoction rising out of her head.
Elsewhere, a celebrity foursome of Joey Heatherton, Nipsey Russell, Ginger Rogers and Foster Brooks (Pueblo Way) dip their fingers into the icing of a birthday cake in July 1976. Rip Taylor (Pawnee Drive) and Debbie Reynolds (Ottawa Drive) hug at the Sands in June 1979. A sweating Greene (Geronimo Way) works his routine onstage at the New Frontier in April 1956. Lucky "Casino De Paris" producer Frederic Apcar (Cayuga Parkway) smiles onstage at the Dunes with a half-dozen showgirls, surrounded by feathers and cleavage in January 1974.
And Carson (Seminole Circle) wears a Sahara Hotel construction hat rakishly tilted on his head in July 1967.
"Boulevard Mall Rides New Wave of Prosperity" reads the headline of a March 1968 Review-Journal editorial that calls the mall "the most thoughtfully planned area in Southern Nevada" with "charm and grace."
A Paradise centerpiece, it was celebrated as Nevada's first indoor mall, costing $40 million-plus, originally featuring a 60,000-square-foot, indoor promenade with trees and shrubs, and anchored by Sears and JCPenney.
"I grew up in this neighborhood when it was in decline, but now there is a movement where people are looking at the old and making it new again," Alvarez says. "Let's bring back these old neighborhoods and make them shine again."
Contact reporter Steve Bornfeld at sbornfeld@ reviewjournal.com or 702-383-0256.
Preview
"A Place in Paradise" photo exhibit
Open during mall hours, 10 a.m.- 9 p.m. Monday-Saturday, 11 a.m.-6 p.m. Sunday, through the end of the year
Food court at the Boulevard Mall, 3528 S. Maryland Parkway
Free (736-3611; news@lvcva.com)