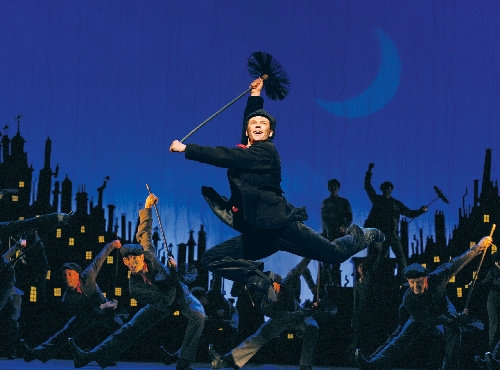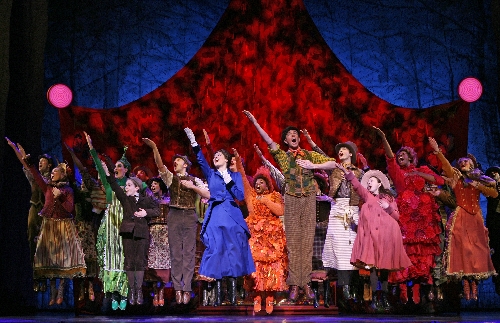 We're not in Disneyland anymore. And there've been a few changes made at London's Edwardian-era No. 17 Cherry Tree Lane as well.
For one thing, there's trouble down at the bank for George Banks, who's worried about losing his job – and the dysfunctional household he shares with wife Winifred and children Jane and Michael, whose collective antics have prompted another governess to storm out in a frustrated huff.
Good thing magical nanny Mary Poppins is on hand to set things right, as we all knew she would.
Mind you, the stage version of "Mary Poppins" – which checks into The Smith Center's Reynolds Hall on Tuesday for an eight-performance run – isn't quite the same as the beloved 1964 Disney musical that inspired it.
Never fear, Mary still flies through the air with the greatest of ease.
And you'll still hear many of the songs featured in the movie's Oscar-winning score, from "Chim Chim Cher-ee" and "Feed the Birds" to "A Spoonful of Sugar" and "Supercalifragilisticexpialidocious."
But in the latter tune, there seem to be a few new rhymes to twist the tongue. "Ferocious"? "Rocococious"? "Check your breath before you speak in case it's halitocious"? And what about that unfamiliar countermelody weaving in and out between the instantly recognizable strains of "Jolly Holiday"?
Clearly, this is not the baby boomer-era original – which is precisely what its creators intended.
"The best of the movie and the best of the books" is how composer George Stiles describes the stage musical, for which he and lyricist Anthony Drewe created seven new songs – and "reworked a huge amount of existing material" from the Oscar-winning score by Robert M. and Richard B. Sherman.
Not that the Stiles-Drewe team initially understood why any "Mary Poppins" stage translation would need new songs, Drewe recalls.
But when the two heard, back in 1995, that British producer Cameron Mackintosh (whose credits include Broadway's three longest-running shows: "Phantom of the Opera," "Cats" and "Les Miserables") was pondering a stage version of "Mary Poppins," they revisited the movie on video and came up with a calling-card number: the aptly named "Practically Perfect."
In the song, Mary Poppins extols her qualifications as the ideal nanny, singing in spit-spot, matter-of-fact fashion: "I'm practically perfect from head to toe. If I had a fault it would never dare to show."
Once Stiles and Drewe had written "Practically Perfect," a friend recorded it (doing a spot-on imitation of Oscar-winning "Mary Poppins" star Julie Andrews) and they delivered the demo to Mackintosh.
The producer immediately called and said, " 'It's fantastic. Please write me two more,' " Stiles recalls.
But it took eight more years for Mackintosh and Disney officials to work out a deal. Once they did, Stiles and Drewe finally had the job, facing the prospect of mucking about with "a truly wonderful film adored by generations," Stiles says, only slightly in jest.
For the stage musical's book, writer Julian Fellowes (an Oscar-winner for "Gosford Park," an Emmy-winner for "Downton Abbey") went back to Pamela Travers' original 1934-44 Poppins tales, and incorporated additional stories to give the entire script a "slightly more edgy" tone, Drewe notes.
To make the musical work for contemporary audiences, Fellowes set about to create "a dysfunctional family that's gone off the rails in the absence of a stern governess," thereby "making the problems more real," he explains.
"They don't live in a delightful cartoon world," Stiles says of the stage version's Banks family, which in turn shifts the musical's theme to "bringing a family together."
And while "Mary Poppins" may be set in Edwardian-era England, the problems its characters face are hardly a thing of the past, comments Rachel Wallace, who plays the title role in the current "Mary Poppins" tour.
Although the movie "came out such a long time ago – and it's set in an even longer-ago time – it's incredibly relevant," Wallace says. "A family in crisis is always going to be relevant."
Wallace, who's played Mary Poppins since last September (after understudying the role and appearing in the ensemble), has more than fond memories of the original movie, and its star, whom she idolized.
"The beautiful thing about growing up with the music and the movie is" that the character of Mary Poppins – and Andrews' portrayal – are "in my blood."
But trying to emulate another performer "is a recipe for disaster," Wallace maintains, noting that Andrews' "choices, and the nuances of her performance, are in my awareness," even though she doesn't ever try to copy them.
Stiles and Drewe found themselves confronting the same issue as they tackled the score.
"There's a sense of trepidation in unpacking those masterpieces," Drewe admits, but Stiles notes that "we tried to put away the trepidation of working on these classic songs."
And once the team got to work, "the daunting quality of what you're doing" falls away, Drewe says.
One of their greatest challenges: melding the new songs with the Sherman brothers' originals.
In Wallace's view, Stiles and Drewe more than succeeded.
"For me, it doesn't feel like a new song and then an old song" when she sings during the show, she says, because the new numbers "fit so seamlessly" with the originals.
As for Stiles and Drewe, they breathed a collective sigh of relief when they played their new "Mary Poppins" songs for Richard Sherman, who "had tears running down his face" as he listened, Stiles recalls.
Fortunately for them – and audiences who have applauded "Mary Poppins" onstage in London, New York and on tour – they were "tears of relief and joy," Stiles says.
And at the end of "Practically Perfect," Richard Sherman told them, " 'That's the best song I never wrote.' "
Practically perfect, indeed.
Contact reporter Carol Cling at
ccling@reviewjournal.com or 702-383-0272.
Preview
"Mary Poppins: The Musical"
7:30 p.m. Tuesday through May 27; also 2 p.m. May 26-27
Reynolds Hall, The Smith Center for the Performing Arts, 361 Symphony Park Ave.
$27-$151 (749-2000)