Neon Museum celebrates five years with free events Saturday
October 26, 2017 - 10:08 am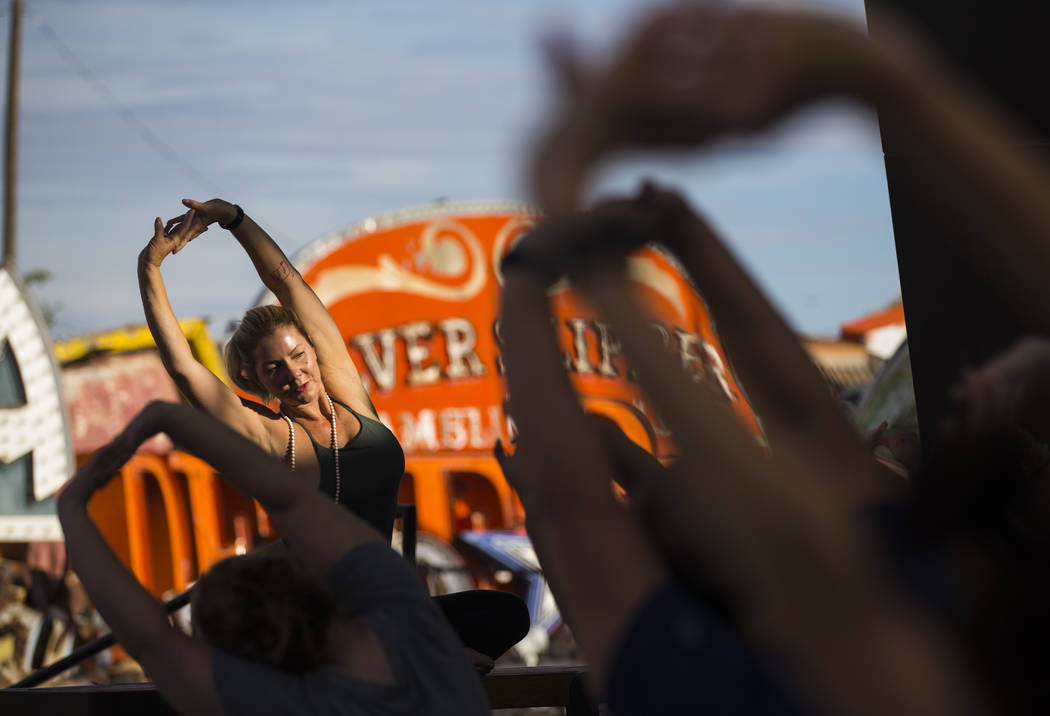 A boneyard seems an unlikely place for growth.
Unless, of course, it's the boneyard at the Neon Museum, which celebrates its fifth anniversary Saturday with a variety of activities marking the day — and night.
From 1 to 7 p.m. Saturday, the museum's boneyard will come alive with free access to its sign collection, plus food trucks, cake, crafts and paper flower creation celebrating the Day of the Dead.
The flowers will decorate an ofrenda (altar), created by artist Justin Favela, that honors Raul Rodriguez, who designed the boneyard's resident Flamingo sign. (If the late Rodriguez's name sounds familiar, you've probably seen his award-winning float designs during the annual Rose Parade; he was the most decorated designer in parade history before his death in 2015.)
From 1 to 4 p.m. Saturday, Favela will present a free "Family Fiesta" featuring food, drinks, music and dance, games, pinatas — and the artist's real-life family.
Saturday's grand finale: an 8 p.m. open-top bus excursion through downtown Las Vegas and Las Vegas Boulevard North, highlighting signs from the Neon Museum's collection, followed by a special boneyard tour focusing on the museum's sign conservation and restoration efforts. For tickets ($50), check neonmuseum.org.
'Learning to grow up'
When the neon museum opened in October 2012, it marked a milestone in a series of "baby steps" for proponents who had been working for two decades to bring it to life, according to Dawn Merritt, public relations and marketing director for the museum.
"People decided, 'We're imploding our history — we want to save it,' " she explained. "We had to figure it out like a child learning to grow up."
One major step involved the museum's transition to an independent nonprofit institution, following initial backing from the city of Las Vegas.
In the beginning, "we didn't offer nighttime tours," Merritt recalls — in part "because we didn't have lights."
Now, the museum offers night tours until 11:40 p.m. — although, Merritt says, photographers often prefer daytime visits because the "rusted metal, broken tubing and peeling paint" characteristic of many signs are more apparent by day.
Of course, not every sign at the Neon Museum is in a state of picturesque decrepitude.
There are 11 restored signs on display; the latest lit-up additions range from the blossoming Yucca Motel to the aptly named Happy Shirt from Steiner's Cleaners.
Starting next year, the museum will launch a crowdfunding campaign to finance restoration of its next star sign: the Hard Rock Hotel guitar.
"It needs work done on it," Merritt notes. "And we have to determine where to put it."
Before then, however, the museum's north gallery will get an immersive jolt from artist Craig Winslow, who's working on a project (scheduled to launch in the next few months) combining lights, music and signage from casinos (Lady Luck, Showboat, Binion's Horseshoe) and somewhat less glamorous locations (Denny's, KFC).
Encouraging signs
Museum officials have even more expansion on their minds.
"What we would like to do is purchase land and build more space," Merritt says.
Another item on the Neon Museum wish list: a gallery to display indoor signs that might not survive the harsh boneyard conditions.
Although the boneyard's signs remain the star attraction at the Neon Museum, a variety of other activities have enlivened its first five years, from artist-in-residence programs to hot yoga.
Chief among them: educational programs that include school partnerships, library outreach, off-site exhibits (such as the recent one devoted to "Welcome to Fabulous Las Vegas" sign designer Betty Willis at the Lost City Museum in Overton) and more.
Education was "always a focus," Merrill says "but we weren't at the point to be able to offer much of it" when the museum first opened.
Five years later, the recently restored Yucca Motel sign isn't the only thing blossoming at the Neon Museum.
By the numbers: the Neon Museum's first five years
■ Volunteer interpreters: 30
■ Corporate volunteers: 25
■ Total visitors: 441,238 (tours, photo shoots and events)
■ Visitors during first fiscal year: 38,561
■ Visitors during fiscal year ending June 2016: 97,000
■ Percent of museum visitors in the past six months from out of town: 92 percent
■ Percent of museum visitors coming from the Strip: 73 percent
■ Educational events: 123 (including 21 Junior Interpreter Tours, 4 Stars & Stardust nighttime stargazing sessions)
■ Weddings: 391
■ Catered events: 123 (wedding receptions, corporate and nonprofit)
■ Museum members: 363
■ Artists in residence: 8
■ Total events: 514
■ Musical artists featured in videos shot at the museum: 25 (Alma, Marc Anthony, Steve Aoki, Arcangel, Banarama, Dierks Bentley, Brooks and Dunn, Luke Bryan, Jimmy Buffett, Charli XCX, De La Ghetto, Death Cab for Cutie, Evanescence, Florida Georgia Line, Gym Class Heroes, Hardwell, Ice Cube, Jimmy Eat World, The Killers, Dario Lorina, Meatloaf, Phillip Phillips, Tiesto, Carrie Underwood, Wilco)
■ Magazine features: 21 (Architectural Digest, Australian Vogue, Dwell, Elle, Elle UK, Entertainment Weekly, French Glamour, French Vogue, GQ, Harper's Bazaar, Harper's Bazaar Indonesia, Italian Elle, Life and Style, Maxim, Men's Vogue, Rangefinder, Self, Sunset, Time, Top Gear, Wallpaper)
— Neon Museum
Contact Carol Cling at ccling@reviewjournal.com or 702-383-0272. Follow @CarolSCling on Twitter.