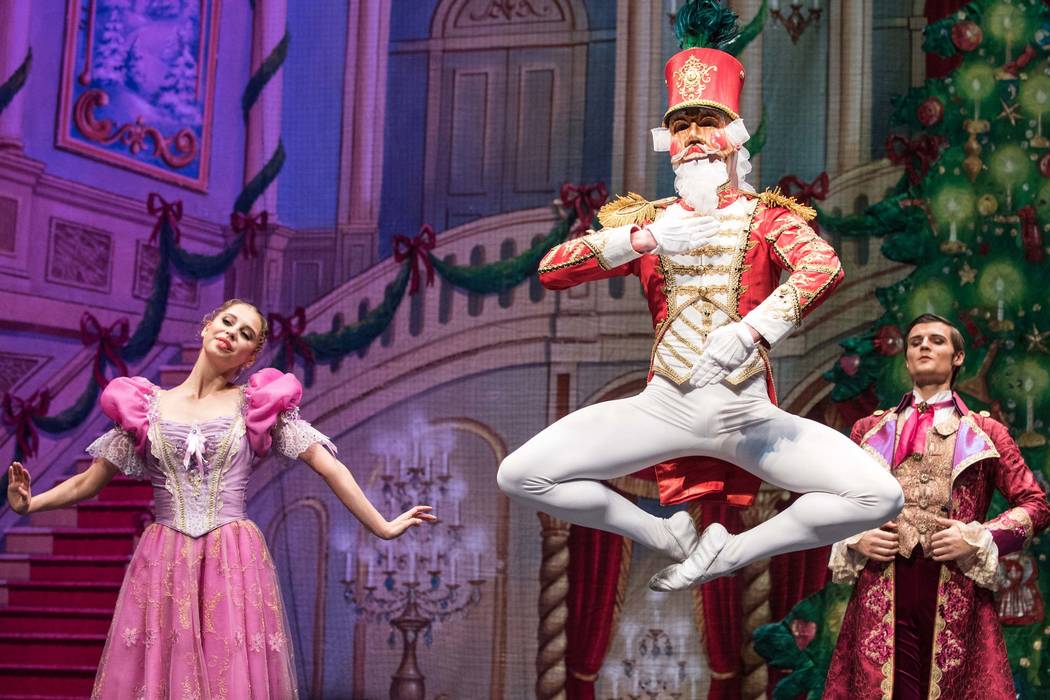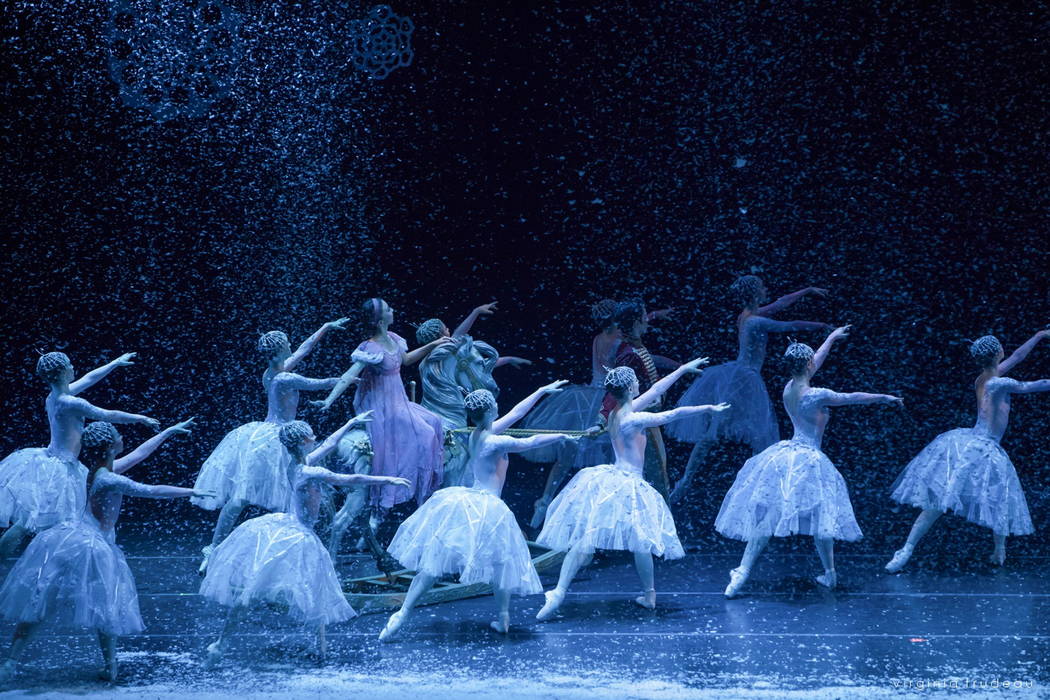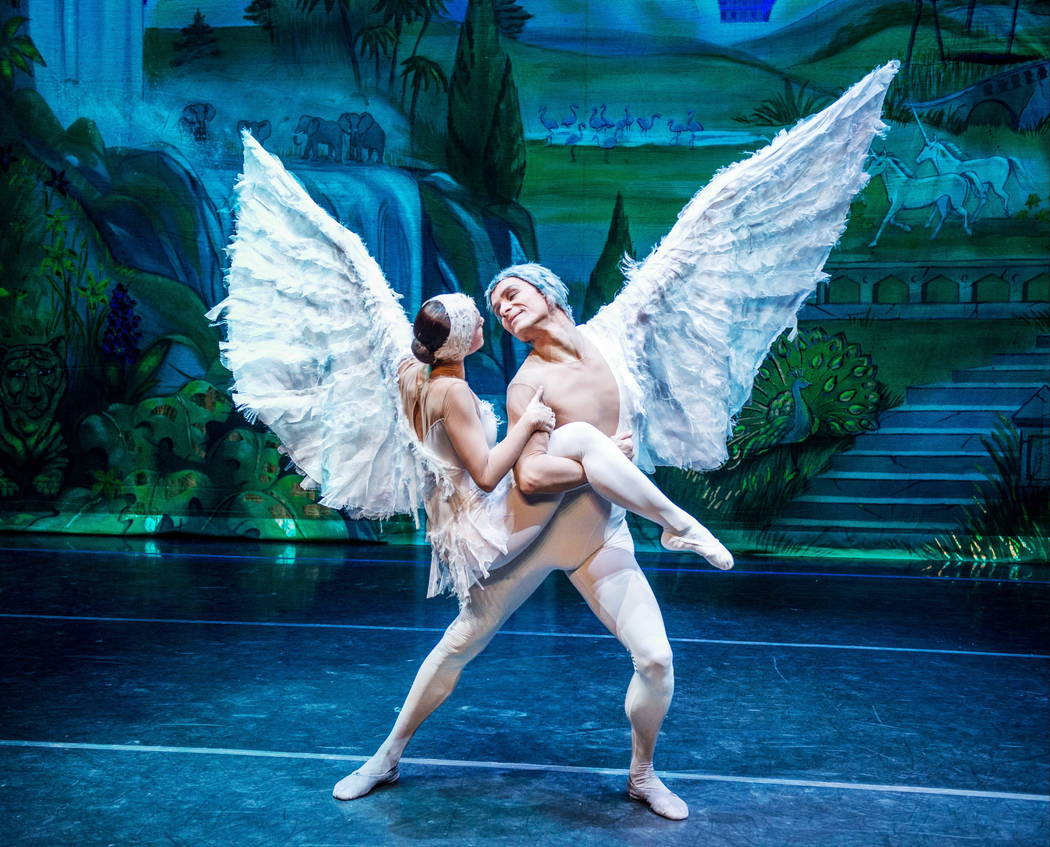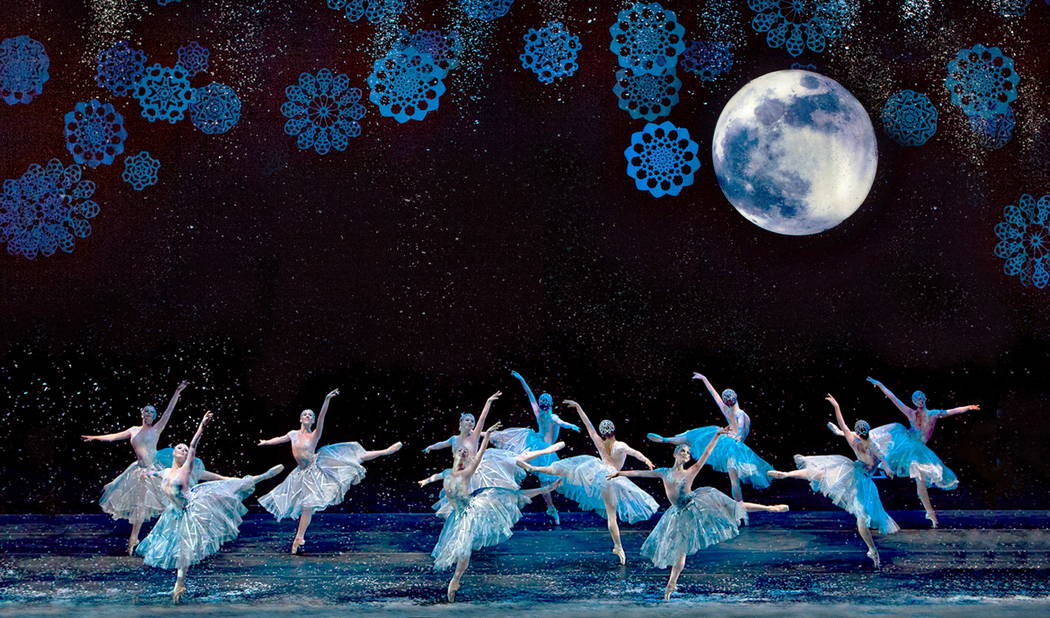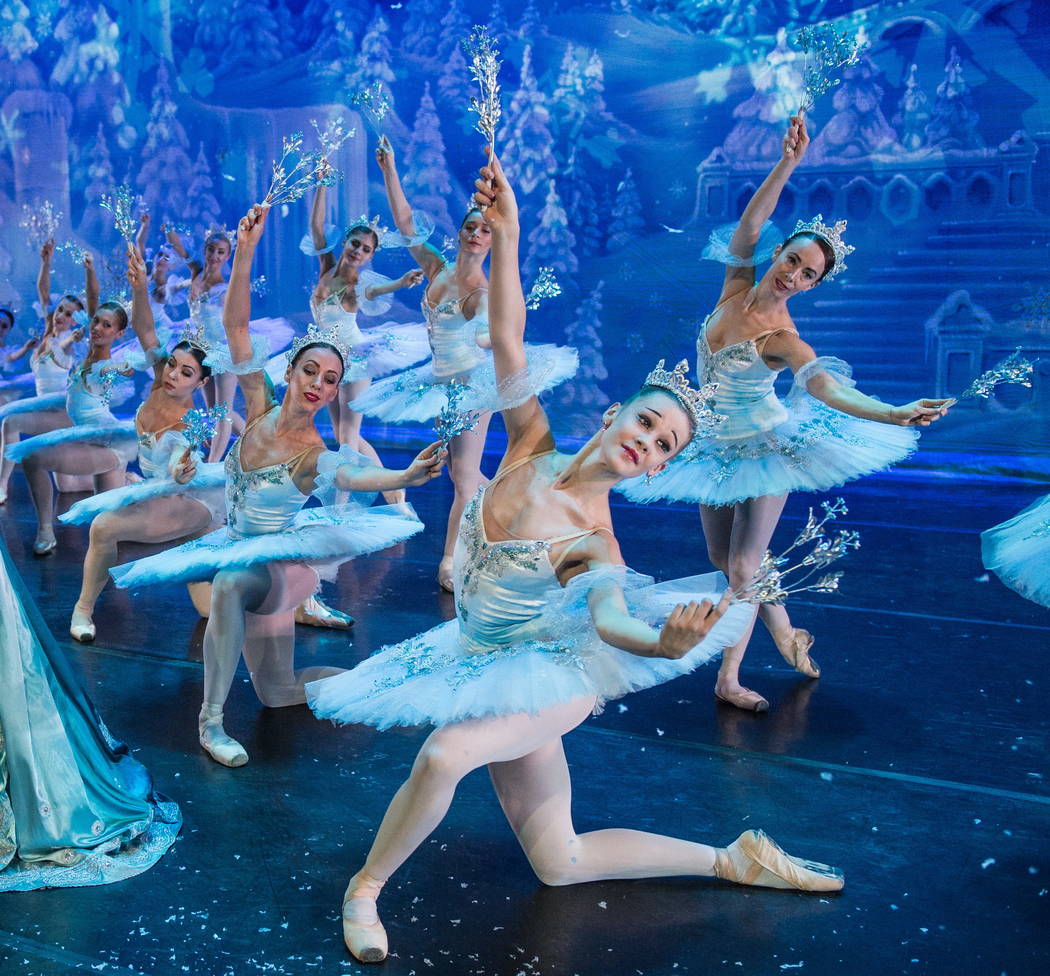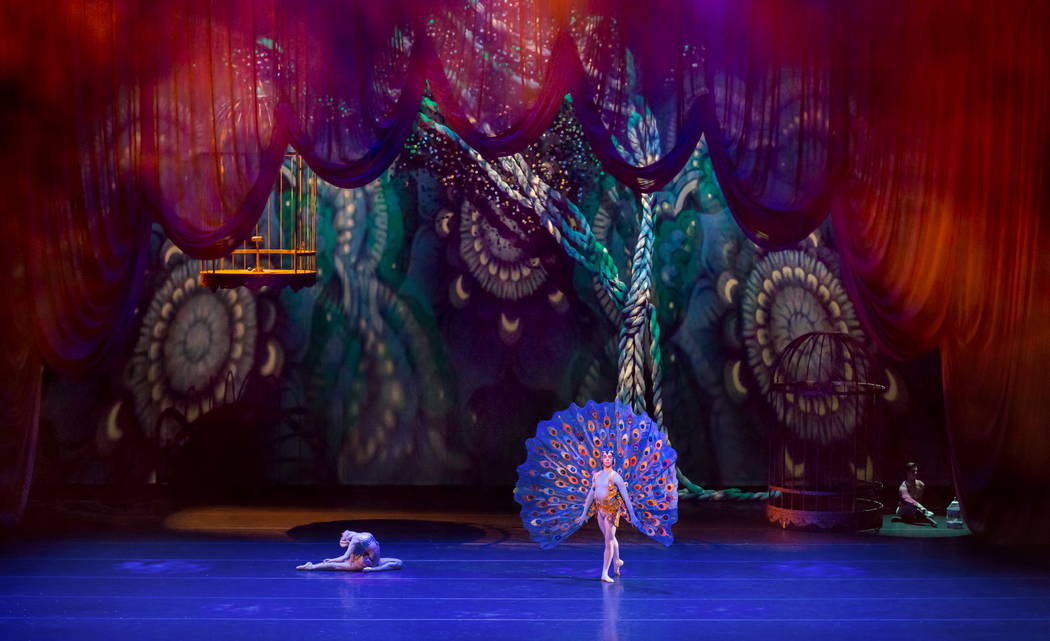 If it's holiday time, it must be time for "The Nutcracker."
Nevada Ballet Theatre's annual extravaganza begins a 12-performance run Saturday (five with a live orchestra), climaxing with a Christmas Eve matinee.
But, this year, it's not the only "Nutcracker" around. At least not on Tuesday, when the Moscow Ballet makes its Las Vegas debut with "The Great Russian Nutcracker" at Cashman Theatre, the final performance scheduled at the theater.
Every "Nutcracker" shares certain elements, from Tchaikovsky's classic score to the fanciful storyline (inspired by E.T.A. Hoffmann's 1816 tale, "The Nutcracker and the Mouse King"), which whisks audiences from a Christmas Eve celebration to a magical realm.
But each "Nutcracker" production also creates its own world.
That's true even with NBT's current "Nutcracker," which returns to The Smith Center for the sixth time. (This is NBT's 36th year of presenting the holiday classic at various venues around town, from UNLV's Artemus Ham Hall to the Paris Las Vegas and Rio showrooms; the company's first full-length version debuted in 1981.)
Choreographer James Canfield, who stepped down as NBT's artistic director this year, is back to oversee this version, which debuted in 2012, the year The Smith Center opened, with all-new sets and costumes.
"Yes, it's the same music — it'll always be the same music," observes NBT ballet mistress Tara Foy, who rehearses the company and has choreographed some "Nutcracker" segments this year.
But "every year it's a little bit different," Foy says. "It takes years to establish a production, to bring it to a level to where it wants to be."
Adding and revising the choreography helps "keep it alive" for performers and audiences alike, she explains, because "there's always something new to tweak."
This time around, that includes an all-new sequence featuring the voluminous-skirted Mother Ginger and her children, who emerge from beneath that hoop skirt to dance.
NBT's young dancers appearing in the Mother Ginger number — who also turn up, in other roles, in the first act — rank as "the very best cast that I have ever had," Foy says. "Most of the boys and some of the girls have never done 'Nutcracker.' " And some of them "were probably kids that came last year and said, 'I want to be in "The Nutcracker.' "
The Moscow Ballet's "Great Russian Nutcracker" also features area youngsters — almost 60 of them — who were cast in October as part of the ballet's "Dance With Me" program.
The local ballet students practiced at the Zemskov Dance Academy, and they'll rehearse Tuesday at Cashman prior to the "Great Russian Nutcracker" performance alongside 40 Moscow Ballet members, including Ukrainian superstar Olena Pecheniuk as "Nutcracker" heroine Masha (or Clara, as she's called in NBT's production) and Russia's Oleksandr Skulkin as her prince of a partner.
The Moscow Ballet tour includes three companies crisscrossing North America, according to producer Akiva Talmi. "We have nine trucks and buses" visiting "130 cities," with "105 Russian artists and 6,000 American children," he notes. "That's a challenge."
Playing Las Vegas also has been a challenge for the tour, Talmi adds, calling Las Vegas "the only large entertainment center that evaded us" since the Moscow Ballet formed in 1992.
"We made a big effort to find a theater" here, he says. "Every entertainer's dream is to dance in Las Vegas," and the Moscow Ballet's dancers "are very excited" about their debut, he says.
The "Great Russian Nutcracker" tour features a number of distinctive elements, from a flying "Dove of Peace" puppet to a different Act II destination for Masha and her prince: a "Land of Peace and Harmony," rather than the traditional "Land of Sweets."
Masha "goes around the world to five continents, seeking peace and harmony," Talmi explains, traveling "on the wings of a dove of peace."
One element that NBT's "Nutcracker" offers that "The Great Russian Nutcracker" doesn't: live orchestral accompaniment at multiple performances.
"There's nothing like performing to a live orchestra," Foy comments, citing the "incredible energy coming from the pit and coming from the stage," uniting dancers and musicians.
Whether performing to live or recorded music, however, "The Nutcracker" provides "a beautiful experience" for dancers and audience members caught up in a holiday production that provides "something for everyone," Foy says.
"It's familiar, it's tradition, it's happy," she comments. "There are a thousand and one billion 'Nutcrackers,' but none like ours."
By the numbers
Each "Nutcracker" is its own entity, but both Nevada Ballet Theatre's "The Nutcracker" and Moscow Ballet's "Great Russian Nutcracker" boast their own attributes.
Here are some numbers to put each in perspective.
Nevada Ballet Theatre's "Nutcracker"
■ 36: number of years NBT has presented "The Nutcracker," starting in 1981
■ 30: number of student performers from the NBT Academy
■ 35: number of NBT company members performing
■ 30 feet: height of the featured Christmas tree
■ 34 feet: height of the featured life-sized Victorian dollhouse
■ 133: costumes in each performance
Moscow Ballet's "Great Russian Nutcracker"
■ 25: number of years "The Great Russian Nutcracker" has toured North America
■ 40: number of dancers in the corps de ballet
■ 59: number of local ballet students in the production
■ 60 feet: height of the Christmas tree in the production
■ 100: costumes featured in the production
■ 10 feet: height of the puppets featured in the production
Sources: Nevada Ballet Theatre, Moscow Ballet
Added attractions at NBT's 'Nutcracker'
In addition to the ballet itself, Nevada Ballet Theatre's "Nutcracker" at The Smith Center includes a variety of other activities and attractions, including:
■ Choral groups: Performing holiday songs in the lobby before each performance. Among the scheduled groups: Alexander Dawson School, Clark County Children's Choir, The Meadows School, Military Youth Chorus, Nevada School of the Arts and Sun City Music Makers.
■ Holiday boutique and character photos: In addition to a holiday boutique in the Reynolds Hall lobby, professional red-carpet photographs with "Nutcracker" characters will be available for purchase.
■ Dec. 17 Sugarplum Party: Post-matinee party ($40-$60) where guests can meet Clara, the Nutcracker Prince and the Sugarplum Fairy and enjoy sweet treats and special souvenir photos.
■ "Nutcracker" Wonderland: Free to all "Nutcracker" ticket-holders. An hour before each performance, guest readers will recount "The Nutcracker's" story in a glittering holiday environment with multiple photo ops.
Contact Carol Cling at ccling@reviewjournal.com or 702-383-0272. Follow @CarolSCling on Twitter.
361 Symphony Park Ave., Las Vegas, NV