Offbeat premise drives plot of 'Dead Man's Cell Phone'
December 2, 2011 - 2:00 am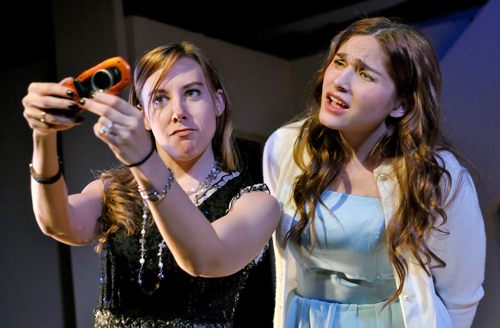 We're hoping his ringtone isn't Blood, Sweat and Tears' "And When I Die."
So 15 minutes ago, given that the man's already afflicted by a touch of rigor mortis.
"In one word — quirky," says director Ruth Pe Palileo of the straightforwardly titled but strangely plotted "Dead Man's Cell Phone" opening tonight at Las Vegas Little Theatre's Black Box. "But quirky in this really lovely way."
Playwright Sarah Ruhl's oddball rumination on what LVLT calls "how we memorialize the dead and how that remembering changes us" is set in a quiet cafe where a woman loses her patience over a stranger's incessantly ringing cellphone. Approaching what she presumes is an impolite jerk, she notices his irreversible condition. Picking up his phone, she is gradually drawn into the dead man's life and the people in it.
When "Dead Man's Cell Phone" debuted at New York's Playwrights Horizons in 2008, Mary Louise Parker (of Showtime's "Weeds") essayed the lead role to critical acclaim in what New York Times reviewer Charles Isherwood called "a surrealist fantasy" by a playwright whose works "blend the mundane and the metaphysical, the blunt and the obscure, the patently bizarre and the bizarrely moving."
Beginning with the fairly ridiculous question the woman asks of the incessant caller — if she can take a message for the dead man — she begins establishing relationships with his distant mother, estranged wife, mistress and brother.
"This woman insinuates herself into an entire family's life," Pe Palileo says. "She tells the family that the phone was left to her. That makes the man's mother think, 'This woman must have been important in his life.' She invites her to dinner. She goes and she falls in love with his brother."
Interesting alternative to eHarmony.
Yet the woman also works to tie a comforting ribbon on the man's life to his loved ones through flat-out lies, telling his mother that despite their falling-out, he tried to call her the day he died — that her number showed up on his list of outgoing calls — and telling his mistress that "I love you" were his last words.
"She wants to make things better for them," Pe Palileo says. "All her lies are based on the picture she wants to paint of his life."
Technology may be a divisive issue given its effects, both positive and negative, on society (imagine if the play addressed tweeting, texting and Facebook), but the director says the author illustrates its positive aspects as a stranger gains access to another person's world.
However, the ironies of The Ringing Phone remain, both onstage and off. "Mom gives a eulogy and a phone rings during the eulogy," Pe Palileo says. "And our phones go off during rehearsal."
Expect comic irony as theatergoers are greeted with the standard pre-play announcement.
"Please turn off your cellphones."
Contact reporter Steve Bornfeld at sbornfeld@ reviewjournal.com or 702-383-0256.
Preview
"Dead Man's Cell Phone"
8 p.m. today, Saturday, Thursday, Dec. 9-10, 15-17; 2 p.m. Sunday, Dec. 11 and 18
Las Vegas Little Theatre Black Box, 3920 Schiff Drive
$14 for seniors and students, $15 general admission (362-7996; lvlt.org)