Palace Station's train and sign unveiled at Neon Museum
Updated June 23, 2017 - 10:28 am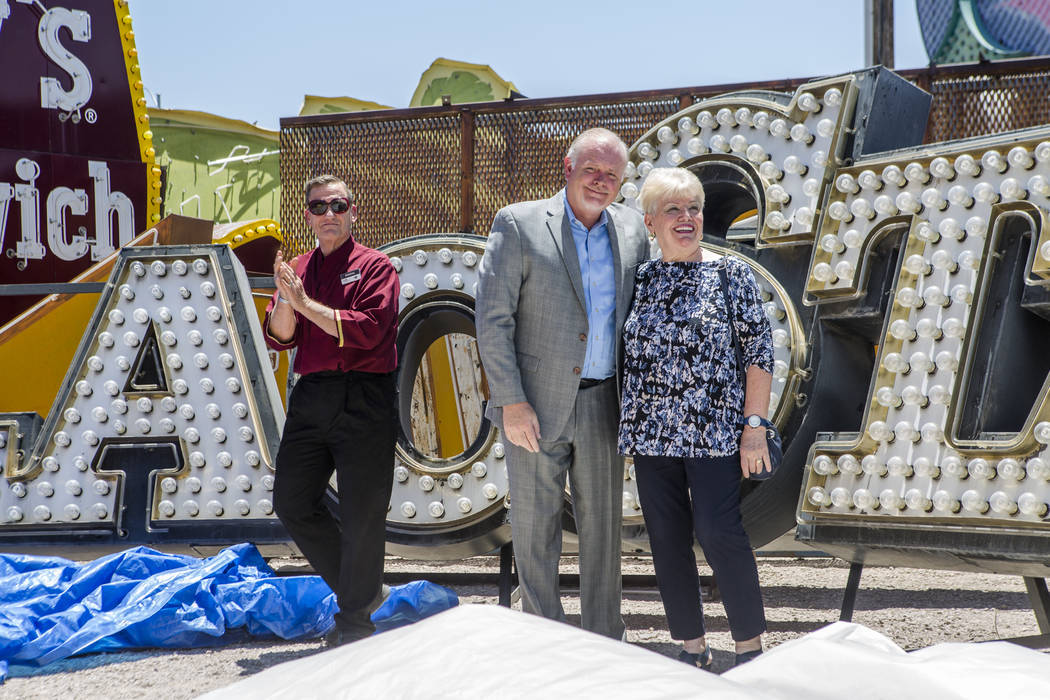 Palace Station's train theme has been disappearing as renovations have been underway at the casino since last fall.
On Thursday, train and Palace Station signs removed during construction were unveiled at the Neon Museum, which will be their permanent home.
Rob McCoy, president and CEO of Neon Museum, said he noticed the renovations at the Sahara Avenue property about the time that owners of Station Casinos were trying to figure out what to do with the signs.
"I've started stalking signs," McCoy said. "It's not attractive, but it's my job. We're thrilled that we now have a very important piece of local Las Vegas history preserved here at the museum."
At a small ceremony, long-time casino employees helped remove large plastic sheets that covered the signs. In the museum's new Boulevard gallery, the retired signs now sit directly in front of the large Arby's hat.
Sarah Hemphill, who has worked at Palace Station since 1981, remembers when the casino's train theme came to fruition.
"When the decor started to show the train theme, it was exciting for all of us," Hemphill said. "It became one of those places where when you were off work, you came here. You knew everybody, you had a good time, and you wanted to be there."
However, she has high hopes for what the newly renovated hotel and casino will look like.
Lori Nelson, spokeswoman for Station Casinos, said the train theme is being replaced with a more modern look.
"The train theme will live here at the Neon Museum," Nelson said. "Palace Station is such an important property in our company's portfolio, and it certainly has a special place to the locals out here."
The first stage, she said, is complete. A modernized casino floor and a new downstairs buffet are part of the second stage.
Contact Katelyn Umholtz at 702-383-0279 or kumholtz @reviewjournal.com. Follow @kumh0ltz on Twitter.