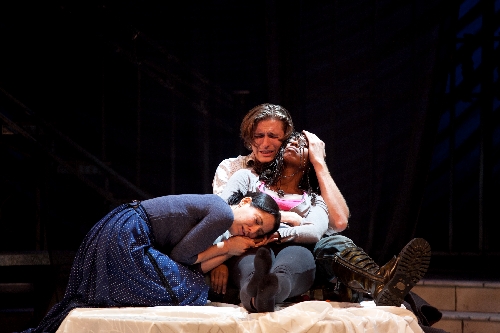 There's something in the air. (Besides the return of double-digit temperatures, that is.)
Perhaps it's the clang of clashing swords. Or maybe it's the power of iambic pentameter.
Either way, the signal is unmistakable: It's Shakespeare season in Southern Nevada.
The UNLV-based Nevada Conservatory Theatre kicks things off tonight with "Romeo and Juliet" in the Judy Bayley Theatre at the University of Nevada, Las Vegas.
And on Saturday night, the Las Vegas Shakespeare Company presents the first of four free "Hamlet" performances, opening Henderson's 26th annual Shakespeare in the Park series.
The "Hamlet" tour begins at Henderson's Sonata Park, continuing Oct. 13 at Discovery Park, Oct. 20 at River Mountain Park and Oct. 27 at Lake Las Vegas.
And while both productions showcase the timeless power of William Shakespeare's plays, they also demonstrate the Bard's timeliness for today's audiences.
The Shakespeare in the Park production of "Hamlet," for example, features a streamlined narrative that director Dan Decker describes as "the 21st-century interpretation," one that focuses on the title character's "spiritual journey."
In adapting "Hamlet" for Shakespeare in the Park, Decker (LVSC's artistic director) has shaped "the script to match the expectations of contemporary audiences," he explains.
And while "Romeo and Juliet" delivers a "great love story" and "beautiful poetry," its narrative "remains relevant to our times," according to director Paul Barnes, who previously directed the Bard's "Love's Labour's Lost" and Oscar Wilde's "The Importance of Being Earnest" at NCT.
"It's pretty cliched to say we still live in violent times," he says. "But I can think of senseless feuding among various factions, from the Middle East" to inner-city gangs.
In addition to its familiar forbidden romance between Romeo (played by John Maltese ) and Juliet (Vanecia Boone), whose young love is threatened by their clashing families, "Romeo and Juliet" features other, often overlooked elements, Barnes contends – including "action, violence, sex and a lot of comedy. It's just a rich piece of writing."
Indeed, some people have "a kind of bias about the play," he says, citing those who say, " 'Oh, God, the kids die at the end – do I really want to see it?' "
As a result, they usually overlook that "the first half of the play … is very, very funny," with a heaping helping of "humor that's really pretty bawdy," Barnes notes. (After all, as he points out, audiences in Shakespeare's day loved a good dirty joke.)
Although Barnes said his job as director is to serve the script, presenting Romeo and Juliet's tale clearly and fully, the NCT production moves the action from Renaissance Italy forward to early 19th-century England, during the Regency era, which Barnes describes as a "very Jane Austen, 'Pride and Prejudice' " setting.
"We agreed that the Regency is a great look," he explains. "It's very romantic, it's poetic." Not to mention that it's far easier on NCT's budget than creating a costlier Renaissance setting.
Staging considerations also impact LVSC's "Hamlet," Decker notes.
The free outdoor productions are performed before 2,000 to 6,000 spectators, which means the back row is often a hundred yards away, Decker points out, citing the first of a few simple rules the troupe follows: "Do nothing on the floor."
That explains why the play's set, which includes multiple raised platforms representing Hamlet's "jagged and irregular" world, Decker notes.
That world is turned upside down when Prince Hamlet (played by Michael Uribes ) returns to Denmark to discover that his father the king is dead. His mother Queen Gertrude (Clare Jaget , who played fairy queen Titania in last year's Shakespeare in the Park presentation, "A Midsummer Night's Dream") is now the wife of Hamlet's uncle Claudius (Richard Hill). And Claudius now occupies Denmark's throne – a throne that should have been Prince Hamlet's.
In many 20th-century "Hamlets," the "interpretations were very Freudian – it was always about Hamlet and his mother," Decker observes. "We're skipping that," opting instead for an exploration of Hamlet's path to spiritual enlightenment.
Although the language is all original, Decker notes, he's trimmed the play from 30 to eight characters and cut the running time to 90 minutes – partly to satisfy the bus schedules of Clark County School District students who'll see an Oct. 24 performance at the Henderson Pavilion.
Eliminating scenes and combining characters was "like cutting my arm off," Decker admits. "But don't look at what gets cut – look at what gets left in."
And that, he maintains, is "the most brilliant piece of writing in the history of literature," one that "speaks to every century in different ways."
But always with the power of Shakespeare's language.
"The reason people come to Shakespeare is not for story and not for characters," both of which are readily available elsewhere, Decker says. "What they're going out of their way" to experience is the chance "to hear their language spoken to its fullest potential."
Some people, in Barnes' view, "are Shakespeare shy – they think the language is outdated and they'll never understand it," he says.
But those reluctant audience members should give the language a chance, Barnes argues.
"So much of the business of Shakespeare," he says, "is awakening an appetite they didn't know they had."
Contact reporter Carol Cling at ccling@reviewjournal.com or 702-383-0272.
Preview
"Romeo and Juliet"
8 p.m. today and Saturday, 2 p.m. Sunday; also 8 p.m. Oct. 11-13, 2 p.m. Oct. 14
Judy Bayley Theatre, University of Nevada, Las Vegas, 4505 S. Maryland Parkway
$20-$30 (895-2787; pac.unlv.edu)
"Hamlet"
7 p.m. Saturday; additional performances 7 p.m. Oct. 13, 20 and 27
Sonata Park, 1550 Seven Hills Drive, Henderson (Oct. 13 at Discovery Park, Oct. 20 at River Mountain Park and Oct. 27 at Lake Las Vegas, all in Henderson)
Free admission (267-2171; www.HendersonLive.com)