Smith Center board member channels love of philanthropy, music
January 30, 2018 - 11:26 am
Updated January 30, 2018 - 5:36 pm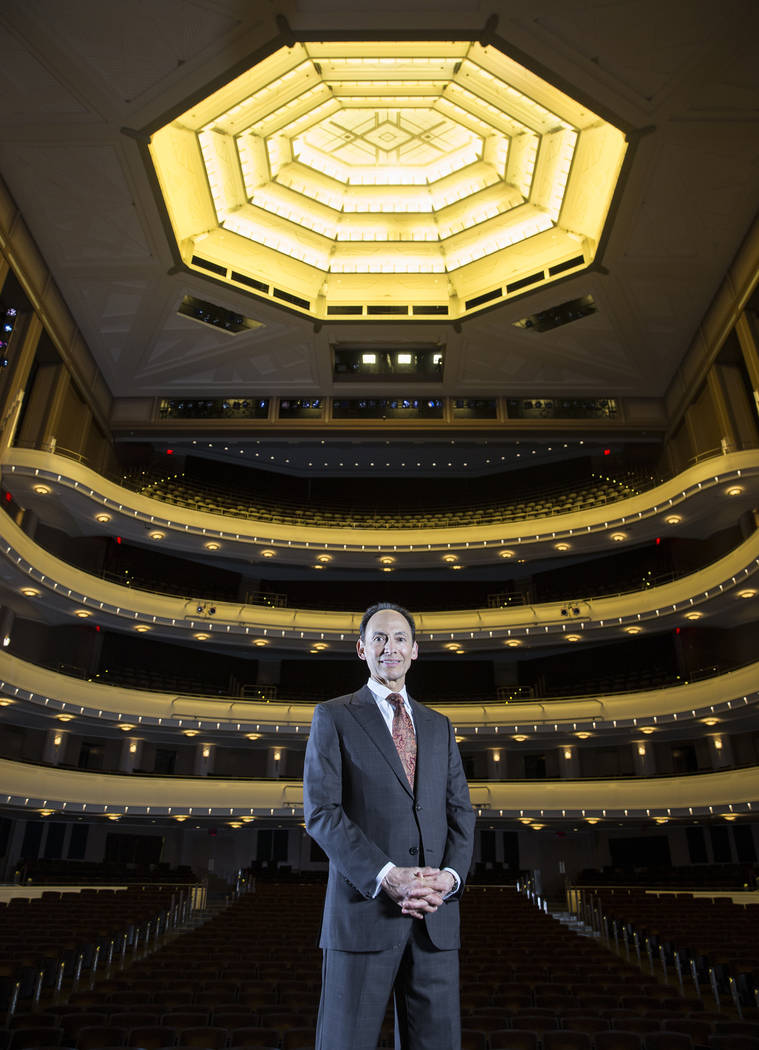 Randy Garcia loves music.
So much so that he's been taking piano lessons — currently via Skype with a professor from Yale — for 40 years. So much so that he considers as a special talent his knowledge not just of classical music (his favorite genre) but just about any genre of music from the '40s to the '70s. So much so that he's a member of the board of directors of The Smith Center for the Performing Arts.
OK, maybe that last one isn't all that unusual, because Garcia's philanthropic efforts encompass many organizations around Southern Nevada, many of which have as a focus helping and inspiring at-risk youth.
Garcia, 63, has lived in Las Vegas since age 3, after a bout of double pneumonia a year earlier elicited a doctor's advice to the family to move to a more atmospherically agreeable climate. He's a graduate of Bishop Gorman High School and UNLV, and founder and CEO of the Investment Counsel Company of Nevada.
Garcia's many honors include being named UNLV's Lee Business School alumnus of the year. He's a member of the UNLV Foundation board of trustees and served on the 2016 Presidential Debate Steering Committee, and his philanthropic activities include, most recently, funding a four-year, $100,000 student scholarship at the UNLV School of Medicine.
Garcia is a former member of the Latin Chamber of Commerce Foundation — and still provides scholarships through the foundation — and was honored in 2007 and 2017 by the chamber for his philanthropic work. For Garcia's work ethic, credit his father, who regularly held down two or three jobs while Garcia was growing up.
"He always worked, for the most part, two full-time jobs all his adult life and he worked three at the holidays because he wanted his family to have the best Christmas they could," Garcia says. "And he'd still make time for us."
Garcia and his wife, Staci, have three children, ages 22 through 27.
Review-Journal: Why do you devote so much of your time and effort to charitable efforts?
Garcia: (Laughs) I ask myself that very question. But I guess the common thread among all of my involvement in this community, going back many decades, is that I've always wanted to help others and give others the opportunity to improve their life, their families and things around them. When I look at the Smith Center, for instance, I didn't want to just write a check when I was asked. I wanted to make sure there was something specific to help kids in school, that they would be able to have an opportunity to share and participate in an experience. That's a great gift.
What criteria do you use in deciding where to direct your time and effort?
It's those areas that have been overlooked and/or needs that most greatly exceed the help they're getting in the community. So where I'm needed most, so to speak, where I can make the biggest impact.
That seems to meshwellwith your interest the Smith Center's educational outreach programs.
I was just at a board meeting a few days ago and I counted 18 buses of kids from the Clark County School District, allowing them that experience of seeing what the Smith Center has to offer. That's what the Smith Center does on a daily basis. It allows kids to want to reach and strive and try to be something greater than they currently have in mind.
What led you into a career in finance?
I was very, very fortunate to find my way into accounting because of a particular teacher, a professor. He took an interest in all of us. He wasn't just there to teach, he was there to help us be successful. He went above and beyond. That's why I majored in accounting, and along the way he taught a B student how to be an A student. That was the gift he gave me, and I ended up getting a 4.0 several years and ended up getting scholarships.
How do you envision your responsibilities as a Smith Center board member?
As a board member, I serve as an ambassador to help others better understand the value of the Smith Center to our community. … I like to think what my hidden talent perhaps would be is striving to identify the right questions to ask when it's outside my range of competency and having the answer when that issue falls within my range of competency.
Contact John Przybys at jprzybys@reviewjournal.com or 702-383-0280. Follow @JJPrzybys on Twitter.