Springs Preserve honors 'Power of Children' in U.S. history
December 21, 2017 - 6:18 pm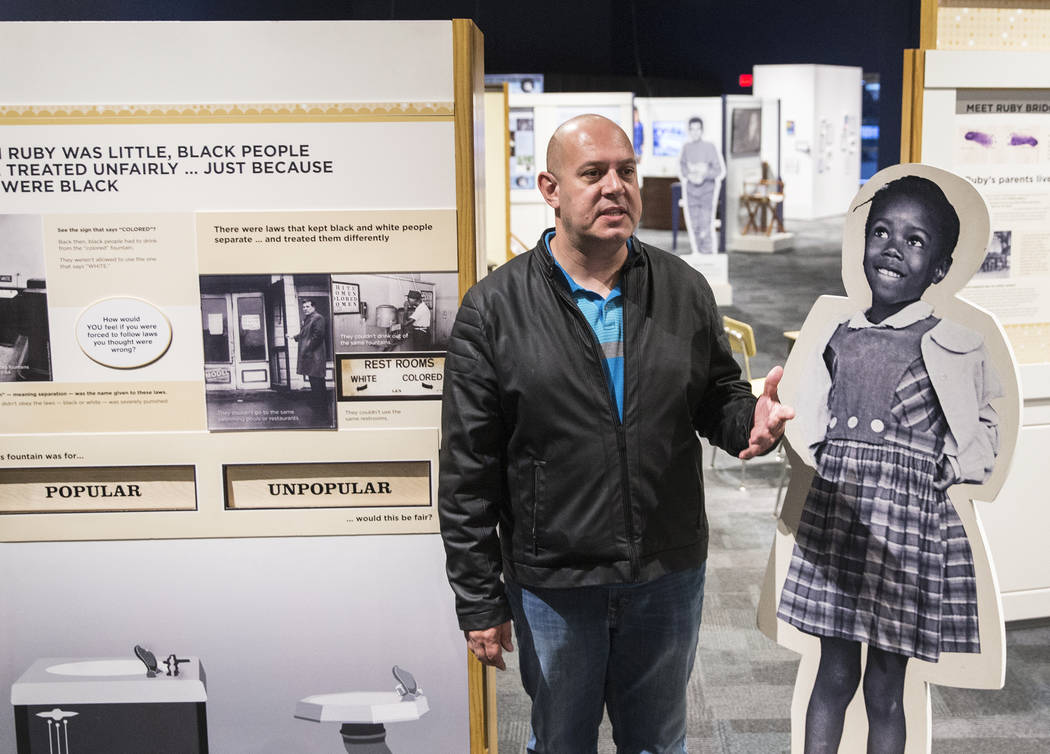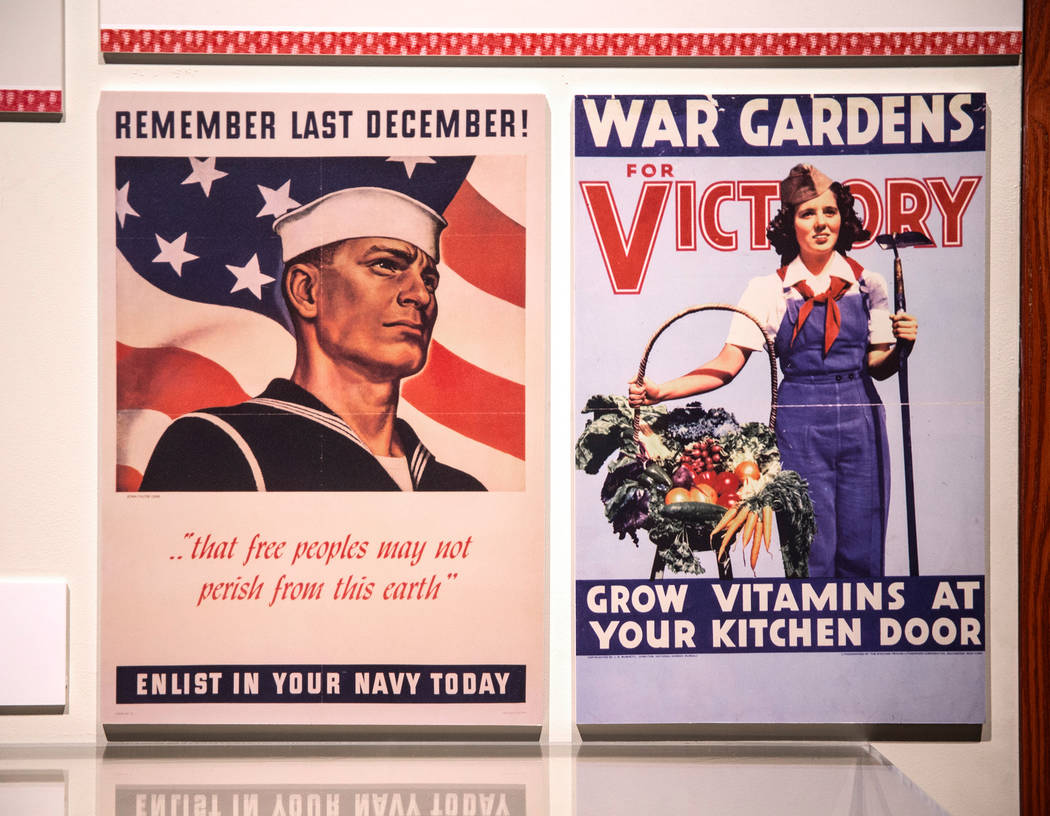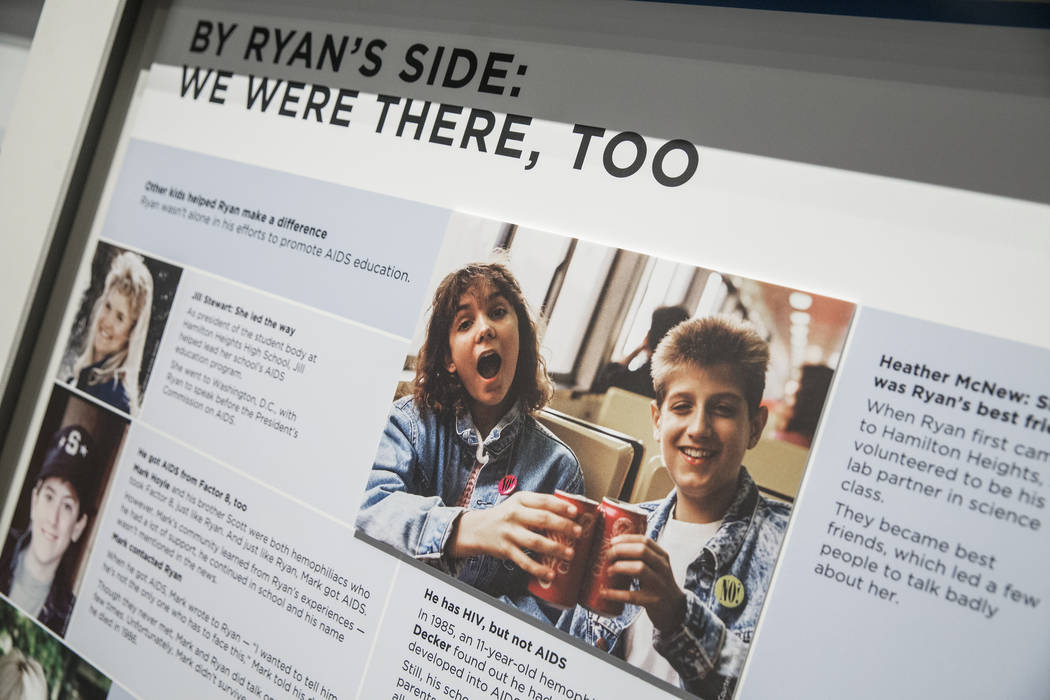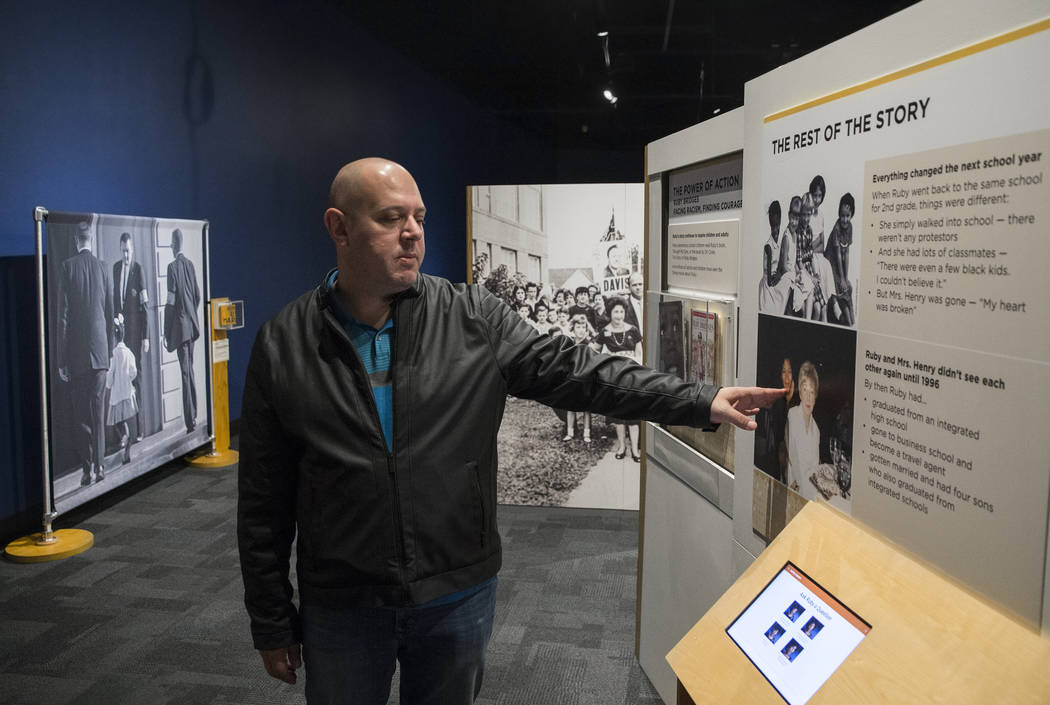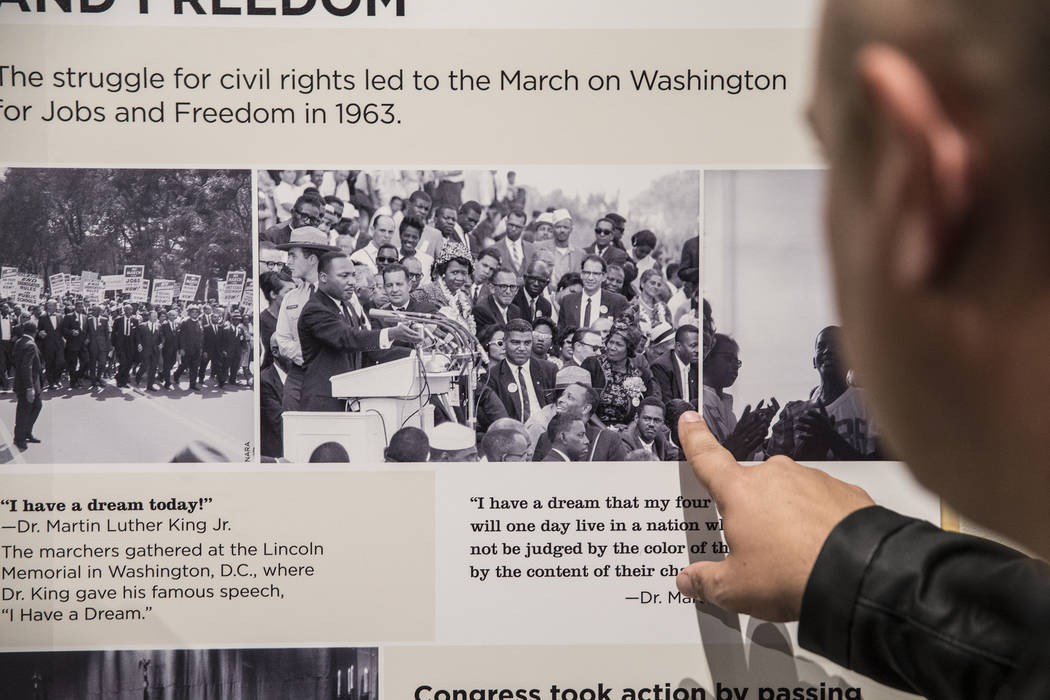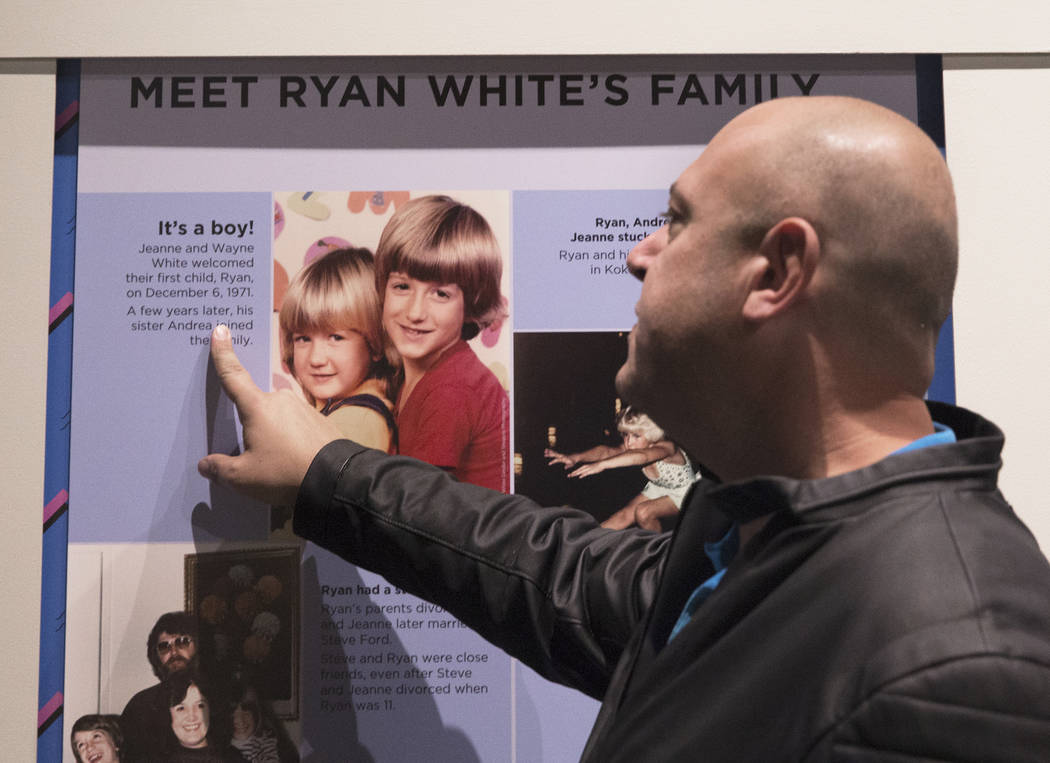 And a little child shall lead them.
The Old Testament prophet Isaiah wasn't referring to Anne Frank, Ruby Bridges and Ryan White when he made that pronouncement, but it definitely applies to the trio at the heart of "The Power of Children."
Subtitled "Making a Difference," the touring exhibit (at the Springs Preserve through Jan. 7) focuses on the bigotry and hatred the three youngsters faced — and on their positive responses to literal life-or-death circumstances.
During World War II, Frank hid from the Nazis for two years with her family and others in an Amsterdam attic. Although she died at 15, in 1945, at the Bergen-Belsen concentration camp, her "Diary of a Young Girl" — published in 1947 and subsequently translated into more than 65 languages — keeps her words, and spirit, alive.
White, a hemophiliac who contracted AIDS through a contaminated blood transfusion, died at 18 in 1990 — but not before the Indiana native helped others understand a then-mysterious, often hysterically feared, disease.
Only Bridges, who integrated an all-white New Orleans elementary school in 1960 — and, for most of the year, was its sole student — survived. Now 63, she chairs the Ruby Bridges Foundation, which promotes "the values of tolerance, respect and appreciation of all differences."
That seems as good a description as any for "The Power of Children."
Difficult lessons
When Springs Preserve exhibits curator Aaron Micallef first experienced it a few years ago, he "was taken by the exhibit. It dealt with difficult subjects, but it didn't sugarcoat them."
Indeed, one of the first images in the exhibit is a red, white and black armband — emblazoned with a swastika, symbol of the then-new Nazi party, whose leader Adolf Hitler "promised to provide jobs and food for Germans (but not all Germans)," according to an exhibit text panel.
Introducing not only Anne Frank but her entire family, the display traces their lives in Germany — where they initially had friends of all faiths — through the Nazi persecution of Jews, which inspired the Franks (and many other Jewish families) to leave their homeland.
Anne's father, Otto Frank — the only family member to survive World War II — recalled why. "I can remember groups of Nazis marching by, singing 'When Jewish blood splatters from the knife,' " according to one of the exhibit's text panels.
That's an example of the exhibit's straightforward approach to the ordeals experienced by its central trio, Micallef notes.
Too often, "I think people are too kid-gloves with kids," he comments. By contrast, the "Power of Children" exhibit "treats them the same as adults."
The curator first experienced "The Power of Children" at its permanent home, the Children's Museum of Indianapolis — and sought to bring a traveling version to the Springs Preserve as part of a 50-state tour.
Choosing to be kind
In the area devoted to Ruby Bridges' story, a wall-sized photograph depicts demonstrators who tried to stop her — and the coffin they brought, containing a black doll meant to scare Ruby and her family. Every morning, one of those protesters screamed at Ruby: "I'm going to poison you. I'll find a way."
Micallef wonders, "At what point does that seem an appropriate thing to yell at a little child?"
The exhibit also touches on other pivotal moments of the civil rights era, from Martin Luther King's 1963 March on Washington to other school integration confrontations, as chants of "Two, four, six, eight, we don't want to integrate" emerge from a nearby speaker.
Opening a school locker in the exhibit's Ryan White section, meanwhile, unleashes a flood of fearful whispers from students afraid to attend school alongside an AIDS patient: "Don't let him touch you!" "He'll spit in your food!"
On the lighter side, the display captures Ryan's just-a-kid side through such artifacts as his skateboard, his Atari 2000 video game console, his Sony Walkman and the guardian angel night light that went with him every time he had to go to the hospital.
Augmenting the "Power of Children" exhibit: contributions from visitors, ranging from written comments to ceramic discs made by local students and emblazoned with words and phrases inspired by the display.
"BRAVE," one reads. "LOVE." "INTEGRITY." "BE GENEROUS." "RESPECT." "CHOOSE KIND."
It's the latter sentiment Micallef notes.
"Be kind," he says. "Who can argue with that? I hope no one."
Out of the mouths of babes
Through arresting sights and unsettling sounds, the Springs Preserve's "Power of Children: Making a Difference" exhibit explores how young Anne Frank, Ruby Bridges and Ryan White faced discrimination and intolerance.
Even though Frank and White died young (Bridges, now 63, continues her activism), their wise-beyond-their-years words live on, as the "Power of Children" exhibit demonstrates. A sample of the exhibit's quotations from Frank, Bridges and White — and Springs Preserve visitors reacting to their examples:
Anne Frank
On the dwindling food supply while in hiding: "That's all there is. We're going to be hungry, but nothing's worse than being caught."
On the power of confiding in her diary: "I can shake off everything if I write: my sorrows disappear, my courage is reborn!"
On seeing a chestnut tree and an open sky from her hiding place: "As long as this exists, how can I be sad?"
On her hopes for the future: "I feel the suffering of millions and yet, I somehow feel that everything will change for the better, that this cruelty, too, will end."
Ruby Bridges
On understanding her ordeal: "I finally realized everything had happened because I was black."
Ruby's prayer for the white protesters trying to stop her from attending school: "Please, God, try to forgive those people. Because even if they say those bad things, they don't know what they're doing. So you could forgive them. Just like you did those folks a long time ago when they said terrible things about you."
The grown-up Ruby Bridges Hall, reflecting on the power of forgiveness: "Forgiveness is not for the person that asked you to forgive them. It is for yourself … It allows you to free yourself of whatever's hurting you, and to move on."
Ryan White
On facing AIDS and prejudice: "My personal philosophy was no complaints, baby, no surrender."
On being welcomed to his high school: "I'm just one of the kids. … Because the students at Hamilton Heights High School listened to the facts, educated their parents and themselves and believed in me."
On not being afraid of contracting AIDS from casual contact: "If I kiss your dog (I might — I like dogs), he won't give you AIDS."
Comments from students visiting "The Power of Children" exhibit:
"I promise every kid in the world can make a change — from Vanessa to all kids."
"My name is Tommy and I hope this can help people. I help kids who get picked on because they are different."
"Waking up every day can be a challenge, but if you face it head on you are a thousand times bigger and stronger than any challenge you wake up to. Keep your head up and breathe."
"Be your true self. Don't let anyone let you think different."
Preview
What: "The Power of Children: Making a Difference"
When: 9 a.m.-5 p.m. daily (except Christmas Day) through Jan. 7
Where: Origen Museum, Springs Preserve, 333 S. Valley View Blvd.
Admission: $4.95-$9.95 for Nevada residents, $8.95-$18.95 for nonresidents (springspreserve.org)
Contact Carol Cling at ccling@reviewjournal.com or 702-383-0272. Follow @CarolSCling on Twitter.
Preview
What: "The Power of Children: Making a Difference"
When: 9 a.m.-5 p.m. daily (except Christmas Day) through Jan. 7
Where: Origen Museum, Springs Preserve, 333 S. Valley View Blvd.
Admission: $4.95-$9.95 for Nevada residents, $8.95-$18.95 for nonresidents (springspreserve.org)