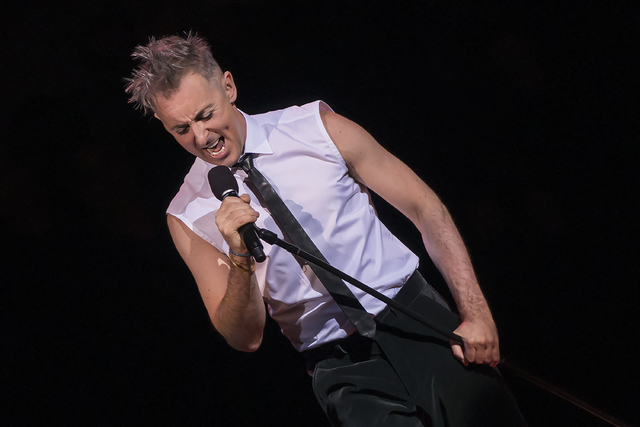 Alan Cumming
You know him as "The Good Wife's" calculating (and Emmy-nominated) Eli Gold. He won a Tony as "Cabaret's" gleefully malevolent Master of Ceremonies. But this weekend at a different cabaret — The Smith Center's Cabaret Jazz — "Alan Cumming Sings Sappy Songs" finds the award-winning performer bringing theatrical authority to tunes by everyone from Adele and Annie Lennox to Noel Coward and Stephen Sondheim. Catch Cumming's act at 6 and 8 p.m. Saturday; for tickets ($59-$99), visit www.thesmithcenter.com.
'Love Letters'
Two longtime, down-home TV favorites — Las Vegas' own Maggie Peterson ("The Andy Griffith Show") and Ronnie Schell ("Gomer Pyle, U.S.M.C.") — team up for A.R. Gurney's "Love Letters," which focuses on two childhood friends who share dreams and disappointments through an almost 50-year correspondence. "Love Letters" will be performed at 2 p.m. Sunday at the Starbright Theatre, 2215 Thomas Ryan Blvd.; tickets ($20) are available at www.scscai.com.
Chris Botti
Four years after his first Smith Center concert, trumpeter Chris Botti — the world's top-selling jazz instrumentalist — returns to Reynolds Hall for an evening that finds the Grammy winner performing selections from his latest award winner, "Impressions," along with favorites ranging from jazz to classical to pop. The concert begins at 8 p.m. Tuesday; for tickets ($29-$99), visit www.thesmithcenter.com.
'Peter and Wendy'
"Hey, kids — let's put on a show!" That old showbiz cliche comes to life as dozens of local kids, under the guidance of the award-winning Missoula Children's Theatre, star in the "Peter Pan"-inspired musical "Peter and Wendy." The pixie dust flies at 3 and 7 p.m. Saturday at the Henderson Convention Center, 200 S. Water St. Tickets ($5 for children and seniors, $8 for adults) are available at the door; for more information, visit www.cityofhenderson.com.
Garilyn Brune exhibit
Artist Garilyn Brune died in 2014, but his works — pen-and-ink, digital and mixed media drawings of big, beautiful women, aging drag queens, large showgirls and erotically playful women — live on in an exhibit hosted by the Gay and Lesbian Community Center of Southern Nevada, 401 S. Maryland Parkway. The exhibit continues through the end of the month, but a special showing begins at 6 p.m. Saturday, with artwork available for purchase — and 50 percent of the proceeds benefiting the center. For more information, visit www.TheCenterLV.org.