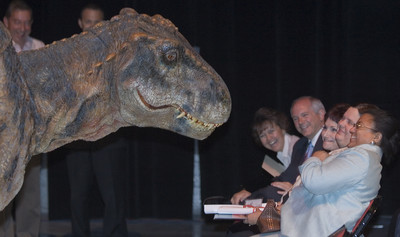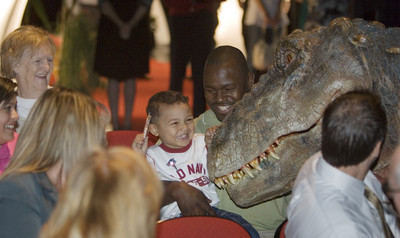 Don't ever mess with big momma, especially when she's got teeth the size of bowling pins.
The predators approach her baby, dinner in mind.
Then mom comes to the rescue with a roar, chasing away the horned and scaled brutes, who lumber off slowly, their bellies growling right along with the beast who spoiled their meal.
Hell hath no fury like a T. rex scorned.
The giant creature, viewed on a YouTube clip, looks real enough: Its greenish flesh is taut and lifelike, its large mandibles open and close in swift, uninterrupted motions and its head swivels toward its foes in quick, menacing arcs.
By looking at the 35-foot-tall creature, you'd be hard pressed to tell that it's composed of steel and rubber, with three people controlling its movements — one who steers the dinosaur from its base and two puppeteers who guide it from afar.
The T. rex is one of the centerpieces of the mammoth "Walking with Dinosaurs — The Live Experience" show, which is based on the hit BBC TV series that more than 770 million people have seen since its 1999 premiere.
Having taken a team of 50 designers six years to produce at a cost of $20 million, the tour, which debuted in Australia a year ago, is one of the largest productions to ever hit the road, a show every bit as outsized as its animatronic stars.
"It's just such an incredible logistical challenge," says the show's creator, Bruce Mactaggart, of putting on the tour. "We travel with 26 18-wheel tractor trailers, and we've got 65 people on the ride. It's a big undertaking."
Hosted by an Indiana Jones-type paleontologist, the theatrical show covers the 200 million-year history of the dinosaurs, featuring 10 different species, from the Utahraptor to the towering brachiosaurus, which stands 36 feet tall and spans 56 feet from nose to tail.
Like the series it's based on, the production is posited on authenticity.
"The BBC insists on absolute accuracy, and that's what we've striven for," says Mactaggart, a chatty Aussie whose voice pulses with excitement, like a kid who's just seen Santa Claus. "Fossils show us that with the tyrannosaurus rex, the back of every two or three teeth was serrated, so on our T. rex, that serration is actually on the teeth, even though there will be no member of the audience who will see it.
"We worked with animal biomechanists to work out what the movements would be like," he continues. "They all walk as animal biomechanists conclude they would have walked."
A former arena manager in his native Australia, Mactaggart developed the show, in part, because he found most family-centered productions to have limited appeal.
"Having seen thousands of shows, I thought that with family-oriented shows, there wasn't much in there for anyone other than the kids," he says. "And I thought, 'Well, what if you could do something with education and entertainment and theater? You could make it a complete experience for all the family, all ages.' And then, having done that, it was a question of, 'What treatment?' And dinosaurs just seemed to me to be such an obvious thing."
The sheer size of the dinosaurs makes the show ideal for arenas, those normally cavernous venues filled with dead space that seldom gets utilized at most events. This production aims to fully incorporate the height and width of these huge rooms.
"If you're buying a seat up in what's lovingly called the nosebleed seats for a concert in a big arena, you need binoculars to see the little person on the stage way down there," Mactaggart says. "But our biggest dinosaur, our brachiosaurus, is 35 feet tall. That means if you're upper deck, you're eyeball to eyeball with the big ones. They fill all that space."
So far, the show has been a big hit, setting box office records at venues in cities such as Tacoma, Wash., and San Jose, Calif. After premiering in the United States last July, if the production's numbers are extrapolated for the entire year, it would rank as the fourth highest grossing tour of '07, behind only The Police, Kenny Chesney and Justin Timberlake.
It all speaks to the lasting appeal of dinosaurs, those grand beasts whose past may speak to our future.
"I sometimes wonder if part of our fascination with dinosaurs is that they did rule the Earth for so long, and then they were gone, and I wonder if we look for some analogy to our own future?" Mactaggart asks. "What I do know is that everywhere in the world, people know about dinosaurs and are fascinated by them. There's a line in the show where it says, 'Life on Earth will never again be this big.' Never since then have creatures of this size been on Earth."
Contact reporter Jason Bracelin at jbracelin@reviewjournal.com or (702) 383-0476.
what: "Walking with Dinosaurs — The Live Experience" when: 7 p.m. today, 11 a.m., 3 and 7 p.m. Saturday and 1 p.m. Sunday where: Thomas & Mack Center, Tropicana Avenue and Swenson Street tickets: $30.50-$72.50 (739-3267)