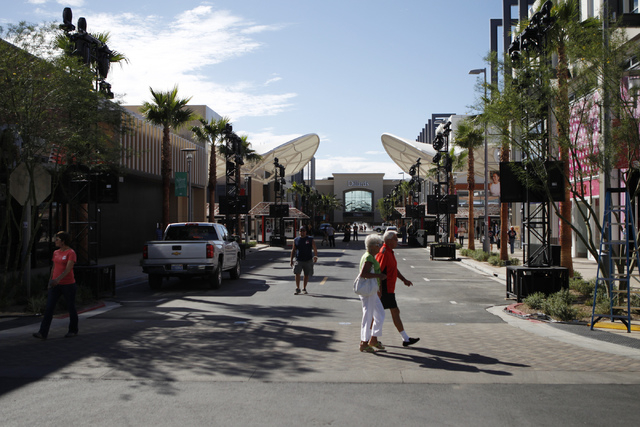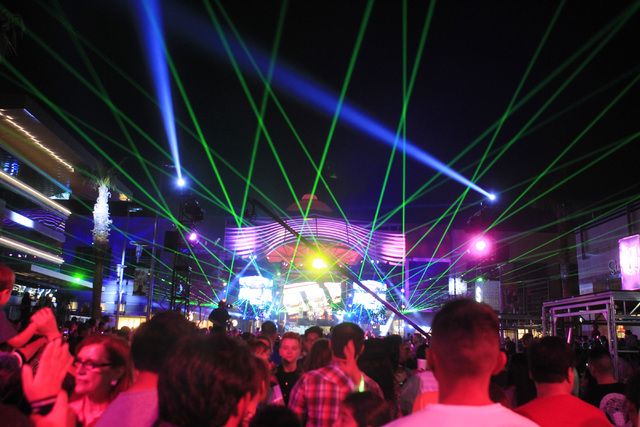 Even Howard Hughes, a visionary who embraced bold ideas, didn't see this coming.
A 22,500-acre patch of desert the eccentric billionaire bought in 1952 and named after his grandmother, Jean Amelia Summerlin, now has its own downtown.
The opening of Downtown Summerlin was getting so much buzz on Thursday that it was trending on Twitter.
And what better symbol of Hughes' entrepreneurial spirit than the small drone spotted whirring above the crowded streets.
"I think he would be very proud," said David R. Weinreb, CEO of The Howard Hughes Corporation, developer of Downtown Summerlin.
"He was one of the great entrepreneurs and business icons of his time, and certainly ahead of his time," added Weinreb.
You won't find a cookie-cutter concept on the 106-acre project, the first step in the 400-acre master plan that includes residential towers and the possibility of a baseball stadium or amphitheater.
Each of the 34 buildings that house more than 160 businesses "have their own special architectural nuances," said Weinreb.
"We've used neon in a very special way to honor the storied legacy of Las Vegas."
Summerlin residents were overjoyed with the 1.6 million-square-foot shopping, restaurant and shopping center.
Among the thousands of visitors was Summerlin resident Kathy Hopay, a concierge at Aria at CityCenter. She was so excited about being part of opening day that she took the day off.
"It's a game changer," said Hopay.
Her claim to fame moment?
"I was the first customer in Victoria's Secret. They took my picture," she said.
Local writers Tony Zanoff and Lucille Thaler were ecstatic about their experience at the amenities-rich Regal Theater.
"We felt like we were in first class on an Atlantic liner," said Thaler. "We danced on our way out and got applause."
THE SCENE AND HEARD
Jeff Civillico, the juggling comedian at The Quad, will rappel from the roof of Planet Hollywood for the third year in a row today to benefit the Special Olympics. …
Belated happy birthday to Angelo Pernicano, who turned 95 on Tuesday. He and his brothers put together a pizza empire in San Diego and Oceanside, shortly after World War II. He moved here in the 1980s. His family honored his birthday wish to have an Italian feast at Carmine's in the Forum Shops at Caesars. …
The Hofbrauhaus' upcoming ceremonial keg tappers: uncensored hypnotist Anthony Cools at 6:30 tonight; yours truly at 7:30 p.m. Saturday; and Holly Madison, next Friday at 7 p.m.
SIGHTINGS
Frank Marino, the star of "Divas" (The Quad), stocking up on all of his Christmas decorations and gifts at LG Gallery in Downtown Summerlin on Thursday. … Soul singing legend Sonny Charles of the Checkmates, traveling from his home in Henderson to check out the opening of Downtown Summerlin with his wife.
THE PUNCH LINE
"Looking over all the new #downtownsummerlin offerings. Disappointed they don't have a Forever 51 store." — A tweet from Jay Kornegay, vice president of the Westgate's race and sports book
Norm Clarke's column appears Sunday, Monday, Wednesday and Friday. He can be reached at 702-383-0244 or email him at norm@reviewjournal.com. Find more online at www.normclarke.com. Follow Norm on Twitter @Norm_Clarke.