Power of Love gala to celebrate Tony Bennett's 90th birthday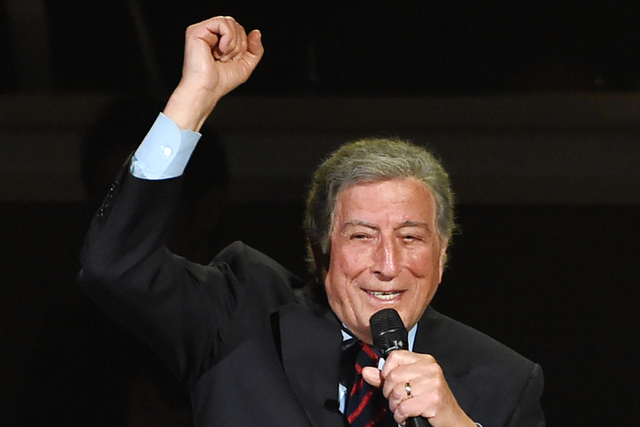 Larry Ruvo loves bridging the past and present when it comes to his Keep Memory Alive Power of Love gala.
He's especially pleased with some special touches for this year's 20th anniversary event, which will honor Tony Bennett with a 90th birthday celebration May 21 at the MGM Grand Garden.
This year Ruvo is making it a three-day party by starting that Thursday with a Champagne salute to Bennett, the 18-time Grammy winner who turns 90 Aug. 3.
The opening venue will be the Brooklyn Bridge replica in front of New York-New York, and Ruvo has a story on how he came up with the idea.
"I thought it would be appropriate because Tony grew up in Queens, next to Brooklyn," Ruvo said.
When Ruvo went back to see Bennett perform late last year, "I want to touch, feel, that's how I work," he said
He checked out the Queens, New York, neighborhood where Bennett got hooked on singing.
The bridges over the East River were links to his early years. When he was 10 he gave a singing performance on the Triborough Bridge.
When World War II broke out, the 16-year-old Bennett dropped out of New York High School of Industrial Art, where he was studying music and painting. He performed as a singing waiter in Italian restaurants to support his family.
Ruvo decided the 300-foot-long copy of the Brooklyn Bridge would be perfect for a very cool tribute.
"While we are welcoming him with a Champagne toast, all the lights on the Strip will flicker at 7:45," Ruvo said. "We're working with the city. This has never been done before except for John F. Kennedy (after the assassination), Frank Sinatra, Dean Martin, Sammy Davis Jr. and Earth Day."
It will be an invite-only event, but the sidewalk that runs along the bridge will allow the public to witness the ceremony.
A private VIP party will be Friday at the event center at the Cleveland Clinic Lou Ruvo Center for Brain Health.
Bennett is performing for the 500-plus guests.
Musicians for the main event Saturday include Chris Botti, Andra Day, Herbie Hancock, Quincy Jones, Diana Krall, Dan Orlando, Darius Rucker and Steven Tyler. Comedian James Corden, the host of CBS' "The Late Late Show," will bring the laughs.
THE SCENE AND HEARD
It's decision time for Donny and Marie Osmond. The Flamingo "wants us to do another year," Donny said, "and they want a yes or no by next week."
What started off as a six-week gig is now at eight years.
"We've been postponing all kinds of stuff we've both been wanting to do," he said. "Broadway has been calling. There's some wonderful offers right now, television and I've got plans for me in Las Vegas that could be really cool in a completely different realm."
The last time Donny Osmond performed on Broadway was just before he and Marie moved to Las Vegas; that was "Beauty and the Beast." He also starred in the short-lived "Little Johnny Jones" in 1981 and in the touring Broadway show "Joseph and the Amazing Technicolor Dreamcoat" for six years.
ON THIS DAY
May 8
1967: Ann-Margret, who was discovered by comedian George Burns in Las Vegas and starred with Elvis Presley in "Viva Las Vegas," marries actor Roger Smith at the Riviera.
SIGHTINGS
At Mike Tyson's "Undisputed Truth" (MGM Grand) on Friday: boxing promoter Bob Arum, former heavyweight champ Lennox Lewis, comedian Russell Peters, Boston Celtics star Evan Turner, and "Love & Hip Hop: Hollywood" star Hazel-E and TV producer Cris Abrego. … At Drai's nightclub (Cromwell) on Friday: UFC star Jon Jones, Denver Broncos linebacker Von Miller, Seattle Seahawks safety Earl Thomas, Jacksonsville Jaguars wide receiver Allen Robinson, and rapper Yung Joc. … Actor Orlando Bloom, chatting with Selena Gomez at her after-party at Light (Mandalay Bay) on Friday. He was attending a bachelor party. … Former boxing champ Bernard Hopkins, dining at Carmine's (Forum Shops at Caesars) on Friday. … Amid reports they broke up, Ben Higgins, the Season 20 winner of "The Bachelor," and his fiancee were spotted at Marquee nightclub (Cosmopolitan) on Friday.
THE PUNCH LINE
"In honor of Cinco de Mayo, Donald Trump tweeted a picture of himself eating a taco bowl. Then, Trump tried to get Mexico to pay for it." — Conan O'Brien
Norm Clarke's column appears Sunday, Monday, Wednesday and Friday. He can be reached at 702-383-0244 or norm@reviewjournal.com. Find more online at www.normclarke.com. On Twitter: @Norm_Clarke