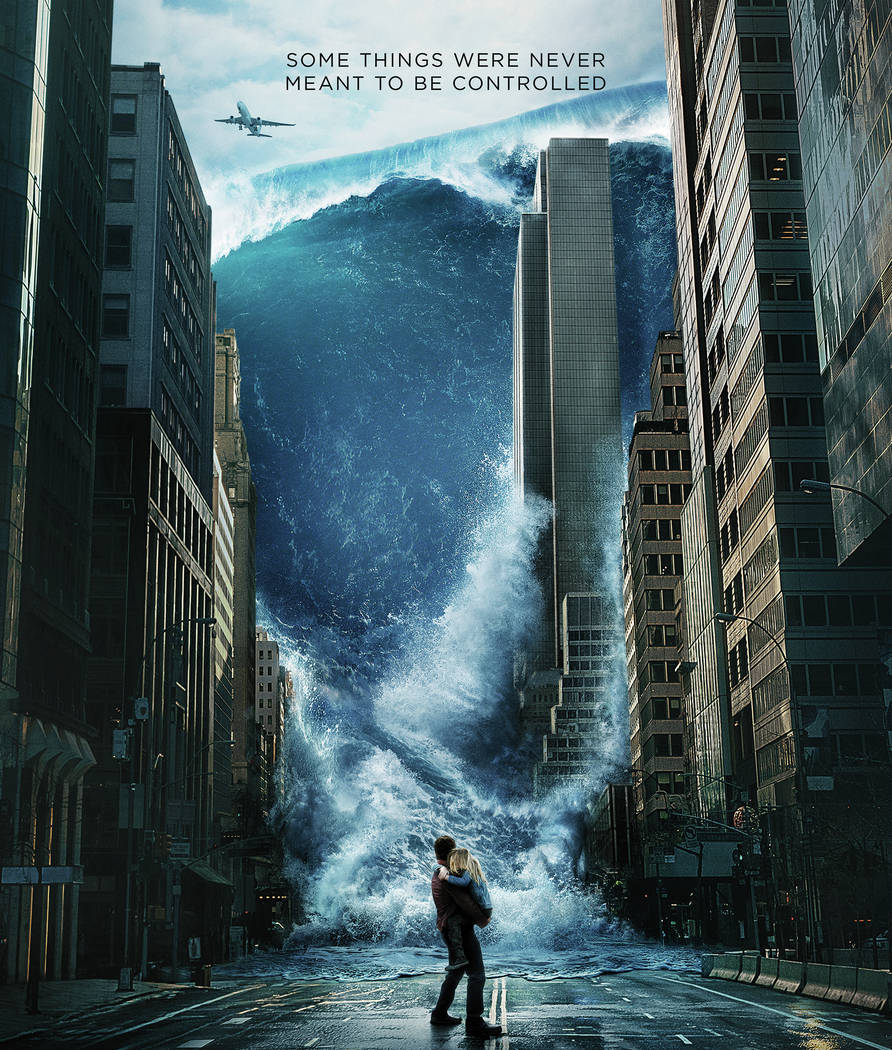 You shouldn't judge a movie by its trailer.
This weekend's "Geostorm," though, isn't being screened locally in time for print reviews — never a good sign — so that's all I can do.
And since that trailer features rogue satellites causing floods, tornadoes and people to freeze solid, plus a spacewalking Gerard Butler, I'm going to go out on the sturdiest limb imaginable to guess that "Geostorm" isn't great. Who am I kidding? It looks laughably bad.
So instead of a review, here's a look at five weather-related movies that are likely better than "Geostorm" and five that are probably worse:
Likely better: "An Inconvenient Truth" (2006)
Al Gore's slideshow certainly can't offer anything as exciting as the guy from those "Has Fallen" movies in outer space, but it did win an Oscar for best documentary feature.
Probably worse: "The Day After Tomorrow" (2004)
Tornadoes destroy Los Angeles. Fifteen feet of snow buries Europe. Temperatures drop 10 degrees a second. Yet the scientist (Dennis Quaid) who realized that all this was due to the melting polar ice caps walks the roughly 95 miles from Philadelphia to Manhattan to rescue his son (Jake Gyllenhaal) and his classmate (Emmy Rossum). Despite throwing around phrases such as "paleoclimate models" and "critical desalinization point," it's basically "An Inconvenient Truth" without even a hint of science.
Likely better: "The Impossible" (2012)
A couple (Naomi Watts, Ewan McGregor) and their three sons vacationing in Thailand are swept away in the 2004 tsunami in this drama based on a true story. With rancid brown water covering every possible surface, Watts and a young Tom "Spider-Man" Holland spend plenty of time clinging to whatever floats. For her efforts, Watts was nominated for a best actress Oscar.
Probably worse: "Waterworld" (1995)
In a flood of a different kind, "Waterworld" takes place in a future where the polar ice caps have melted, erasing almost every square inch of land. The movie opens with Kevin Costner's Mariner on his catamaran, taking a whiz in a jug, then pouring it through a series of test tubes before gulping it down. It's mostly downhill from there.
Likely better: "Hard Rain" (1998)
A rainstorm of near biblical proportions hits tiny Huntingbird, Indiana, stranding an armored car filled with $3 million in cash from evacuated banks. It's up to the driver (Christian Slater) to protect that money from a gang of thieves (led by Morgan Freeman) in this surprisingly entertaining action spectacle that includes a jet ski chase through a school, Randy Quaid as the sheriff, Minnie Driver as a plucky church restorer and Betty White toting a shotgun.
Probably worse: "Noah" (2014)
Any movie about the original rainstorm of biblical proportions was going to be problematic, considering the source material is parts of four brief chapters of Genesis. Still, there must have been better ways of fleshing out that story than adding a bunch of rock monsters.
Likely better: "Twister" (1996)
Sure, it's pure escapist entertainment. But with a cast including two late greats — Bill Paxton and Philip Seymour Hoffman — and that flying cow, it's fun escapist entertainment.
Probably worse: "Atomic Twister" (2002)
When a Tennessee nuclear power plant is hit by two tornadoes, it's up to the plant's supervisor (Sharon Lawrence) to try to avoid a meltdown in this movie that's roughly 1 percent as exciting as its name implies. Mark-Paul Gosselaar gets to be heroic-ish as a sheriff's deputy, and Olympian Carl Lewis turns up as a security guard named Stu. Spoiler alert: Not even the nine-time gold medalist can outrun a tornado.
Likely better: "The Perfect Storm" (2000)
I was tempted to go with "The Poseidon Adventure," but let's just say it hasn't aged well. And its "enormous wall of water" pales in comparison to the groundbreaking one in "The Perfect Storm." You can almost hear Crocodile Dundee saying, "That's not a wall of water. That's a wall of water." Based on a true story, the fishing vessel Andrea Gail's crew — led by George Clooney and Mark Wahlberg — stares down one harrowing weather pattern after another. Besides, how could I not include it? It's literally called "The Perfect Storm."
Probably worse: "Into the Storm" (2014)
Silverton, Oklahoma, is hit by a storm that's not just big, it's "bigger than any storm that has ever been." It's also populated by characters that aren't just silly and annoying, they're "more silly and annoying than any characters that have ever been." Well, close enough, anyway. The only thing worse than this "Twister" knockoff's awful script and indifferent acting is the fact that it's a found-footage movie.
Contact Christopher Lawrence at clawrence@reviewjournal.com or 702-380-4567. Follow @life_onthecouch on Twitter.