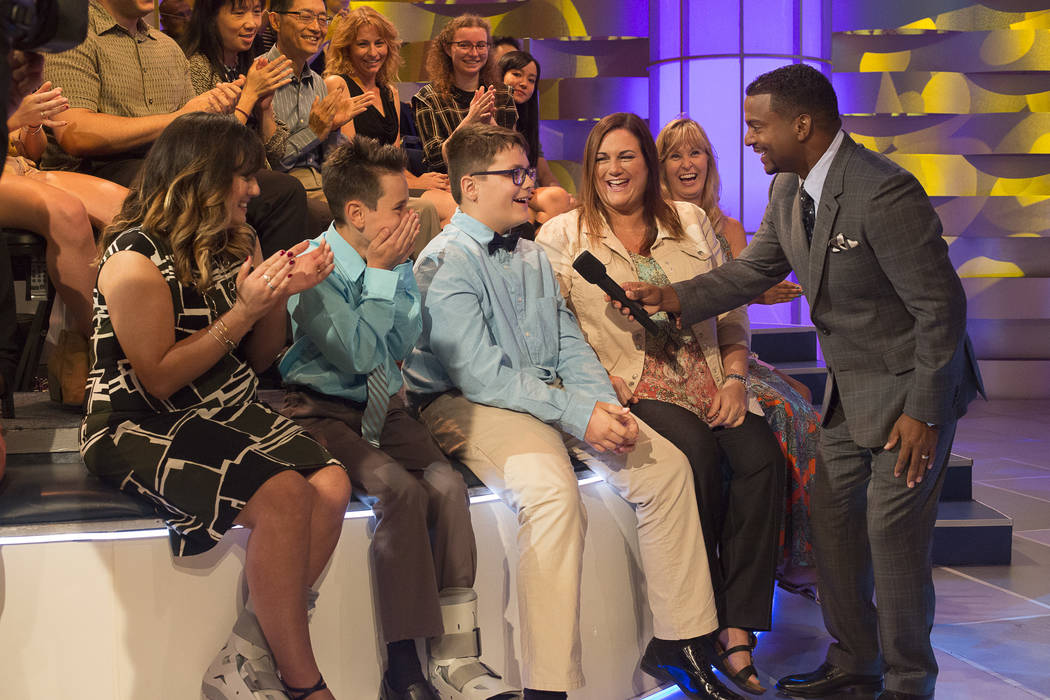 "My So-Called Life," "Freaks and Geeks" and "Firefly" — all of them iconic series — lasted a single season.
Ricky Gervais' version of "The Office," Aaron Sorkin's "Sports Night," and "Twin Peaks," until this year's Showtime revival, survived for only two.
Yet at 7 p.m. Sunday on ABC, "America's Funniest Home Videos" will kick off its 28th season.
Twenty.
Eighth.
In "America's Funniest Home Videos" terms, a baby who fell out of his high chair during the early seasons would be old enough to have bounced off a trampoline and landed on his head as a teenager, slipped and fallen while dancing at his wedding reception, and have had his own daughter swing a baseball bat directly into his groin.
When the series debuted Nov. 26, 1989, The Mirage, the resort that kicked off the transformation of the Strip, was four days old. Under Jerry Tarkanian, UNLV was four games into its national championship season. And the Raiders were in Los Angeles.
Elsewhere, Milli Vanilli had the No. 1 song with "Blame It on the Rain," the Berlin Wall was in the process of being demolished, and Taylor Swift was 17 days away from being born. Yes, Swifties, there was a time before Tay Tay.
Somewhere, deep in my amygdala, I knew "America's Funniest Home Videos" was still on the air, just like I knew there was that crazy flower that blooms every few years and smells like rotting flesh. I just assumed my chances of encountering either of them were roughly equal.
Yet last season's episodes averaged 5.27 million viewers, helping "America's Funniest Home Videos" rank ahead of more-hyped shows including "Once Upon a Time," "Family Guy," "New Girl" and "Brooklyn Nine-Nine." It also attracted more viewers than TV's highest-rated superhero shows, "Gotham," "Marvel's Agents of S.H.I.E.L.D.," "The Flash," "Arrow" and "Supergirl."
Since it's the longest-running prime-time entertainment show in ABC history, I decided to check out the most recent episode I could find to see what had changed. Aside from the host — Alfonso Ribeiro has taken over from Tom Bergeron, who replaced John Fugelsang and Daisy Fuentes, who stepped in when original host Bob Saget no doubt finally snapped and ran screaming from the set — not much.
Three people tumbled into swimming pools, two sleeping people were awoken by firecrackers, and 21 people were struck by falling basketball hoops.
In other words, it's as though your least favorite friend's Facebook page had a studio audience.
One of the videos was time-stamped March 6, 1994, meaning someone either recently discovered an old VHS tape, "America's Funniest Home Videos" or both — or they're almost pathologically persistent.
"Not too long ago, we lost a great artist, David Bowie," Ribeiro remarked. "We thought there'd be no better way to pay tribute to him than by using his timeless song "Fashion" as he no doubt originally intended — set to videos of people falling down and pets wearing costumes."
This actually was said.
The prizes also haven't changed since Season 2, when producers stopped giving away a TV and VCR for second place and a camcorder — Google it, kids — for third place.
The makers of the third-place video receive $2,000, the runner-up gets $3,000, and the "winner" takes home $10,000. (In case you were wondering, $10,000 in 1989 would be the equivalent of $20,035.85 in 2017 dollars.)
As for the dozens of others who humiliate themselves on national TV each week, they still receive an "America's Funniest Home Videos" T-shirt.
Maybe they'll be lucky enough to be wearing it the next time they suffer what appears to be a horrific injury while their loved ones laugh hysterically.
What to watch
■ In the late 1970s, two FBI agents delve into the psychology of murder by getting uneasily close some of America's worst criminals in "Mindhunter" (Friday, Netflix), from director David Fincher and Charlize Theron.
■ Archie (KJ Apa) struggles with his emotions as Fred's (Luke Perry) life hangs in the balance following the shooting at Pop's diner in the season premiere of the guilty pleasure "Riverdale" (8 p.m. Wednesday, The CW).
■ Sarah Silverman will look to connect with "un-like-minded people" in the weekly talk show "I Love You, America" (Thursday, Hulu).
■ Based on the popular podcast, the anthology series "Lore" (Friday, Amazon) chronicles the frightening tales of real events that have inspired modern myths and legends.
Contact Christopher Lawrence at clawrence@reviewjournal.com or 702-380-4567. Follow @life_onthecouch on Twitter.