Andrew Dice Clay's Vegas career comes full circle with new Showtime comedy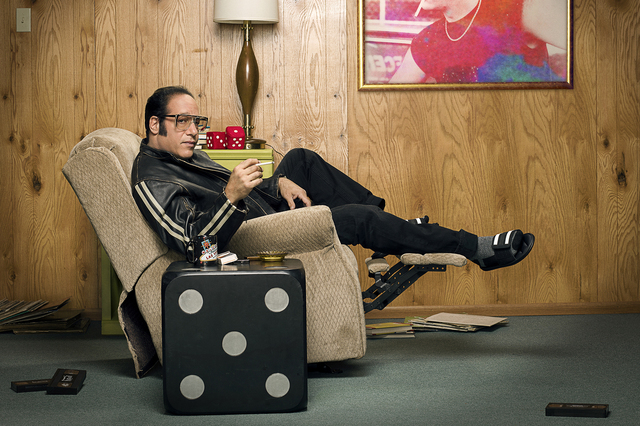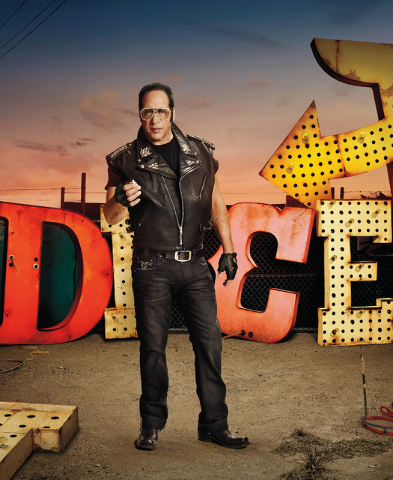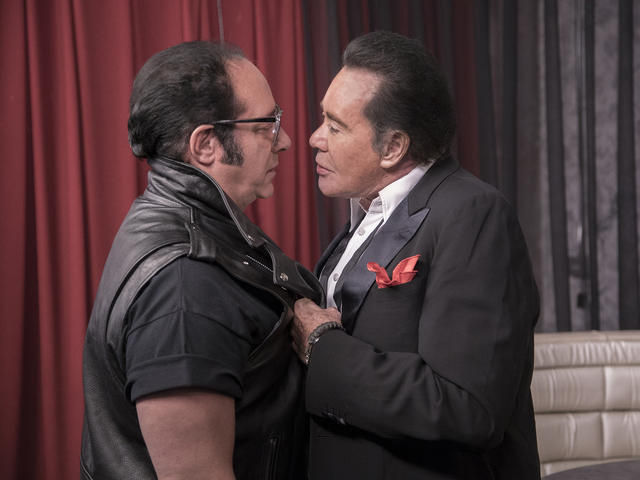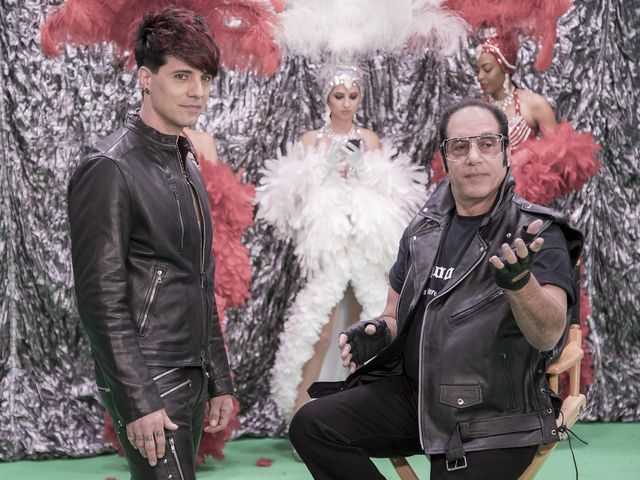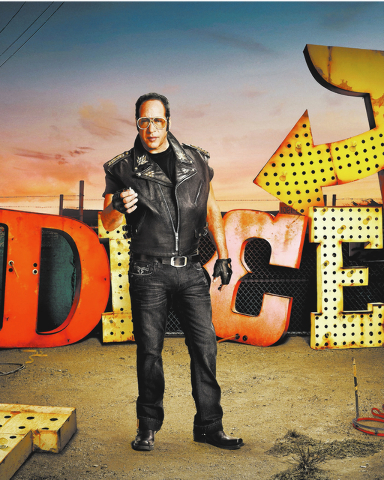 Andrew Dice Clay was working in Las Vegas, performing at the Dunes and co-starring on NBC's acclaimed drama "Crime Story" before most of the world knew who he was.
He was here during the height of his popularity, too, as part of a $1 million-plus deal he signed with Bally's in 1990, the year he became the first comic to sell out Madison Square Garden on consecutive nights.
And he was here two decades later attempting a comeback by playing a hundred-seat room in the back of a sushi restaurant.
So it's only natural that the latest installment of his resurgence, the comedy series "Dice" (9:30 p.m. Sunday, Showtime), is set in the city Clay calls home for roughly half of each year.
"Vegas has been very good to me," he says, "in every way, shape and form."
In "Dice," Clay plays an exaggerated version of himself, not unlike the one he portrayed on HBO's "Entourage" in an arc that jump-started his flagging career. That role came about entirely by accident six years ago when Clay ran into his old friend, longtime Mickey Rourke collaborator Bruce Rubenstein, who had left show business to work in construction.
"He's, like, askin' me, like, what happened to my career," Clay says. "And I start tellin' him, you know, about the downtime and goin' through divorce and how it was way more important for me to raise my sons than make career moves. And as I'm talkin' to him, he keeps playin' with his phone like every other —-hole in the world. And I go, 'Bruce, you gotta stop texting.' And he goes, 'I'm not texting. I'm emailing Doug Ellin, the creator of "Entourage." ' "
A day later, Clay met with Ellin about what he thought was going to be one of the show's many cameos. "Doug says to me, he goes, 'Dice, I'm gonna give you my last season of "Entourage," and wait till you see what happens for your career.' "
Two years later, with Rubenstein as his manager, Clay had a breakthrough role alongside eventual Oscar winner Cate Blanchett in Woody Allen's 2013 drama "Blue Jasmine." Earlier this year, he blew the doors off the pilot for HBO's 1970s rock drama "Vinyl," directed by Martin Scorsese.
"I'm getting to work, now, with a guy I idolize," Clay says of Scorsese. "The minute we met, it was like relatives. We were just like brothers."
At one point, Clay picked a fight with the legendary director — "We were talking about him directing something for me, and I asked him for Rob Reiner's number instead." — just so he could film it as a prank.
"I come back to Hollywood with this little video on my phone, and I show it to ("Dice" executive producers) Sean and Bryan Furst, and I go, 'There's the show. Dice just ruins everything.' "
"Dice" finds a down-on-his-luck Clay having moved to Las Vegas with his girlfriend, Carmen (Natasha Leggero), and his sons (played by his real sons, Max and Dillon). "Dice" Dice is mistaken for Gene Simmons at a bachelor party. He feuds with Wayne Newton and Criss Angel — even Rita Rudner holds a grudge. And, in a nod to his former real life gambling habits — "I've won and lost millions of dollars there," Clay says of the Strip. "That meant nothing to me." — Dice is forced to perform at the fictional Tangiers casino to pay off his debts.
"A lot of it starts from the truth," "Dice" creator Scot Armstrong says, "and then we just make it more funny. … It's very real, in that almost all the stories are inspired by a real thing, but then we just have fun."
Unlike his stand-up persona, who comes across like a rock 'n' roll superhero, "Dice" not only allows Clay to appear vulnerable, it often makes him look downright foolish.
In Sunday's premiere, Dice is outraged at the Tangiers' new $5 ATM fee. ("It's like I'm tipping the machine!") So instead of making the $2,000 withdrawal he needs for a wedding gift, he decides to win the money at the blackjack tables and ends up dropping $125,000.
In a later episode, he tries to explain to Carmen that he isn't mistreating his best friend, Milkshake (Kevin Corrigan). Dice: "Dice is like the greatest friend you could ever have. You just don't get it." Carmen: "I get that you're a man who speaks in the third person." Dice: "Really? I don't know what that means. All I know is, you gotta take Dice to his lunch meeting."
"He doesn't always look great," admits Armstrong, whose previous writing credits include "Old School" and "The Hangover Part II." "He makes fun of himself. … Even when I first met him, he was telling me these stories that didn't make him look great, but he knew it was funny."
Armstrong insists Clay never stepped in to try to protect his image. "It's never been an issue. As long as it's funny, he's game."
For his part, Clay says he's thrilled "to be able to show other sides of me other than the foul-mouthed, cursing, stand-up comic that I am — which I love doing. But it also gets frustrating as an actor when you don't get to show the other sides. And I think that's what this show allows me to do."
The difference between Andrew and Dice is a recurring theme of the series. "It's sad to say, but nobody really gets to know me," Clay says on the show, and it feels heartfelt.
"The funny thing is," Armstrong says, "he'll say, like, 'I'm Dice onstage but I'm Andrew at home.' But then you meet Andrew and he's, like, not THAT different from Dice. Those different shades of gray are what the show's about."
Befitting someone who's lived in the valley for the past dozen years and performed up, down and off the Strip, Armstrong says Clay's local ties were invaluable during the Las Vegas shoot. "We didn't have a huge budget. But a lot of it was just talking people into stuff. … Dice does have a lot of good will in Vegas, and everyone was always game to help us out."
That good will extended to TI, which plays both itself and the Tangiers in the series. Clay says he called up his casino host, and in half an hour he had a meeting that led to the production being given free rein over the property. "All I could do is thank them," Clay says. "It's not like I was performing at their hotel. I think I still owe 'em 12 grand!"
In fact, TI is one of the few casinos Clay hasn't performed in regularly in a career that's seen him spend 13 years at Bally's, as well as headlining at the Las Vegas Hilton, Stardust, Riviera, The Venetian, Palms, Hard Rock Hotel, Mandalay Bay, Luxor and Tropicana, where he currently has a residency at the Laugh Factory.
"When I came back into Vegas, I'm with my third wife," he recalls. "I'm not making any money. I've got two kids to support. And I'm (performing) in the back of a sushi restaurant (Sushisamba) at the Palazzo. … So I'm going from a 1,600-seat showroom to, you know, a hundred seats in a back room. And I would look at my sons and my wife and go, 'Wait till you see what I turn my career into again.' "
It's taken awhile, but Hollywood finally seems able to see beyond the swaggering, leather-clad, "Hickory Dickory Dock"-spewing Diceman character. Clay was so outrageous at his peak, "Saturday Night Live" cast member Nora Dunn famously boycotted his 1990 appearance on the show, and MTV banned him for life.
For Clay, it's always been about the acting. "I would use the comedy stage to hone my craft rather than going to an acting school," he says. And The Diceman was every bit as much of a character as the ones he's played for Allen, Scorsese and "Dice."
"I took a lot of heat for it, you know," Clay says of his time in the harsh glare of the spotlight. "And I dealt with it because I knew I was the original. And the original's always gonna get his head kicked in. But I knew if I could survive, that maybe this day would happen. And now it's happening, and I'm grateful for it."
"I'm just thrilled with what's going on," he says. "It's a very exciting time again."
Contact Christopher Lawrence at clawrence@reviewjournal.com. On Twitter: @life_onthecouch