Andy Cohen, Anderson Cooper to share stories, secrets in Las Vegas
Updated October 20, 2018 - 5:32 pm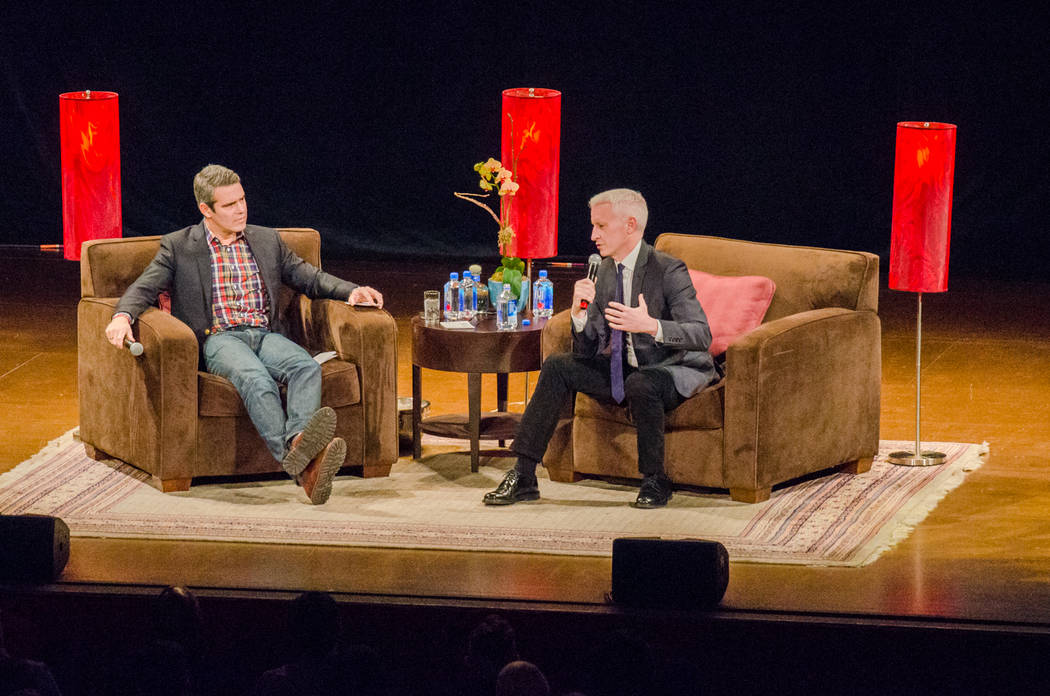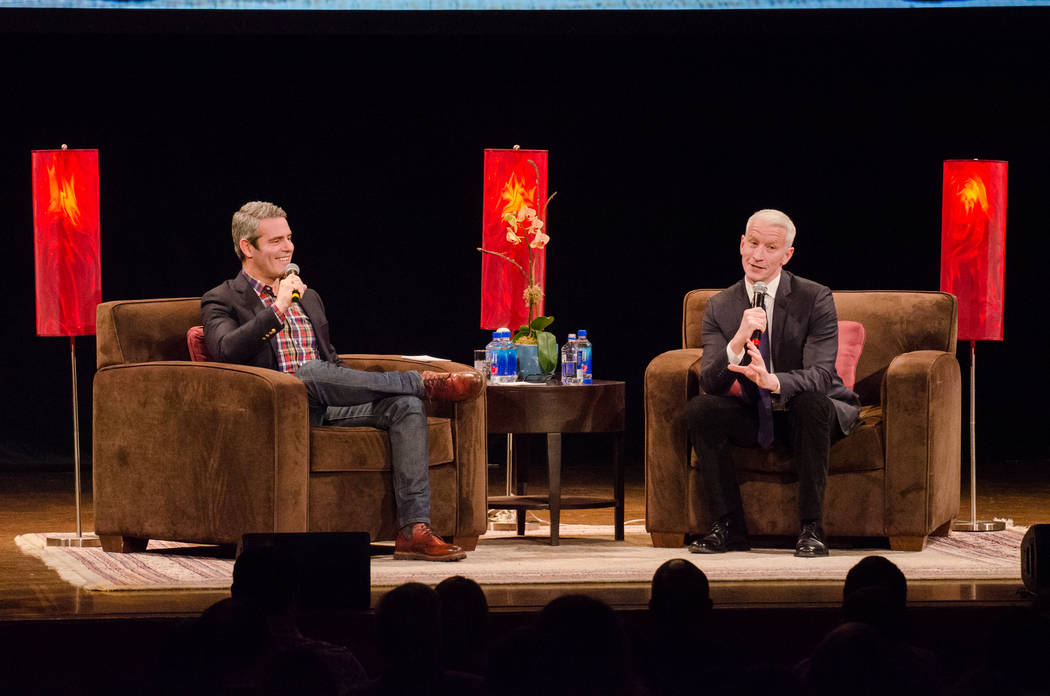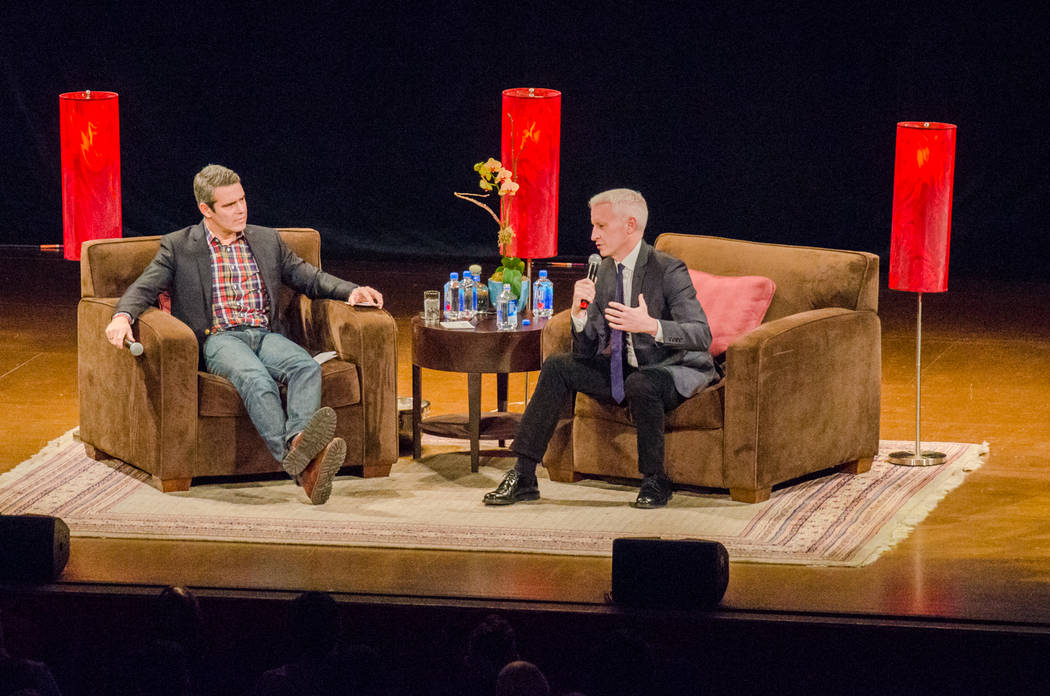 "We're so psyched to come to Vegas," says Andy Cohen, who, along with his longtime friend Anderson Cooper, will bring "AC2: Deep Talk and Shallow Tales" to the Colosseum at Caesars Palace on Friday. "We can't believe we're playing that stage."
As excited as Cohen — television host, media personality, best-selling author and brains behind the "Real Housewives" franchise — is, though, it will be hard to top his first trip to Las Vegas, when he interviewed Buddy Hackett for CBS News.
"We did the interview at, like, 5 in the morning, because it was live on the East Coast. He wound up driving me around in his convertible as the sun was rising. … And I remember he said every street reminded him of another woman that he had been with."
It also may be tough to beat out his second trip to Las Vegas, when Cohen, then a Bravo executive, came to check on the local filming of "Queer Eye for the Straight Guy."
"I was there for a week, and the Fab Five by that point had already been there for a while. They knew everywhere to go in town. I remember going to the Imperial Palace with Carson Kressley, and they had those celebrity impersonator dealers. It was so fun. I had such a good time with those guys. And I think we went to a strip club. We had a blast."
'Our best stories'
If, like most people, you're wondering what a stage show starring the host of Bravo's "Watch What Happens Live" and the versatile CNN anchor could possibly entail, those two stories pretty much sum it up: reminiscences and name-dropping, and plenty of both.
"No one understands what the show is," Cohen acknowledges. "I will say, it's the equivalent of going to a bar with me and Anderson. And we're kind of telling you our best stories that we would never tell in mixed company or in public. And we have kind of a 'no tweeting' rule or an agreement that we have with our audience where we say just, like, 'Don't tweet the people we're talking about. Just let us do this.' "
The evening is nearly as freewheeling, random and interactive as Cohen's nightly talk show, which counts among its guests everyone from Meryl Streep and Oprah Winfrey to Dale Earnhardt Jr. to anyone who's ever wandered near a Bravo series. And, just like "Watch What Happens Live," the traveling show sets aside time for queries from the audience.
"There was a question early on about the size of our genitalia that I certainly wasn't expecting," Cohen says, pulling back the curtain a bit on what attendees may encounter. "That was a female audience member, and it was for both of us. I believe Anderson abstained, and I answered to the best of my abilities."
Unlikely friendship
As evidenced by that exchange, the duo is so mismatched — Cohen gregarious and gossipy; Cooper reserved and refined — it's difficult to believe that anyone ever tried to set them up on a date. Or that when their first phone call went so disastrously awry — Cohen asked about Cooper's mother, socialite Gloria Vanderbilt, within moments — they ever spent enough time together to become friends.
"We would see each other around, and we would say 'Hello' and stuff," Cohen says about their post-flirtation interactions. "But we wound up vacationing together a few times, and we just really connected then, and we found that we were kind of great on vacation together."
Eventually, they discovered they weren't too bad together in everyday life. Their friendship stretches back a quarter century.
"We just developed a bond, and I always love making him laugh" Cohen says. "That's kind of one of the things that keeps us together."
Cooper certainly laughs onstage. His giggle is one of the greatest sounds in the universe. But the biggest thing that fans take away from the tour, Cohen says, is how funny Cooper is. "He's really loose. This version of him onstage is kind of the best version of him."
Cohen is no stranger to Las Vegas headliners. Mariah Carey, Rod Stewart, Reba McEntire and Cher have guested on "Watch What Happens Live." He posted videos of himself at Jennifer Lopez's Planet Hollywood Resort residency. In July, Britney Spears led him around the stage at Radio City Music Hall on a leash while spanking him with a riding crop.
Now, he's unexpectedly joining their ranks.
"Part of the reason this is so exciting for us is, I'm not a comedian. I don't consider myself an entertainer," Cohen says. "So to be doing this with one of my best friends at such an iconic theater, it actually is kind of like a life event. It's very cool."
If you go
■ What: "AC2: Deep Talk and Shallow Tales" with Andy Cohen and Anderson Cooper
■ When: 8 p.m. Friday
■ Where: The Colosseum at Caesars Palace, 3570 Las Vegas Blvd. South
■ Tickets: Starting at $65 (866-320-9763)
Contact Christopher Lawrence at clawrence@reviewjournal.com or 702-380-4567. Follow @life_onthecouch on Twitter.