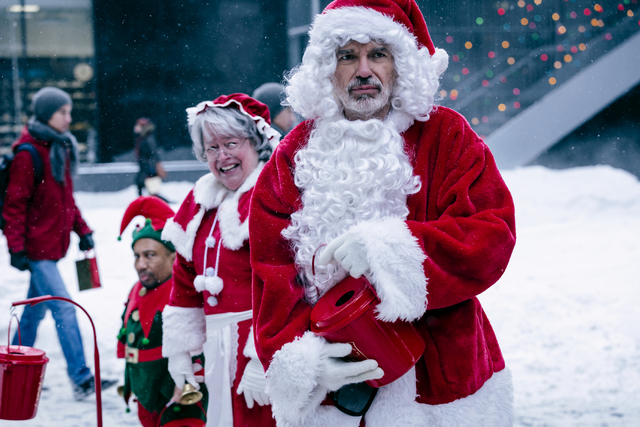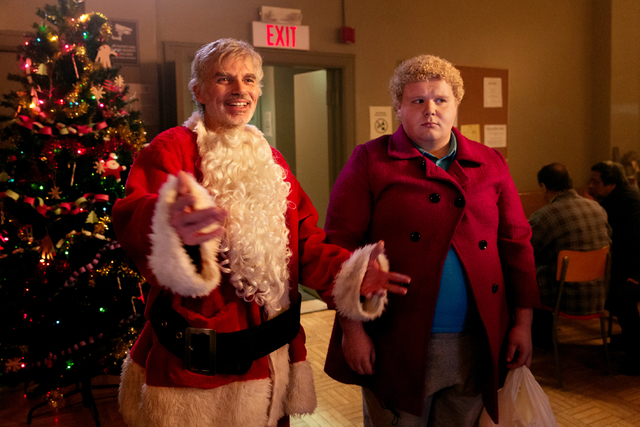 The world's a much different place than it was 13 years ago.
Heck, it's a much different place than it was 13 days ago.
So while the sight of a smoking, drinking, swearing Saint Nick with a penchant for changing-room sex with heavyset gals seemed outrageous in 2003's "Bad Santa," the makers of "Bad Santa 2" had more than a decade's worth of shock humor to try to top.
The result is just unpleasant from beginning to end.
The redemption and happy ending that career criminal Willie Soke (Billy Bob Thornton) earned after being shot eight times in the back by the police in "Bad Santa" have long since abandoned him. "You see, you can only puke in somebody's lap so many times," he says of the end of his relationship with Sue (Lauren Graham).
Willie's at the end of his rope — literally, he's trying to hang himself after putting his head in an electric oven didn't do the job — when Thurman Merman (Brett Kelly) shows up to celebrate his 21st birthday. The sandwich-obsessed Thurman has fulfilled his destiny as a "full-time sandwich consultant" at Hungry Hoagies, and he still keeps in touch with Willie, much to the latter's dismay. But Willie's ears perk up when Thurman mentions a package full of cash that was delivered to the house they once shared.
That package leads Willie to a meeting with Marcus (Tony Cox), his former partner in holiday crime, who tried to kill him the last time they were together. Still, the lure of a $2 million score is enough to make Willie follow Marcus to Chicago only to learn he's been duped. Twice.
First, the job involves knocking over a charity, run by the benevolent Diane ("Mad Men's" Christina Hendricks) and her sleazy husband, Regent (Ryan Hansen). Second, their "inside man" on the job is Willie's estranged mom, Sunny (Kathy Bates). Immediately upon seeing her, Willie punches her square in the jaw.
The new filmmaking team, director Mark Waters ("Mean Girls") and screenwriters Shauna Cross ("If I Stay") and newcomer Johnny Rosenthal, don't seem to understand the inherent appeal of the original "Bad Santa." Sure, it was over the top. But so many of the laughs came from Thornton's exasperated reactions to the craziness surrounding him. There also was a layer of genuine heart beating just below its grimy surface.
Instead, "Bad Santa 2" is little more than a string of crude, largely unprintable, one-liners that feel more like they belong in an outtakes reel than a legitimate movie. Upon seeing an ugly baby while bell-ringing for the charity, Marcus, Sunny and Willie try to top each other with a barrage of insults that culminates with "I guess the abortion didn't take."
The new creative team — assuming you can stretch the word "creative" to include something like "Bad Santa 2" — also seems to think anal sex is the funniest thing ever.
Look, I like outrageous filth as much as the next guy — as long as it's clever outrageous filth. And the next guy isn't a member of ISIS.
But almost none of "Bad Santa 2" works.
People tend to forget that Thornton was nominated for a Golden Globe for the original "Bad Santa." He and Kathy Bates both have Oscars, as does Octavia Spencer, who reprises her role as Opal the prostitute. They're all too good for this. Heck, David Correa, the kid credited as playing Peeing Boy, is too good for this.
The deaths of original co-stars Bernie Mac and John Ritter have left a huge void that can't be filled simply by adding more scenes of Willie having sex in back alleys and in a Christmas tree lot a Douglas fir away from a family with young, curious children.
Much like the similar "Ted," once you've seen something that's supposed to be sweet and innocent be vile and raunchy, the novelty has worn off by the second go round.
As a result, you can add "Bad Santa 2" to the list of 2016's long-delayed, why-bother sequels that already includes "Blair Witch," "Bridget Jones's Baby," "Independence Day: Resurgence," "Inferno," "My Big Fat Greek Wedding 2" and "Zoolander 2."
I'd say "Bad Santa 2" was a lump of coal in your Christmas stocking, but a lump of coal has actual value.
Contact Christopher Lawrence at clawrence@reviewjournal.com. On Twitter: @life_onthecouch.
REVIEW
Movie: "Bad Santa 2"
Running time: 92 minutes
Rating: R; crude sexual content and language throughout, and some graphic nudity
Grade: D
Now playing: At multiple locations