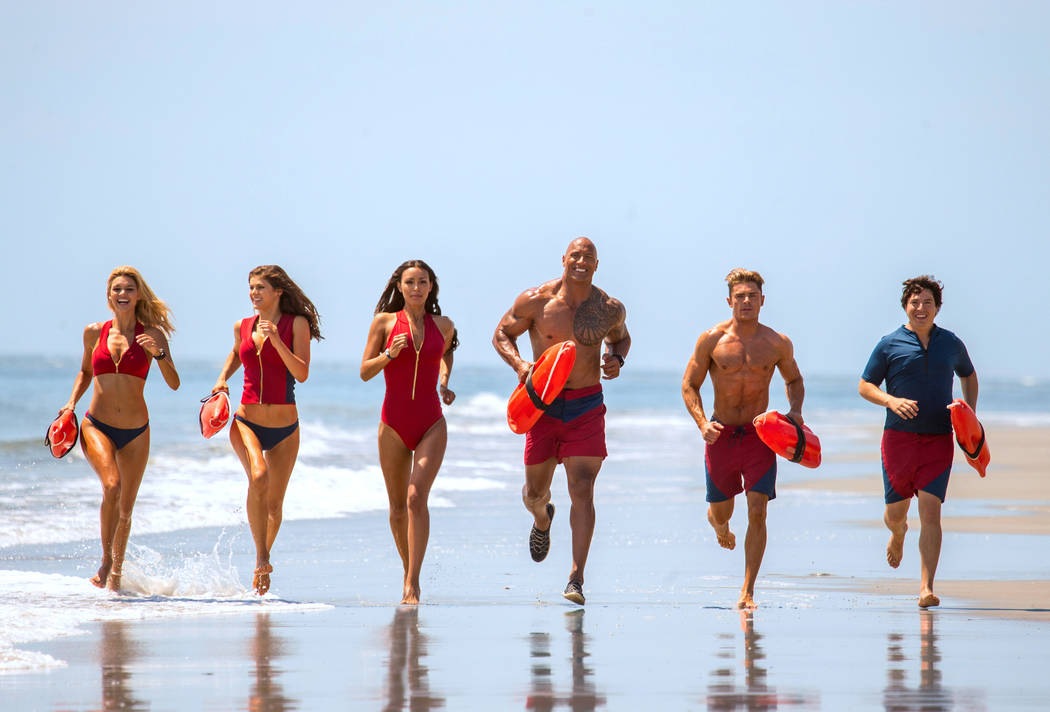 There are worse things you could do this weekend than spend your hard-earned money on "Baywatch."
Shave a kitten. Join an alt-right hate group. Convince an orphan you're going to adopt her only to laugh as you back out at the last minute.
That's pretty much all I can think of.
"Baywatch" is godawful, plain and simple. And I say that as a fan of the iconic 1990s TV series, a fan of Dwayne Johnson and a begrudging fan of Zac Efron. But "Baywatch" the movie makes "Baywatch" the TV show look like "The Wire." The silly, paranormal "Baywatch Nights" even looks good by comparison.
Legendary lifeguard Mitch Buchannon (Johnson) is the king of the beach in Emerald Bay, which, as a result of production tax incentives, is so obviously not in California it's embarrassing.
Mitch runs Baywatch like a drill sergeant, and he has no patience for Matt Brody (Efron), the disgraced Olympic swimmer who's being forced onto his team. That's because Mitch is too busy investigating the rise of the drug flakka on his beach and its possible ties to wealthy club owner Victoria Leeds (Priyanka Chopra).
As mysteries go, this one doesn't rise to the level of those on "Scooby-Doo." It wouldn't even keep Shaggy occupied.
Say what you will about the TV series, but at least it knew what it was: goofy, jiggling escapism.
"Baywatch" the movie, however, has no idea what it wants to be.
Is it an action movie saluting Mitch's heroism?
Is it a redemption story for Brody, who's basically a younger, dumber Ryan Lochte?
Is it an underdog tale focused on flabby nerd Ronnie (Jon Bass) and his obsession with the gorgeous yet down-to-earth C.J. Parker (Kelly Rohrbach)?
Is it a gross-out comedy seemingly written by sixth-graders who just learned how to curse?
This "Baywatch" definitely leans toward the latter.
The "Jump Street" movies would have been a good action-comedy target. Director Seth Gordon ("Horrible Bosses"), though, can't figure out what to make of the script by the duo of Damian Shannon and Mark Swift, whose only previous writing credits are "Freddy vs. Jason" and 2009's "Friday the 13th." Their background is more appropriate than it seems, because "Baywatch" is a horror show.
Johnson is the biggest movie star on the planet, but "Baywatch" is his greatest misstep since he donned a tutu for 2010's "The Tooth Fairy." The so-called comedy can't even wring a laugh out of its blooper reel.
Dragged down by the weight of its many conflicting ideas, "Baywatch" flails about like a drowning victim that's incapable of rescue, ultimately leaving a bloated corpse of a movie washed ashore at the multiplex.
Contact Christopher Lawrence at clawrence@reviewjournal.com or 702-380-4567. Follow @life_onthecouch on Twitter.