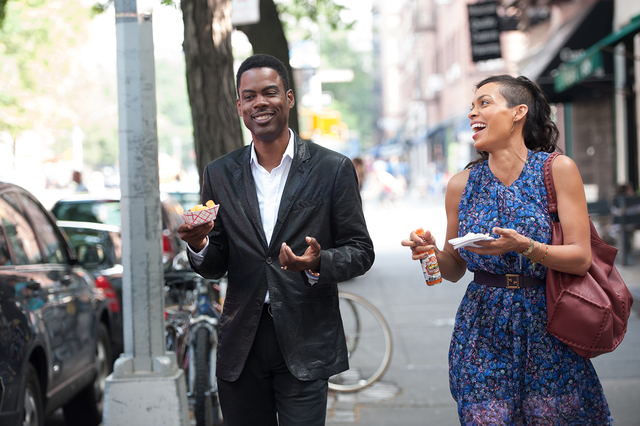 Well, at least something good came out of "Grown Ups 2."
While filming that abomination, Chris Rock spent his downtime scripting a story that had been kicking around in his head for a while. The result, opening Friday, is a funny, intimate rumination on fame. It certainly has its flaws, but compared with his previous cinematic efforts, "Top Five" is practically the writer-director's "Citizen Kane."
At the very least, it's his "Before Sunrise."
Rock stars as Andre Allen, a popular stand-up-comedian- turned-actor who's trying desperately to break free from his signature role of Hammy the Bear, the ridiculous furry cop who carries an assault rifle in each hand and has his own catchphrase: "It's Hammy time!"
Like Riggan Thompson in "Birdman," Andre had the good sense to leave after the third blockbuster. And, like Riggan, he may have overreached in his attempt to be taken seriously, in this case with "Uprize!" the awful-looking piece of Oscar bait in which Andre portrays Haitian slave rebellion leader Dutty Boukman.
Andre's already nearly as well-known for his engagement to a Bravo reality star (Gabrielle Union). And if this movie flops, which it almost certainly will, his agent (Kevin Hart) lets him know the next call he gets will be from "Dancing with the Stars." So Andre reluctantly agrees to let New York Times reporter Chelsea Brown (Rosario Dawson) accompany him on the day of the movie's opening.
"Top Five" has its contrived moments. At times, Rock tries too hard. And, in an era when even casual "Access Hollywood" viewers know better, it's an odd choice to have the "Uprize!" press junket take place when the movie is already in theaters, rather than the customary days or weeks ahead.
But when it's just Andre and Chelsea, wandering the streets of New York and getting to know each other, "Top Five" is as good as Rock has ever been on-screen.
He's obviously a terrific writer. You don't get to be one of the, for lack of a better term, top five comics in the world without being brilliant.
I've seen him only once in person, at the Colosseum in 2007 during the gone-too-soon Comedy Festival, and the mood was electric. It was the sort of atmosphere I've only seen with big-time, Rolling Stones-level rock acts.
And with "Top Five," Rock has finally transferred a bit of that magic to the big screen.
Richard Linklater's "Before" series is the most obvious comparison. But from Rock's use of jazz to score a particular scene to his visiting the Comedy Cellar, it feels as though his longtime collaborator Louis C.K. may finally be rubbing off on him.
It's not a bad career path for Rock to follow.
Especially since he's wasted far too many years stumbling down the one paved by his buddy Adam Sandler.
Reality roundup: Cleen Rock One, owner of Las Vegas' Chrome Gypsy Tattoo, is one of three finalists competing for the $100,000 grand prize in the finale of "Ink Master" (10 p.m. Tuesday, Spike TV). Coverage of the finale of "The Ultimate Fighter," live from the Palms, kicks off at 3 p.m. Friday on Fox Sports 1. And, look out, "Sister Wives," there's a new polygamist family in town as "My Five Wives" (10 p.m. Sunday, TLC) comes to Las Vegas.
Contact Christopher Lawrence at clawrence@reviewjournal.com or 702-380-4567.