CinemaCon Day One: A whole lotta 'Transformers'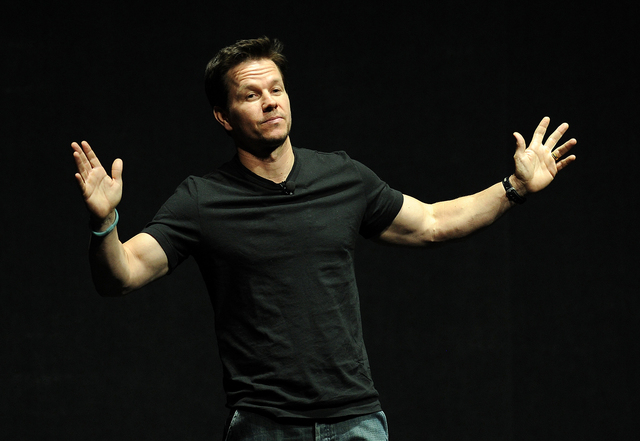 CinemaCon began in earnest Monday night at Caesars Palace with Dwayne Johnson hyping "Hercules," Mark Wahlberg introducing extended footage of "Transformers: Age of Extinction" and Will Arnett and his "Arrested Development" co-star David Cross riding around the Colosseum stage on Segways as much for the pure silliness of it all as to promote Arnett's role in "Teenage Mutant Ninja Turtles."
Relax, he doesn't play one of the turtles.
Paramount was the first studio to showcase its upcoming movies at the yearly four-day gathering that's part pep rally, part peace offering from movie studios trying to smooth over their often-contentious relationships with theater owners through good old-fashioned showmanship.
Johnson pressed the flesh, entering through the audience and high-fiving attendees before discussing the eight months of prep work and six months of filming he undertook to portray what he called "the world's very first superhero."
In the first look at the trailer for "Hercules," which opens July 25, Johnson is seen wearing a big cat's face for a hat like he just stepped out of some primitive touring company of "The Lion King." As for the footage, it looks, well, it looks like an absolutely jacked Dwayne Johnson running around killing things with a sword.
After Arnett's shenanigans, which preceded a brief trailer for "TMNT" that likely didn't sway anyone concerned about this new take on the turtles, Wahlberg took the stage to thunderous applause.
He seemed genuinely touched and excited to be a part of the reboot of "Transformers," which he deemed, "probably the most iconic franchise in movie history."
Ummm, OK.
The lengthy clips featured Decepticons, Autobots, Dinobots, Thisbots, Thatbots and a lot of Mark Wahlberg being Mark Wahlberg.
Based on the footage, it looks like this "Transformers," which opens June 27, actually might be pretty good. And not just because they got rid of Shia LaBeouf.
The unintentional highlight of the evening: An unfortunately assembled clip package briefly made it seem as though Adam Sandler was starring in "Selma," the Martin Luther King Jr. biopic.