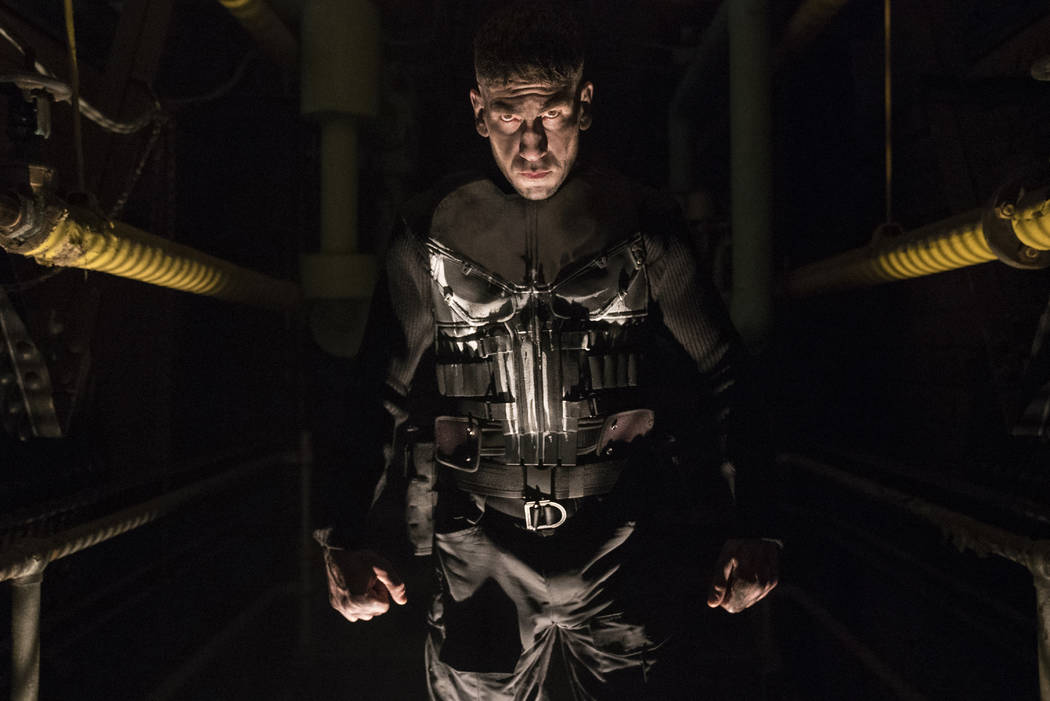 Marvel vs. DC.
It's a battle that's been waged for decades, but rarely this aggressively.
"Justice League," which brings together DC heroes Batman, Wonder Woman, The Flash, Aquaman and Cyborg, has had a mid-November opening date staked out for more than three years.
Netflix waited till last month to announce the release of Marvel's hotly anticipated 13-episode series "The Punisher."
They both drop Friday.
What's a comic book nerd — and I mean that in the best possible sense — to do?
To help you plan your weekend, here's a look at how "The Punisher" and "Justice League" stack up, side by side.
Running time
"The Punisher": 678 minutes
"Justice League": 119 minutes
Black-clad vigilante forever damaged by the loss of his family
"The Punisher": Frank Castle/The Punisher
"Justice League": Bruce Wayne/Batman
Growling leading man who starred in 2016's "The Accountant"
"The Punisher": Jon Bernthal
"Justice League": Ben Affleck
Villain(s)
"The Punisher": A corrupt CIA official (Paul Schulze) and a combat veteran (Daniel Webber) with PTSD
"Justice League": Steppenwolf, an orclike warrior from Apokolips — not the Canadian rock band behind "Born to Be Wild"
Weapons of choice
"The Punisher": Guns — many, many guns — as well as knives, his bare hands and, in one particularly brutal sequence, a sledgehammer
"Justice League": Any number of Bat-gadgets, the Sword of Athena, a five-pronged trident (which technically should be a quindent) and running really fast
Wardrobe
"The Punisher": Black hoodies, tactical gear and, when he really means business, body armor with the famous white skull spray-painted on it
"Justice League": All manner of skintight, high-tech materials that can withstand the heat of re-entry from outer space
Presumed dead character(s)
"The Punisher": Castle and his new ally, former NSA analyst David Lieberman (Ebon Moss-Bachrach)
"Justice League": Clark Kent/Superman (Henry Cavill)
Intrepid red-haired journalist
"The Punisher": Karen Page (Deborah Ann Woll)
"Justice League": Lois Lane (Amy Adams)
African-American man missing at least one limb
"The Punisher": Curtis Hoyle (Jason R. Moore), Castle's best friend and a PTSD support group leader, who lost his leg in Afghanistan
"Justice League": Victor Stone/Cyborg (Ray Fisher), a genius football star who was rebuilt by his scientist father after a car wreck left him with little more than a head and torso
Multiculturalism
"The Punisher": Homeland Security agent Dinah Madani (Amber Rose Revah) is Persian-American
"Justice League": Diana Prince/Wonder Woman (Gal Gadot) is Themysciran; Arthur Curry/Aquaman (Jason Momoa) is Atlantean
Preferred method of contact
"The Punisher": A flowerpot in Karen's window
"Justice League": The Bat-signal and a fire in The Shrine of the Amazons
Bloodshed
"The Punisher": Buckets of it — heck 30-gallon drums of it
"Justice League": Not a drop
Comic relief
"The Punisher": Umm, once, when his long hair gets him mistaken for a hipster, Castle jokes that he's "flirtin' with the idea of goin' full man bun"
"Justice League": Barry Allen/The Flash (Ezra Miller) — he's pretty much only there for comic relief