Dave Courvoisier leaves Channel 8, but don't say 'retirement'
December 9, 2017 - 12:55 pm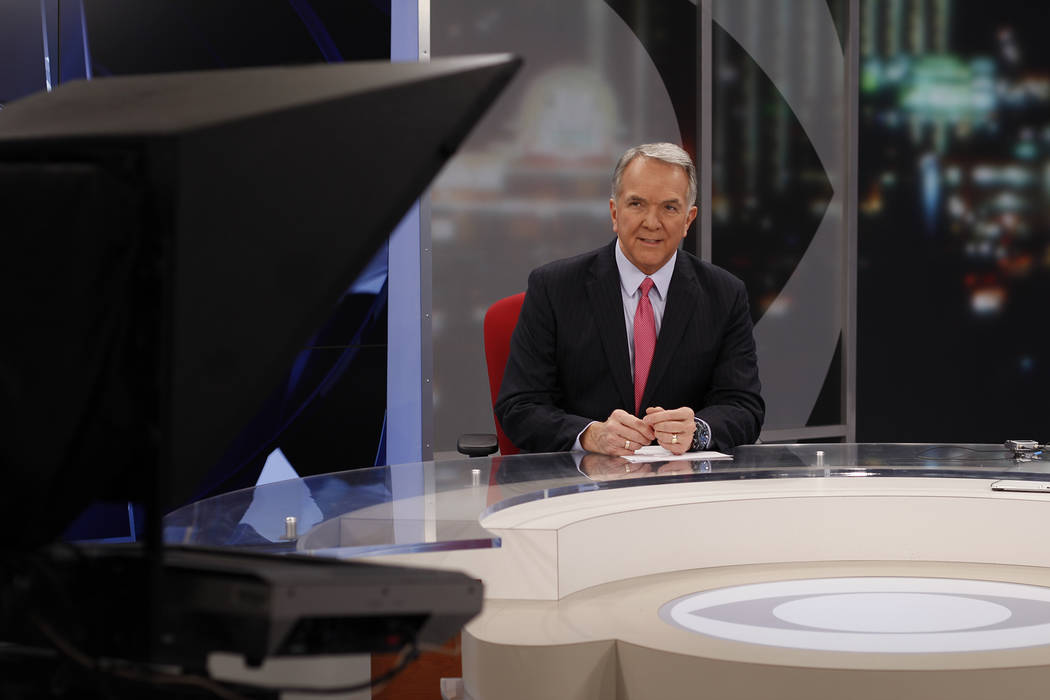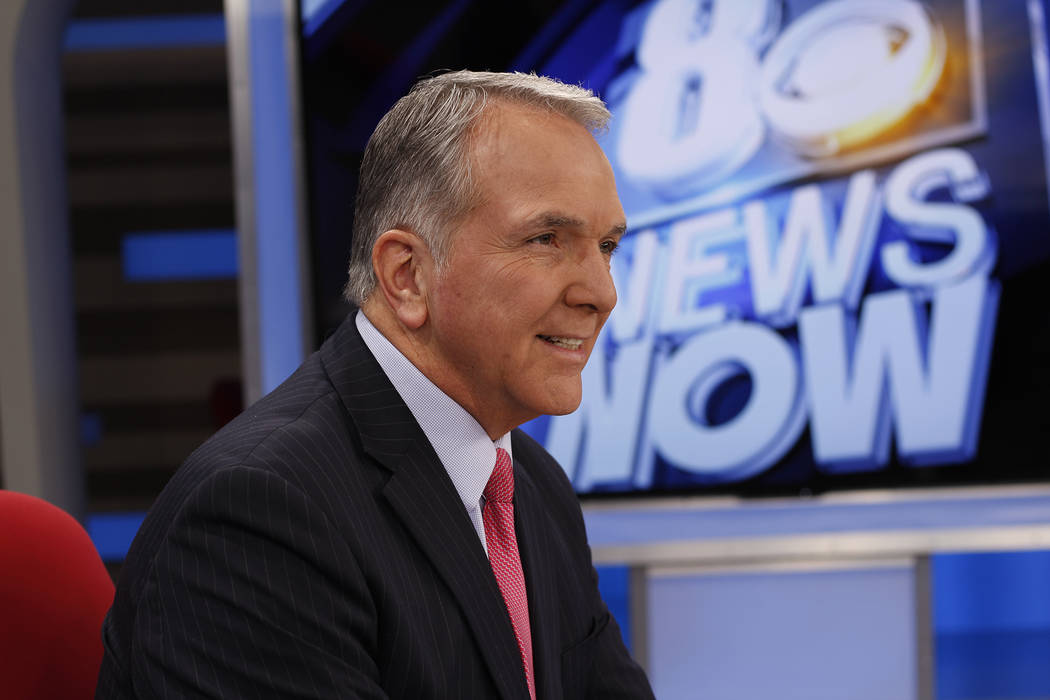 There was a time when I was convinced Dave Courvoisier was following me.
Not in a trenchcoat-and-dark-sunglasses way. But he was the anchor at the CBS affiliate in the last market I worked in. Then, shortly after I moved to Las Vegas, I flipped past a newscast on KLAS-TV, Channel 8, and there he was again.
"What are you up to, Dave Courvoisier?" I wondered.
Come Dec. 16, he'll be up to whatever he darn well pleases.
'I have other things I want to do'
After two stints totaling more than 27 years on the valley's airwaves, Courvoisier will leave the Channel 8 anchor desk for good on Friday. Just don't refer to his departure as "retirement."
"It has such a heavy burden on it," Courvoisier says. "That word just has an onus that just sends the message of finality. And I'm not leaving this world. I'm just leaving TV. I'm just departing my career as a TV newsman because I have other things I want to do."
For starters, those other things include traveling, spending more time with his wife and three daughters, and devoting more of his efforts to volunteering and freelance voice-over acting. First, though, Courvoisier, who turned 65 in November, simply wants to rest, revealing that he hasn't had a day off "in probably six or eight months."
"When you get to 60, it starts working on you," he says. "Then you hit 65, and you go, 'Criminy! It's time to maybe think about maybe enjoying life a little more, working a little less and doing some of the things you always wished you could do.' "
Another Channel 8 departure
It's the third major loss for the Channel 8 anchor desk in the past five years. Gary Waddell retired in 2012 after 32 years with the station. Paula Francis, who was paired with both Waddell and Courvoisier, followed in 2016 after 28 years.
Courvoisier says their final weeks helped prepare him for what will be his. "Not only were they great colleagues, but they were wonderful examples of how to gracefully depart. I respect and honor them so much. And I did watch, because I knew it was going to happen (to me) sooner or later. And I saw that they did it with a lot of dignity, so I hope I can pull that off, as well."
After starting his career as a radio disc jockey, Courvoisier moved to television in 1980 in Grand Junction, Colorado. Stints in West Lafayette, Indiana, Cape Girardeau, Missouri, and Greensboro, North Carolina, followed before he joined the anchor desk at what is now KSNV-TV, Channel 3, in 1985. In 1998, he returned to Cape Girardeau, where I first encountered him, to care for his ailing parents. Five years later, he was hired by Channel 8.
Courvoisier may be best remembered for his weekly "Wednesday's Child" segments that focused on children hoping to be adopted. Children's charities are among those to which he plans to devote some of his newfound time. "Having done work for so many organizations that involve kids … I feel like I can maybe now give more volunteer time to those organizations."
"I would like to be able to keep busy," he adds. "I'm a busy guy. I like to have things to do."
'I've been privileged'
The last words of Courvoisier's bio on the station's website are: "I'll be at KLAS as long as they'll have me!" That always was the plan, he says, insisting that the station's management wanted him to stay when he approached them earlier this year about leaving before his contract was up.
"At least in the early goings, I'm just going to really relax a bit, take a sabbatical from the news and kind of see where the wind blows," he says. For the time being, he and his wife plan to stay in Las Vegas, but they eventually may move back to the Midwest. Courvoisier says he's "open to any overtures" but just wants to take things slowly.
"Having this job has been just, just great. The community has been so good to me. So it's hard to walk away from it," he admits, "because I've had a really great job.
"How many people can walk down the grocery store aisle, and a perfect stranger comes up to them and says, 'Oh, I really like your work'? That just doesn't happen. So it's tough to go. It is. Because I've been privileged. It's just been great. And yet, there does come a time when it's gotta end. And I feel lucky that I could choose that time. Not many people get to make that choice."
TV to watch
■ Jean-Claude Van Damme stars as the most dangerous undercover operative in the world, who's unhappily retired in Hollywood, in the new series "Jean-Claude Van Johnson" (Friday, Amazon).
■ Rancho High grad Ne-Yo is among the musical guest stars on "Gwen Stefani's You Make It Feel Like Christmas" (9 p.m. Tuesday, NBC).
■ "Will & Grace" stars Eric McCormack and Debra Messing host "The Golden Globes 75th Anniversary Special" (9 p.m. Wednesday, NBC), featuring classic moments and actor interviews.
■ The ninth season of your favorite stop-motion animated series kicks off with "Freshly Baked: The Robot Chicken Santa Claus Pot Cookie Freakout Special: Special Edition" (11:30 p.m. Sunday, Adult Swim).
Contact Christopher Lawrence at clawrence@reviewjournal.com or 702-380-4567. Follow @life_onthecouch on Twitter.