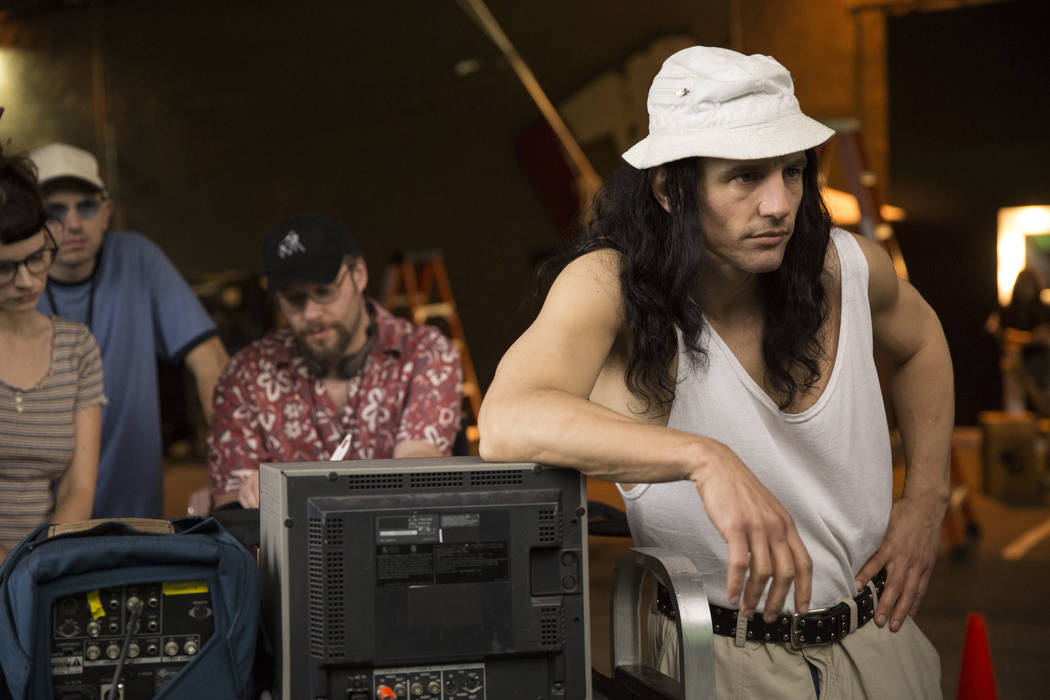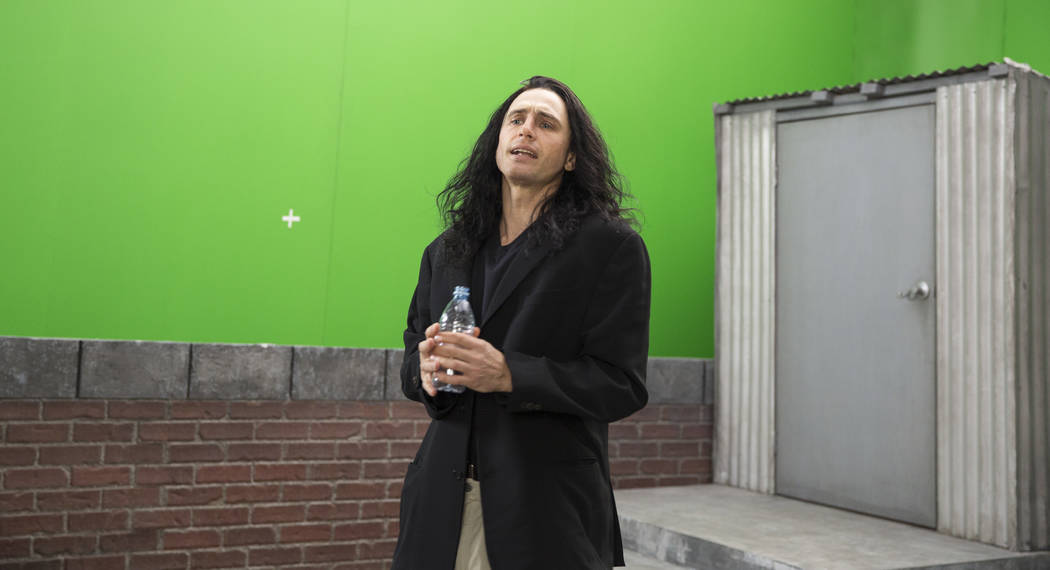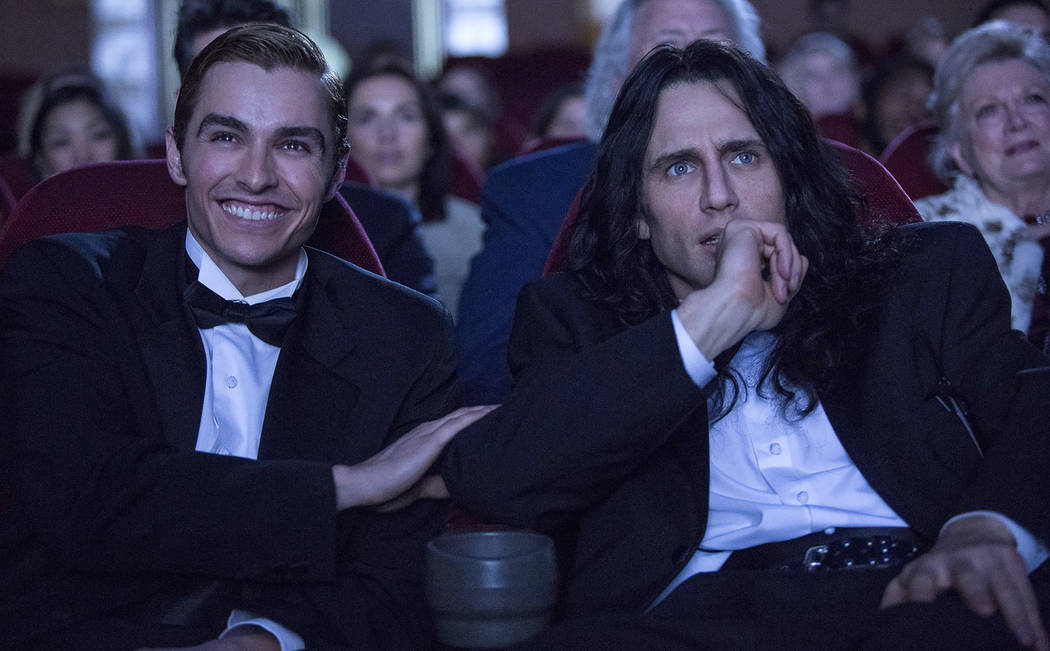 When you hear the words "Oh, hi, Mark," do you:
A) Giggle knowingly?
B) Wish you were in a theater clutching a football and a bunch of plastic spoons?
C) Seem puzzled and start looking around for someone named Mark?
If you answered A and/or B, "The Disaster Artist" is most definitely for you. If you identified with C, grab a bunch of friends, watch "The Room" and proceed directly to "The Disaster Artist."
Whatever you do, don't watch "Room," the best-picture nominee that won actress Brie Larson an Oscar in 2016. You'll only end up even more confused.
"The Disaster Artist" chronicles the preposterous making of "The Room," Hollywood outsider Tommy Wiseau's 2003 vanity project that's widely considered to be the worst movie ever made. It isn't. Not by a long shot. But it's so head-bangingly inscrutable, it's become a cult phenomenon along the lines of "The Rocky Horror Picture Show," complete with props — i.e., the spoons and footballs — and other bits of raucous audience participation.
You don't have to be familiar with it to enjoy "The Disaster Artist," but even one viewing will certainly enhance the experience.
In 1998, Greg Sestero (Dave Franco) seeks out Wiseau (director James Franco) after a San Francisco acting class during which Wiseau writhed on the floor and screamed what sounded vaguely like Marlon Brando's "Stella" from "A Streetcar Named Desire."
You have to assume that's what it was because Wiseau is what could charitably be described as "a character." He looks like a cross between Gene Simmons and Frank Stallone, dresses like Corey Feldman and mumbles like Balki from "Perfect Strangers" after some serious oral surgery. He also claims to be from New Orleans, as a way to poorly explain away the Eastern European accent, as well as at least two decades younger than he appears.
Wiseau and Sestero bond over their love of acting and James Dean, pinky-swear to "never forget dream" and move to the West Hollywood apartment Wiseau keeps for no apparent reason.
The young, handsome Sestero lands an agent (Sharon Stone) almost immediately, but Wiseau goes about breaking into show business in all the wrong ways. "I'm saying not in a million years," a prominent Hollywood producer (Judd Apatow) tells Wiseau after he "auditions" by yelling Shakespeare at him in a fancy restaurant. "But," Wiseau responds, "after that?"
Eventually, Wiseau decides to make himself a star by writing "the greatest drama since Tennessee William." The result is kinda-sorta about a love triangle involving a successful banker named Johnny, his best friend, Mark, and Johnny's fiancee, Lisa. There's also a bizarre relationship with a teenage neighbor named Denny; Lisa's mother, who's fairly adamant that she has breast cancer; and a scene of the three men and some random friend playing football in tuxedos thrown in for good measure.
Naturally, Wiseau will play the hero, Johnny. He'll also direct. Sestero, meanwhile, is elated that he'll get to co-star as Mark.
Written by the team of Scott Neustadter and Michael H. Weber ("The Fault in Our Stars"), based on the book "The Disaster Artist: My Life Inside 'The Room,' the Greatest Bad Movie Ever Made" by Sestero and Tom Bissell, the film is a love letter to both "The Room" and dreamers everywhere, regardless of how untalented they may be.
In one telling scene that encapsulates the multitude of on-set problems, the actors playing the cast and crew recite the following lines — "I did not hit her. It's not true. It's (expletive). I did not hit her. I did not. Oh, hi, Mark." — because Wiseau can't remember them during the first 67 takes, despite having written them.
When he isn't digging deep to portray a spot-on Wiseau, James Franco leads the technical team's effort to re-create every detail of "The Room," from the cheap-looking sets to the bad lighting to the poor focus that leads audience members to periodically shout "Focus!" during midnight screenings. The scenes that don't make the finished movie play side by side the originals during the credits, and I'd pay to see the entire movie re-done by the Francos and crew.
What separates "The Room" from other bad movies is Wiseau's passion and his belief that he truly was making greatness.
What distinguishes "The Disaster Artist" is that it celebrates that drive and, much like an episode of "American Pickers," turns trash into treasure.
That and the fact that it "never forget dream."
Contact Christopher Lawrence at clawrence@reviewjournal.com or 702-380-4567. Follow @life_onthecouch on Twitter.
Review
Movie: "The Disaster Artist"
Running time: 104 minutes
Rating: R; language throughout and some sexuality/nudity
Grade: B
Now playing: At multiple locations