Every movie you'll want to see this holiday season — TRAILERS
November 9, 2017 - 2:54 pm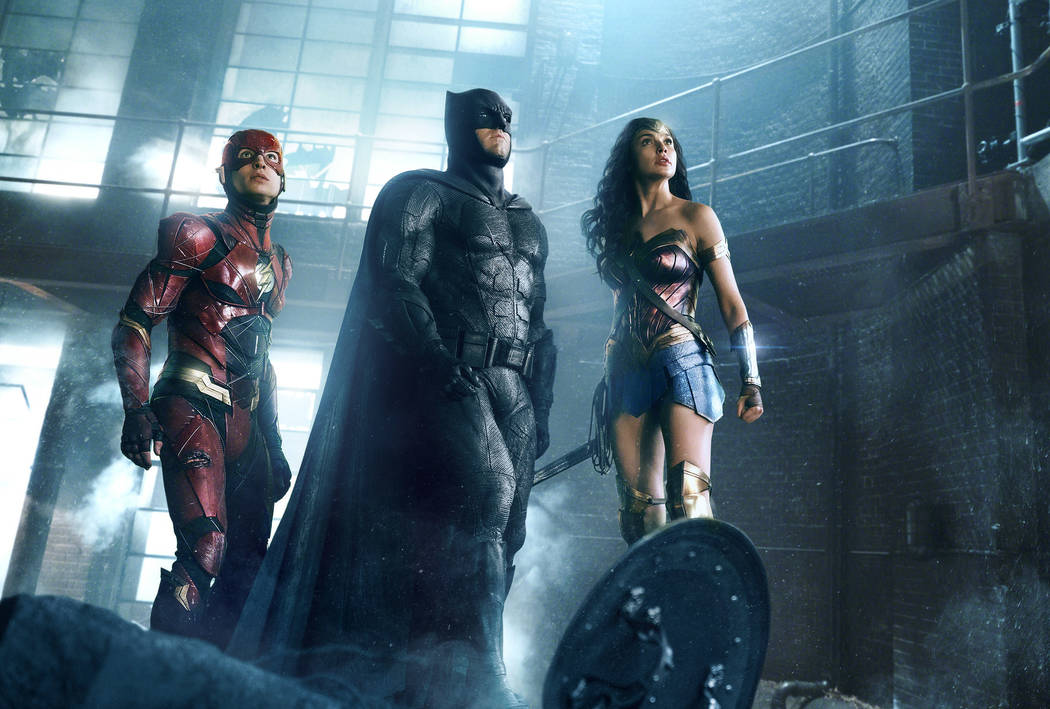 There's no place like the multiplex for the holidays.
It's that magical time of year when the Oscar contenders come out to play — and hope moviegoers will stick around to see them after rushing out to blockbusters including "Justice League," Disney's "Coco" and a little movie called "Star Wars: The Last Jedi."
As for the awards hopefuls, there are the traditional prestige pictures, such as Gary Oldman portraying Winston Churchill in "Darkest Hour," Steven Spielberg directing Meryl Streep and Tom Hanks in "The Post," and the "There Will Be Blood" duo of Daniel Day-Lewis and writer-director Paul Thomas Anderson reuniting for "Phantom Thread."
Then there are the out-of-left-field possibilities, including Margot Robbie as Tonya Harding in "I, Tonya," James Franco as the man behind one of the worst movies you'll ever see in "The Disaster Artist," and a 5-inch Matt Damon in "Downsizing."
Here's a look at those and everything else heading to movie theaters this holiday season. And remember, release dates are subject to change.
Friday
■ Dusty (Mark Wahlberg) and Brad (Will Ferrell) join forces to give their (step)kids the perfect Christmas — until their mismatched fathers (Mel Gibson, John Lithgow) crash the party in the comedy "Daddy's Home 2."
■ Kenneth Branagh directs and stars alongside Johnny Depp, Judi Dench, Penelope Cruz, Michelle Pfeiffer, Willem Dafoe and Josh Gad in Agatha Christie's "Murder on the Orient Express."
■ A young mother and her 6-year-old daughter struggle to make ends meet in the shadow of Disney World, while living in a budget motel run by a gruff manager (Willem Dafoe again) in "The Florida Project."
■ The story of a boy in the Midwest is intertwined with that of a New York girl from 50 years ago, as both search for what's missing in their lives, in "Wonderstruck" from director Todd Haynes ("Carol").
Nov. 17
■ Bruce Wayne (Ben Affleck) and Diana Prince (Gal Gadot) recruit Aquaman (Jason Momoa), The Flash (Ezra Miller) and Cyborg (Ray Fisher) to join forces in "Justice League."
■ A fifth-grader ("Room's" Jacob Tremblay) with facial deformities confronts the struggles of enrolling in a public school in "Wonder," co-starring Julia Roberts and Owen Wilson.
■ A high school senior (Saoirse Ronan) battles her strong-willed mother (Laurie Metcalf) in 2002 Sacramento, California, in "Lady Bird," the directorial debut of actress-writer Greta Gerwig.
■ A donkey named Bo (voiced by Steven Yeun), a sheep named Ruth (Aidy Bryant) and Dave the dove (Keegan-Michael Key) attend the birth of Jesus in the animated "The Star."
Nov. 22
■ A boy named Miguel, who dreams of becoming a famous musician despite his family's ban on music, finds himself in the Land of the Dead in Disney's animated "Coco."
■ Denzel Washington and Colin Farrell star in "Roman Israel, Esq.," a legal drama from writer-director Dan Gilroy ("Nightcrawler").
■ Months after her daughter's murder, with little to no progress made, a mother (Frances McDormand) targets the chief of police (Woody Harrelson) in "Three Billboards Outside Ebbing, Missouri."
Nov. 24
■ A young woman (Margaret Qualley, HBO's "The Leftovers") who's dedicated her life to God is challenged by issues of faith, sexuality and the dawn of the Vatican II era in "Novitiate."
Dec. 8
■ James Franco directs and stars in "The Disaster Artist," the story of Hollywood outsider Tommy Wiseau and his illustriously awful cult classic movie "The Room."
■ The manager (Morgan Freeman) and a new resident (Tommy Lee Jones) of a Palms Springs resort battle for the hearts and minds of the other guests, including those of another newcomer (Rene Russo), in the comedy "Just Getting Started" from writer-director Ron Shelton ("Bull Durham").
Dec. 15
■ Rey (Daisey Ridley), Finn (John Boyega), Poe (Oscar Isaac) and Kylo Ren (Adam Driver) return, and Luke Skywalker (Mark Hamill) shows up for more than three seconds, in "Star Wars: The Last Jedi."
■ Newly appointed British Prime Minister Winston Churchill (Gary Oldman) must rally his nation during the early days of World War II in "Darkest Hour."
■ A captured bull (voiced by John Cena) does everything he can to return to his family in Spain in the animated "Ferdinand," based on the popular children's book.
■ After the death of lawman Eddie Johnson (Peter Fonda), his friend and sidekick (Bill Pullman) goes on a quest for vengeance in the Western "The Ballad of Lefty Brown."
■ An actress turned waitress (Kate Winslet) is torn between her carousel-operator husband (Jim Belushi) and a young lifeguard (Justin Timberlake) in 1950s Coney Island in Woody Allen's "Wonder Wheel."
Dec. 20
■ Four teenagers discover an old video game and are sucked into the bodies of its avatars (Dwayne Johnson, Jack Black, Kevin Hart, Karen Gillan) in "Jumanji: Welcome to the Jungle."
■ Hugh Jackman stars as P.T. Barnum in the musical "The Greatest Showman," co-starring Michelle Williams and Zac Efron and featuring original music by Benj Pasek and Justin Paul ("La La Land," Broadway's "Dear Evan Hansen").
Dec. 22
■ After graduating and going their separate ways, the Bellas reunite for an overseas USO tour in "Pitch Perfect 3."
■ After Norwegian scientists discover how to shrink humans to 5 inches tall, a couple (Matt Damon, Kristen Wiig) realize how much further their money will go if everything they have to buy is tiny in "Downsizing," from writer-director Alexander Payne ("Sideways").
■ Co-workers (Sally Hawkins, Octavia Spencer) in a high-security government laboratory discover a secret classified experiment in Guillermo del Toro's "The Shape of Water."
■ Billionaire oil man J. Paul Getty (Christopher Plummer) refuses to pay the ransom for his kidnapped teenage grandson, so the boy's mother (Michelle Williams) and Getty's adviser (Mark Wahlberg) try to bring him home in director Ridley Scott's "All the Money in the World."
■ When they learn their mother (Glenn Close) lied to them about their father being dead, two brothers (Owen Wilson, Ed Helms) set out to find him in the comedy "Father Figures."
Dec. 25
■ "There Will Be Blood" writer-director Paul Thomas Anderson reteams with Daniel Day-Lewis for "Phantom Thread," the story of famed dressmaker Reynolds Woodcock, who draws inspiration from the parade of women who enter his life in 1950s London.
■ Writer-director Aaron Sorkin's "Molly's Game" follows Molly Bloom (Jessica Chastain), who spent a decade running an exclusive high-stakes poker game for Hollywood A-listers, athletes and the Russian mob.
Jan. 5
■ Parapsychologist Elise Rainier (Lin Shaye) continues her journey into The Further in "Insidious: The Last Key."
Jan. 12
■ Washington Post publisher Kay Graham (Meryl Streep) and editor Ben Bradlee (Tom Hanks) work to release the Pentagon Papers in Steven Spielberg's "The Post."
■ Taraji P. Henson stars as a hit woman working for the Boston mob in "Proud Mary."
■ Paddington (voiced by Ben Whishaw) and the Brown family search for the thief who stole the antique book Paddington was hoping to buy for his Aunt Lucy in "Paddington 2."
Jan. 19
■ A U.S. Special Forces team led by its new captain (Chris Hemsworth) is the first military force sent into Afghanistan following the Sept. 11, 2001, attacks in "12 Strong."
■ An elite unit of the L.A. County Sheriff's Department faces off against a crew of bank robbers determined to rob the Federal Reserve Bank of downtown Los Angeles in "Den of Thieves," starring Gerard Butler.
■ In Italy in the summer of 1983, a 17-year-old (Timothee Chalamet) falls for the older American scholar (Armie Hammer) interning for his father in "Call Me By Your Name."
To be announced
■ Margot Robbie stars as Tonya Harding, with Sebastian Stan as her ineptly criminal ex-husband, Jeff Gillooly, in the darkly comic "I, Tonya."
■ In 1892, an Army captain (Christian Bale) escorts a dying Cheyenne chief (Wes Studi) and his family from New Mexico to their tribal lands in Montana in "Hostiles," from writer-director Scott Cooper ("Crazy Heart").
■ And the May-December romance between Oscar-winning actress Gloria Grahame (Annette Bening) and the much younger British actor Peter Turner (Jamie Bell) is chronicled in "Film Stars Don't Die in Liverpool."
Contact Christopher Lawrence at clawrence@reviewjournal.com or 702-380-4567. Follow @life_onthecouch on Twitter.