First family of superheroes returns in 'Incredibles 2'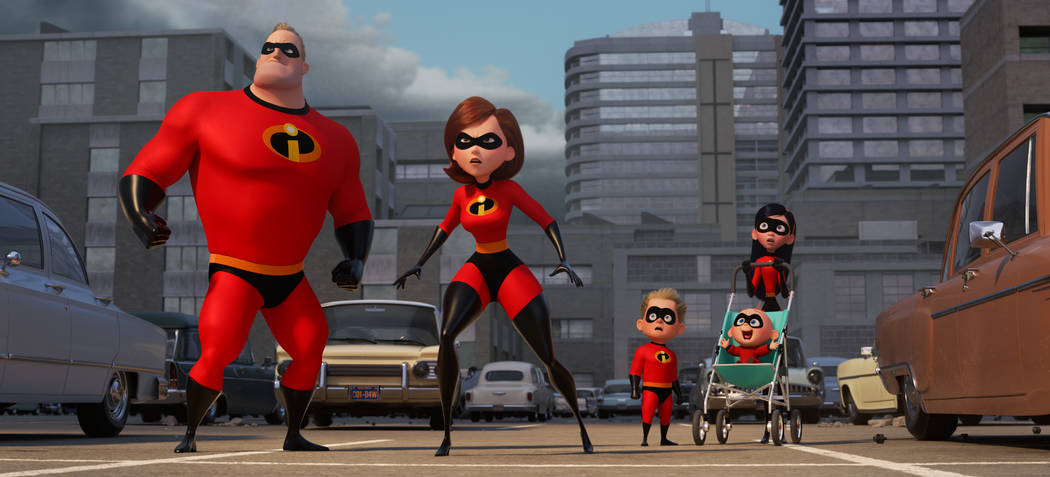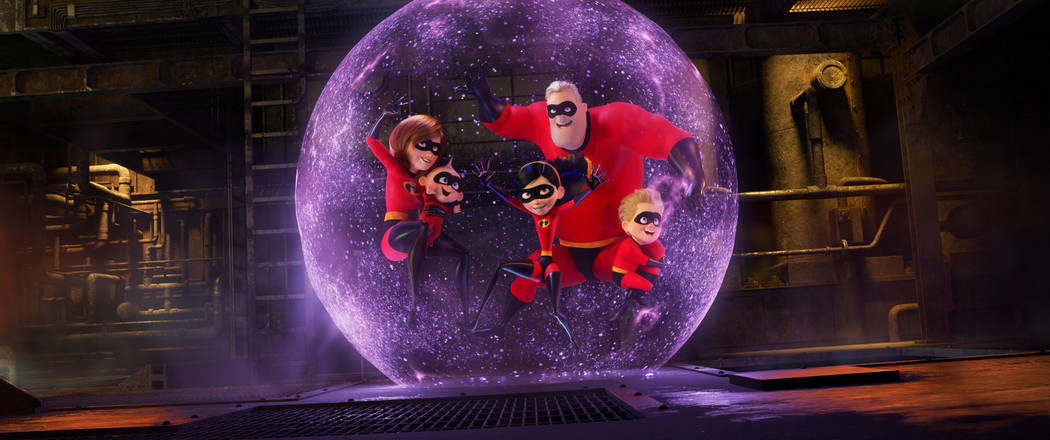 As titles go, "Incredibles 2" isn't entirely accurate, but it's bound to sell more tickets than something called "The Pretty Darned Goods."
Picking up where 2004's "The Incredibles" left off with the arrival of the villainous Underminer (voiced by Pixar mainstay John Ratzenberger), the sequel follows roughly the same patterns as the original. This time, though, it's Helen Parr, aka Elastigirl (Holly Hunter), who's persuaded to do some superheroing while her husband, Bob, better known as Mr. Incredible (Craig T. Nelson), stays home with 14-year-old Violet (Sarah Vowell), 10-year-old Dash (Huck Milner) and baby Jack-Jack (Eli Fucile).
Wealthy siblings Winston (Bob Odenkirk) and Evelyn Deavor (Catherine Keener), the latter of whom looks distractingly like Lisa Rinna, are huge fans of the Supers. Seeking to restore their legal rights to save ordinary citizens, the Deavors wage a public relations campaign centered around Elastigirl.
In case you've forgotten, unlike the X-Men, the government isn't against Supers because they're different. Rather, Supers were taken off the streets because they racked up incalculable, uninsurable damages. That's mostly the result of Mr. Incredible's penchant for "saving" people by running around like a top-heavy, tights-wearing bull in a litigious china shop.
"Politicians don't understand people who do good just because it's right. Makes 'em nervous," commiserates Rick Dicker (Jonathan Banks), the government agent in charge of helping the Parrs keep their secret identities just that.
Helen takes a lot more convincing to slip on the spandex than Bob did. And there's a fundamental difference in their attitudes about crime-fighting. She's convinced Supers should obey the laws governing them, while he's determined to keep saving the citizens of Municiberg — whether they want it or not. To borrow from another Disney-owned franchise, she's the Iron Man to his Captain America.
Helen eventually agrees and heads off to battle Screenslaver, who hypnotizes people using their televisions and monitors. (Because the series exists in an alt-reality that's like the 1950s never really grew up, no one's addicted to their phones — but the point is the same.)
Bob, meanwhile, goes full "Mr. Mom," learning "new math" to help Dash, accidentally ruining Violet's first relationship and generally trying to keep up with Jack-Jack, whose powers are still terrifying. Seriously, that kid's heading for an exorcism.
Written and directed by Oscar winner Brad Bird ("The Incredibles," "Ratatouille"), "Incredibles 2" continues to traffic in subversive humor — not "Deadpool"-level subversive, but still — while being perhaps Disney/Pixar's most relatable title for adults. This is, after all, the same series whose first movie saw Helen worried about Bob's possible infidelity and how her hips looked in the Elastigirl suit.
While "Incredibles 2" may have lost the "The," it has gained a remarkable sense of style. Watching the two movies back to back could result in a sort of visual whiplash, as animation has progressed exponentially in the past 14 years.
There's no way that "Incredibles 2" could recapture the inventive deconstruction of the original. Despite essentially being a carbon copy, the sequel cranks out more than a few surprises involving the Parrs — the first family of superheroes, now that the Fantastic Four are a hot mess.
And the fact that you and your kids can enjoy it equally just may be the most incredible thing of all.
Contact Christopher Lawrence at clawrence@reviewjournal.com or 702-380-4567. Follow @life_onthecouch on Twitter.