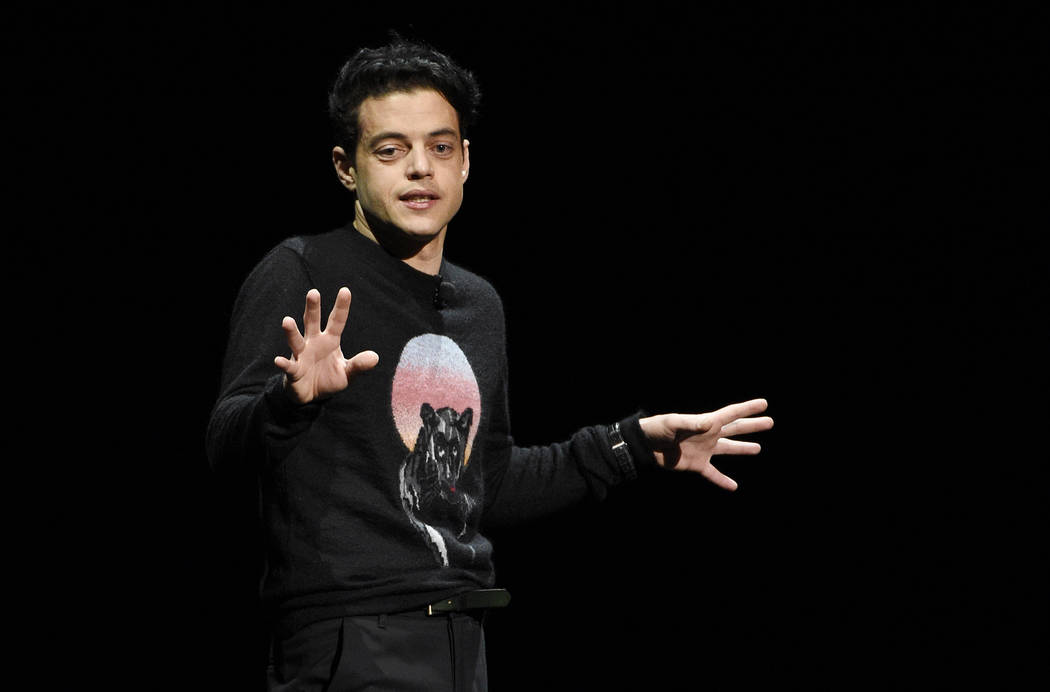 A greater-than-usual sense of finality hung over the closing day of CinemaCon at Caesars Palace.
Fox, making perhaps its last-ever presentation at the annual convention of the National Association of Theater Owners in light of its potential takeover by Disney, took time out from pitching its upcoming slate of movies to tout its 80-plus years of film history and present a sometimes emotional case to remain in business.
The legendary studio received a rousing ovation as it concluded its bittersweet session with members of the Green Valley High School band and orchestra playing the iconic Fox fanfare theme.
Elsewhere Thursday, Lionsgate trotted out Jamie Foxx and "Kingsman's" Taron Egerton from yet another version of "Robin Hood"; Anna Kendrick, Blake Lively and director Paul Feig from the mysterious "A Simple Favor"; Mila Kunis and the human sugar rush known as Kate McKinnon from the action-comedy "The Spy Who Dumped Me"; and "Hamilton" Tony winner Daveed Diggs from the Sundance drama "Blindspotting."
And, during lunch, Amazon Studios brought out Steve Carell and Skyped in "Call Me by Your Name" Oscar nominee Timothee Chalamet to discuss their addiction-and-recovery drama "Beautiful Boy," introduced Jack Black and Jonah Hill from director Gus Van Sant's quadriplegic-cartoonist memoir "Don't Worry, He Won't Get Far on Foot" and welcomed Dakota Johnson from the dance-horror remake "Suspiria."
But, following a weeklong cavalcade of A-list talent, it took a filmed piece from someone who couldn't attend CinemaCon — because he was "off making clocks or memories or something" — to really energize the crowd.
After a group of red-and-black-clad dancers kicked off the Fox presentation by performing "One" from "A Chorus Line," Ryan Reynolds, in character as Deadpool, starred in a taped piece greeting attendees of "this self-congratulatory orgy of naughty little exhibitionists."
The assembled exhibitors ate it up.
The Dumbo-sized elephant in the room known as Disney made its way into the sketch, which featured a cameo by a bathrobe-wearing Hugh Jackman following a night of debauchery, as a hungover Pluto climbed off the floor and skulked out of the trashed Caesars suite.
"Thank you for coming," Reynolds-as-Deadpool concluded. "Enjoy the rest of this excuse to cheat on your spouse on the company dime."
Fox used its morning session to showcase the sort of movies that could cease to be made if Disney absorbs the studio behind everything from "Miracle on 34th Street" to "The Sound of Music" to "Die Hard" to "The Revenant."
Director Robert Rodriguez brought footage of his dazzling, futuristic "Alita Battle Angel." He called the movie's hero, a teenage cyborg rescued from a scrap heap, "a strong, relatable female protagonist, which is something we always try to have."
"Mr. Robot" Emmy winner Rami Malek gave a heartfelt tribute to Freddie Mercury, whom he plays in the Queen biopic "Bohemian Rhapsody."
Executives screened scenes of the powerful Black Lives Matter-themed drama "The Hate U Give" and the update of "The Predator," which ended with Sterling K. Brown asking Olivia Munn, "You're pretty handy with a gun. Where'd you learn that?" Her response: "America."
Fox's wildest footage was from "Bad Times at the El Royale." The candy-colored thriller is set in a border-splitting, Cal Neva-type resort near Lake Tahoe, stars Chris Hemsworth, Jeff Bridges, Jon Hamm and Dakota Johnson, and looks like "The Cabin in the Woods" had a baby with "The Grand Budapest Hotel."
It's also most certainly the type of movie that the family-friendly Disney would run screaming from.
Award winners
CinemaCon concluded Thursday night with the presentation of its Big Screen Achievement Awards. The previously announced winners were:
Female star of year: Dakota Johnson
Male star of year: Benicio Del Toro
Director of the year: Ryan Coogler
Comedy star of the year: Kate McKinnon
Breakthrough producer of the year: Gabrielle Union
Lifetime achievement award: Jodie Foster
Cinema icon award: Samuel L. Jackson
CinemaCon vanguard award: Jonah Hill
Female star of tomorrow: Tiffany Haddish
Action star of the year: Taron Egerton
CinemaCon visionary award: Jack Black
Cinema spotlight award: Anna Kendrick
Award of excellence in acting: Felicity Jones
Breakthrough performer of the year: Lil Rel Howery
Contact Christopher Lawrence at clawrence@reviewjournal.com or 702-380-4567. Follow @life_onthecouch on Twitter.