Gosling and Crowe's 'Nice Guys' could have been so much more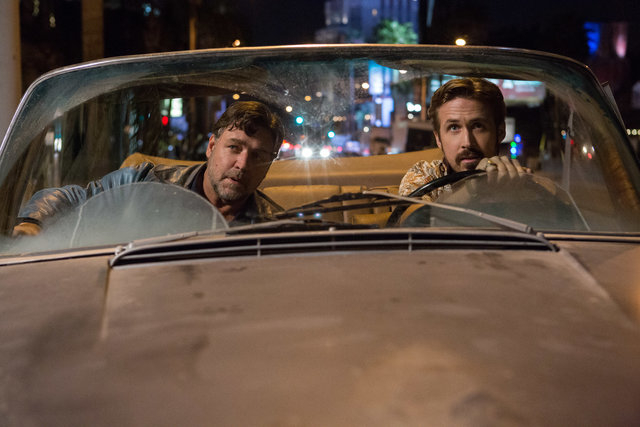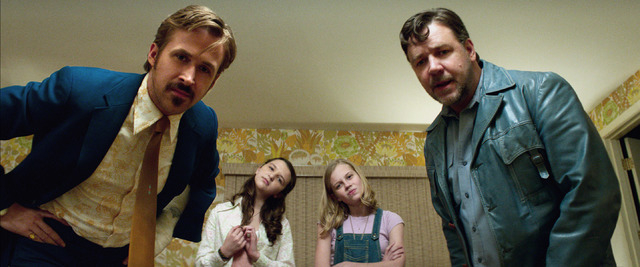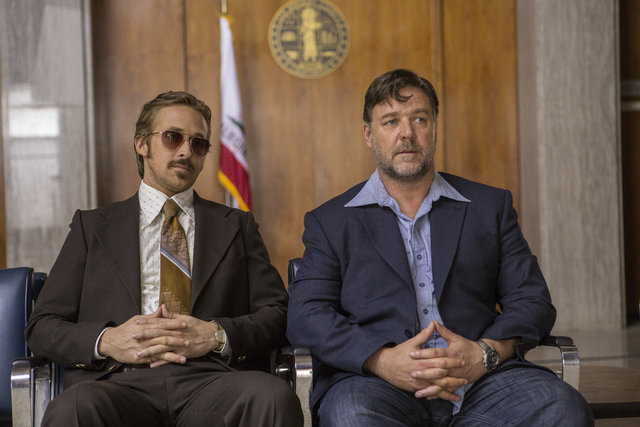 Late one night in 1977, a boy sneaks a peek at a copy of Cavalier magazine and its centerfold, Misty Mountains. He's barely begun to ogle her when a car crashes through his house. The boy scrambles down the hillside after it to find none other than Ms. Mountains, sprawled naked and dying amid the wreckage, approximating that same Cavalier pose.
If you can enjoy the absurdity of that opening scene without rolling your eyes — or throwing up your hands, leaving the theater and sneaking in to see "Captain America: Civil War" one more time — the surreal L.A. noir tale "The Nice Guys" could be the summer distraction you've been looking for.
Other signs you're ready for the Ryan Gosling-Russell Crowe action comedy include:
■ You can appreciate a nothing-is-as-it-seems plot that involves everything from the Vegas mob and catalytic converters to pornography and killer bees.
■ You enjoy "The Nice Guys" director and co-writer Shane Black's scripts for "Lethal Weapon," "The Last Boy Scout" and "The Long Kiss Goodnight" because of the characters and their interpersonal dynamics rather than the scenes of stuff blowin' up real good.
■ You prefer Black's directorial debut, "Kiss Kiss Bang Bang," to his follow-up, "Iron Man 3."
■ You've been waiting patiently for the multi-talented Gosling to channel both Giovanni Ribisi and a terrified Lou Costello in the same movie.
As for the plot, Misty's elderly aunt swears she saw the porn star two days after that deadly crash, so she hires low-rent private investigator Holland March (Gosling) to prove it. March soon identifies an environmental activist named Amelia (Margaret Qualley) as a person of interest, which leads to Amelia's hiring small-time enforcer Jackson Healy (Crowe) to get March off her trail.
He does, violently and methodically.
But when a couple of goons (Keith David, Beau Knapp) pay Healy a visit in their search for Amelia, Healy hires March to help locate his client and get to the bottom of what's really going on.
"The Nice Guys" is playful, pulpy and proudly original. It also loses steam the longer it goes.
Crowe's Healy dreams of being useful. He may even take the investigator's exam one day. But for now, he's the slab of meat you call when you need a pervert's face punched in and you're on a budget.
Still, it's more of an honest living than the one eked out by Gosling's March, a likably seedy drunk who'll string his clients along for days now that California's no-fault divorce laws are eating into his customer base.
As such, March isn't much of an example for his precocious 13-year-old daughter, Holly (Angourie Rice). "Dad, there's, like, whores here and stuff," Holly exclaims after sneaking a ride with the duo to a flashy Bel-Air party. "Sweetheart, how many times have I told you," March scolds her, "don't say, 'and stuff.' Just say, 'Dad, there are whores here.' "
It's a clever line and a funny scene. But, like much of "The Nice Guys," it doesn't feel like something that would be done by living, breathing people.
I've been a fan of Black since the early '90s, when he was Hollywood's highest-paid screenwriter. And I relished his comeback, 2005's "Kiss Kiss Bang Bang," which came a full nine years after he was all but run out of Hollywood. But that film saw Robert Downey Jr. consistently breaking the fourth wall to remind viewers that they were watching a movie, and it still felt more realistic than most of what transpires in "The Nice Guys."
Working with Anthony Bagarozzi, Black has crafted a script stuffed with clever repartee and interesting character touches. But despite some terrific chemistry between its bickering, bantering leads, "The Nice Guys" rarely rises above a fun writing exercise. Even with actors as talented as Gosling and Crowe, much of it feels forced.
As an alternative for grown-ups looking to avoid the sequels and general noise of summer, "The Nice Guys" won't finish last. But it could have — and should have — been so much more.
Contact Christopher Lawrence at clawrence@reviewjournal.com. On Twitter: @life_onthecouch
Review
Movie: "The Nice Guys"
Running time: 116 minutes
Rating: R; violence, sexuality, nudity, language and brief drug use
Grade: B-
Now playing: At multiple locations