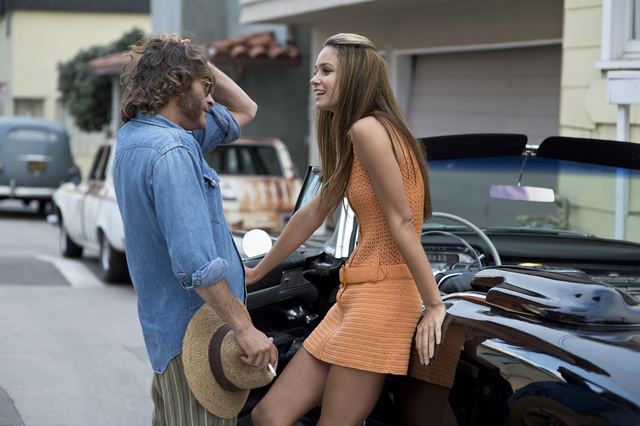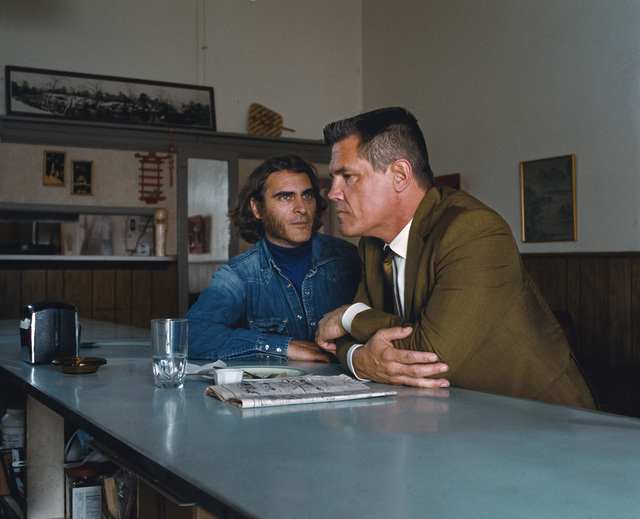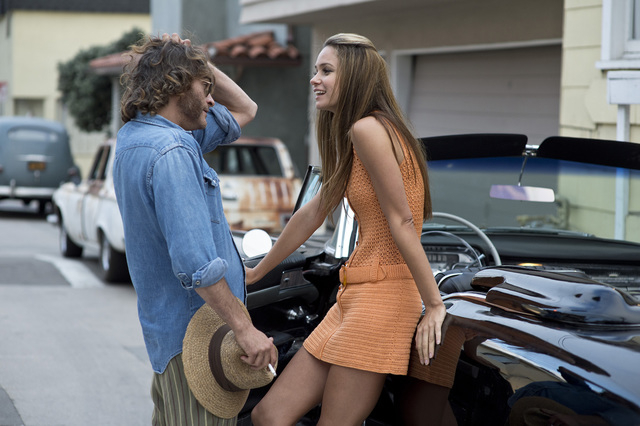 You don't watch "Inherent Vice," writer-director Paul Thomas Anderson's hippie-noir take on that confusing maelstrom between the end of the '60s and the start of the '70s, so much as you let it wash over you like the smell of patchouli.
With its interconnected web of oddballs and its scenes that unfold more for the pure enjoyment of it all than to advance any sort of plot — as well as its tales of land grabs, scandal and corruption at a seminal point in Southern California history — "Inherent Vice" feels a little like "Pulp Fiction" meets "Chinatown." Only with more heroin. So, "China White Town."
This adaptation of the Thomas Pynchon novel follows Gordita Beach's oft-high private eye Larry "Doc" Sportello (Joaquin Phoenix), a sort of barefoot gumshoe. And where there's a detective, there must be a dame. In this case, it's Doc's ex-old lady, Shasta Fay Hepworth (a captivating Katherine Waterston). She's in a jam, and she glides into Doc's place with desperation in her sad eyes.
Shasta's been dating billionaire real estate developer Mickey Wolfmann (Eric Roberts). His wife, Sloane (Serena Scott Thomas), is on to them. But rather than being upset, she wants Shasta to help her and Sloane's "spiritual coach" get Wolfmann committed to a sanitarium so the three of them can seize his assets.
From there, the plot, such as it is, spirals out to encompass everything from a dope-finding Ouija board to Richard Nixon and from a new Strip casino to the Golden Fang, which is either a vicious international drug cartel or just a tax dodge for a bunch of dentists.
But "Inherent Vice" is far more interested in its cast of characters.
Doc's nemesis, flat-topped LAPD detective Christian F. "Bigfoot" Bjornsen (Josh Brolin), consumes frozen bananas in a way that can best be described as Freudian. He brags about the multiple occasions on which the Los Angeles Times referred to him as a "renaissance detective." And, for one of the acting gigs he takes on the side, Bigfoot sports a giant Afro wig in commercials for "Artesia's newest and grooviest residential housing development," brought to you by none other than Wolfmann.
For companionship, Doc turns to his "part-time squeeze," a straitlaced deputy district attorney (Reese Witherspoon, in a "Walk the Line" reunion). And for legal advice, he looks to maritime lawyer Sauncho Smilax, Esq. (a bemused Benicio Del Toro).
But this Shasta business brings him into contact with all sorts of misfits.
There's the presumed dead surf-rock saxophonist (Owen Wilson), who's up to more than he lets on. Deviant dentist Dr. Rudy Blatnoyd (Martin Short) who, with his perm and purple velvet suit, resembles a mod Bilbo Baggins. Black militant Tariq Khalil (Michael Kenneth Williams), who just got out of Chino to find his neighborhood demolished by Wolfmann. And Jade (Hong Chau), the sweet-voiced sprite who runs a mobile massage parlor and helps guide Doc through the madness.
Minor characters boast names like Japonica Fenway, Puck Beaverton and Sledge Poteet. And Anderson has turned to the supporting character of Sortilege (Joanna Newsom) for the film's existential narration, with its astrological signs and "karmic thermals," to preserve as much of Pynchon's voice as possible.
"Inherent Vice," though, is the story — as much as it can be considered a story — of Doc, who's masterfully brought to life by Phoenix.
Some characters light up a room. Doc mostly just lights up. But he isn't picky. He'll get high in nearly every way imaginable. And while that often leaves Doc dazed and confused, not to mention all sorts of paranoid, at times it instills him with a sort of sixth sense, referred to as doper's ESP.
It's hard to imagine anyone who could better inhabit Doc than Phoenix. The actor has been on an incredible roll of late with his performances in Anderson's "The Master" and Spike Jonze's "Her." And he practically disappears behind Doc's muttonchops. When you see the filthy soles of his feet, you never once suspect that blackness was applied in a makeup trailer. You can easily imagine him going shoeless for weeks to achieve just the right look.
Although "Inherent Vice" looks good enough to justify the price of seeing it in a theater, it's the rare movie that feels as though it were made to be viewed from a beanbag chair.
But while the contact high eventually wears off, as such things must, it's a far-out rush while it lasts.
Contact Christopher Lawrence at clawrence@reviewjournal.com or 702-380-4567.
Review
"Inherent Vice"
148 minutes
R; drug use throughout, sexual content, graphic nudity, language and some violence
Grade: B+
At multiple locations