James Franco enlivens modest, surprising sci-fi tale 'Kin'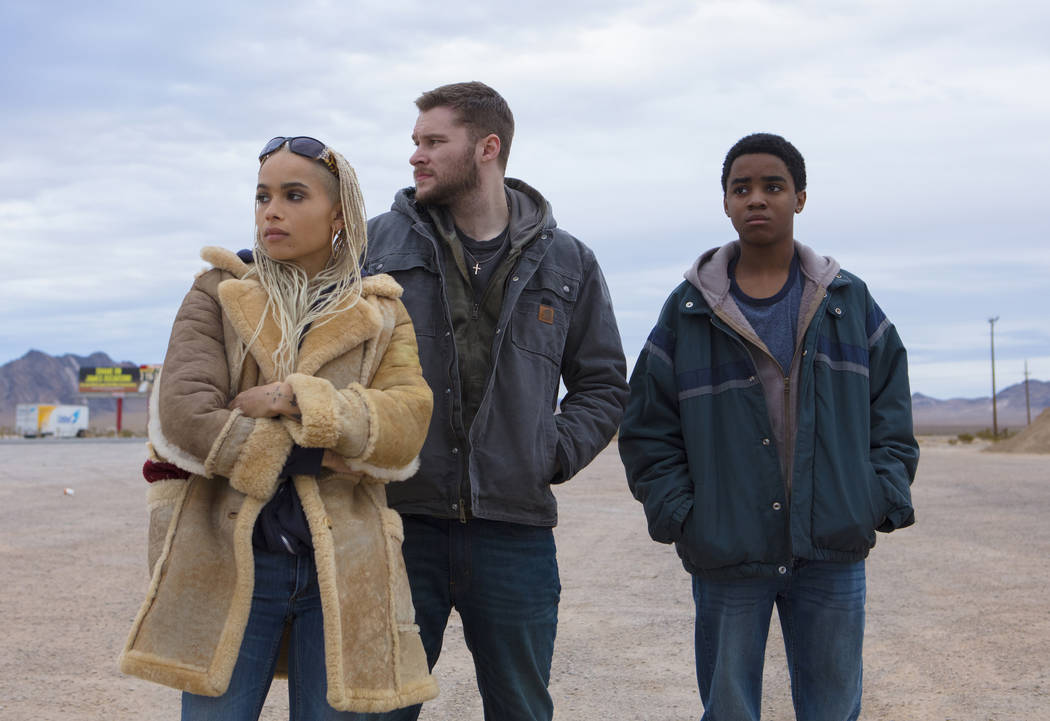 From his recurring role on "General Hospital" to his doomed stint as an Oscars co-host, James Franco has made enough curious career decisions that attempts to explain them all could fill a college course.
Knowing Franco, he'd probably show up to teach it.
Regardless of how he ended up in this weekend's "Kin," though, the actor adds a symphony of delightfully head-scratching moments to Taylor, the gangster chasing the young protagonists throughout the modest, startlingly well-made sci-fi adventure.
A 14-year-old named Eli (newcomer Myles Truitt) is rummaging through abandoned buildings near his Detroit home, searching for copper wire to steal, when he comes across what looks like the aftermath of a massacre at a Daft Punk-Cylons from "Battlestar Galactica" cosplay event. Futuristic corpses litter a room, and Eli stumbles upon an advanced piece of alien weaponry — which he promptly hides in a duffel bag under his bed.
His adoptive brother, Jimmy (Jack Reynor, "Transformers: Age of Extinction"), meanwhile, comes home after six years in prison, burdened by a $60,000 debt to Taylor for keeping him alive on the inside.
Their no-nonsense, blue-collar father, Hal (Dennis Quaid), warns Eli to be careful around Jimmy. When Hal refuses to help with the massive protection fee, Jimmy lashes out at him for favoring his "replacement son." Then, when a scheme to get the money fails spectacularly, Jimmy goes on the run with Eli, convincing him that they're on a family vacation to Lake Tahoe.
Because there wouldn't be much of a movie otherwise, Eli brings the space gun.
Directed by Jonathan and Josh Baker, who worked with screenwriter Daniel Casey to expand their award-winning short film "Bag Man," "Kin" is bristling with attitude and inventive visuals.
Much like Eli and Jimmy's road trip, the movie has a couple of interesting detours. In Colorado, the brothers drop into The Miner's Daughter, one of the most PG-13 strip clubs ever put on screen, where they're joined by Milly (Zoe Kravitz), an exotic dancer with a heart of gold. Jimmy uses Eli, armed with his space gun, to knock over a poker game in the back of a dairy barn. And the trio make a stop in Las Vegas, which doubles as the fictional Sulaco County, Nevada, so Jimmy can hit the tables.
It's hard to know just how much of his role was scripted, but it's impossible to overstate just how much Franco brings to his turn as Taylor, who pursues the brothers across the country.
Despite the neck tattoos, Taylor is a less-than-imposing presence with his mullet, loafers and "Cosby Show"-style sweater. He punishes a member of his crew by making him stand in a corner for a timeout. And he commiserates with a police officer's misfortune — "Mondays, right?" — before executing him. The scene in which a preening Taylor eulogizes his brother, Dutch, by recounting the time he stabbed "Big Reggie," the neighborhood tough who stole Taylor's Walkman, six times in the ear while Reggie sat on the toilet is pure, undiluted Franco.
"Kin" isn't a great movie. The narrative gets a bit too wonky at the end. But it's a refreshing change of pace from super-budgeted sci-fi. It cares more about Eli and Jimmy getting to know each other in a way that prison sentence never allowed — and the simple joys of blowing up hay bales with a space gun — as it does the origins of that alien weapon.
"Kin" producer Shawn Levy helped put the Duffer brothers — Matt and Ross — on the Hollywood fast track by backing their "Stranger Things." He may have done the same with the Bakers.
Their first feature effort has more style than substance, but it's a style worth following. And it's a style that, one day, could deliver nearly as many surprises as Franco.
Contact Christopher Lawrence at clawrence@reviewjournal.com or 702-380-4567. Follow @life_onthecouch on Twitter.
Review
Movie: "Kin"
Running time: 102 minutes
Rating: PG-13; gun violence and intense action, suggestive material, language, thematic elements and drinking
Grade: B
Now playing: At multiple locations