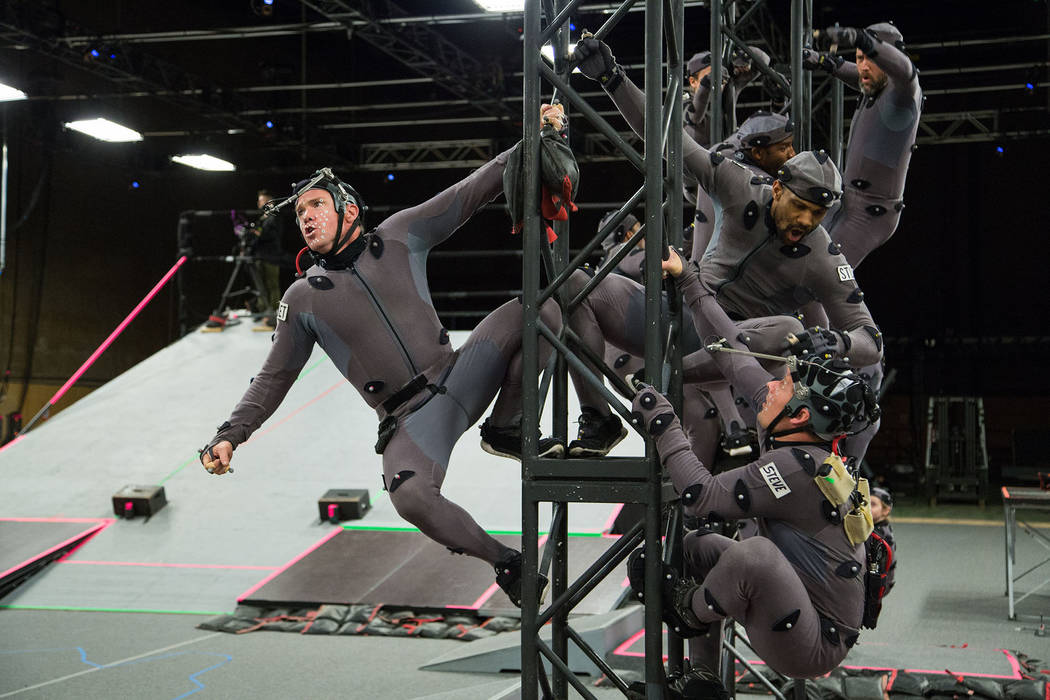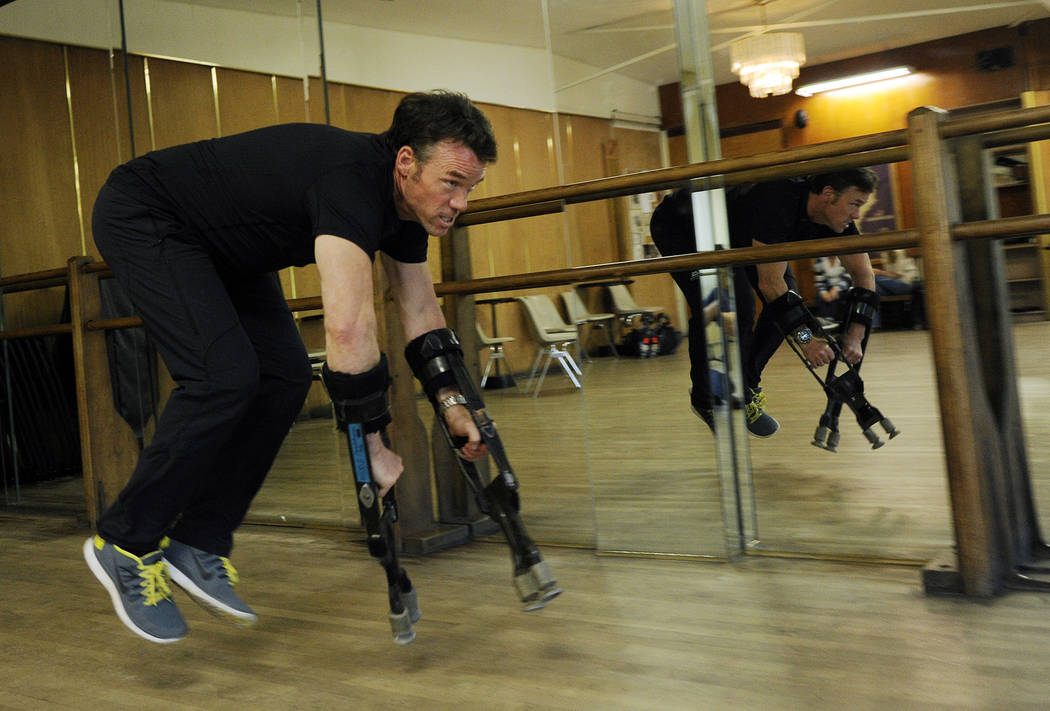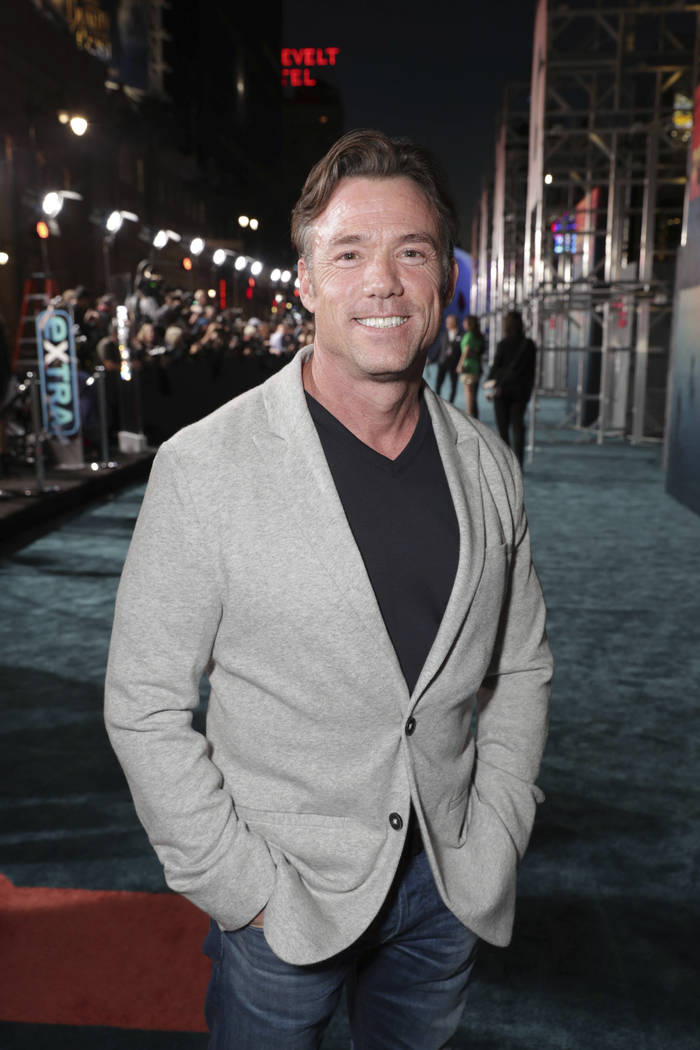 Terry Notary helped bring Cirque du Soleil to the Strip as one of the creators and original cast members of "Mystere."
For the past 17 years, he's helped bring everything from Hulks to Whos, orcs to Na'vi, and every sort of ape imaginable — including those in this weekend's "War for the Planet of the Apes" — to the big screen as one of Hollywood's top movement coaches and motion-capture artists.
"I wear a few hats when I'm on a film. I wear quite a few," he muses. "I'm usually performing, choreographing and coaching, and helping all the other actors with developing and maintaining their characters. It's a lot, but I like it like that."
Notary, 48, was one of about 15 performers who spent nine months holed up in Montreal with director Franco Dragone putting together "Mystere." The show opened in 1993 and is still going strong nearly 25 years later at Treasure Island. "We had a 10-year contract," Notary recalls, "and I thought, 'Wow, that's a long time for a show to be up.' "
The four-time All-America gymnast at UCLA credits Dragone for inspiring him to become an artist. Despite having a theater degree, moving from the regimented world of competitive gymnastics to a place of artistic expression with Cirque "was a life-changing experience for me," Notary says. "It brought me out of my shell."
After four years of performing on fast-track trampoline, teeterboard and Chinese poles, as well as portraying characters and playing drums, Notary left "Mystere" for New York, where he launched a circus production company and a photography studio. Then he received the phone call that would change his life.
Leaping from Cirque to movies
Notary and four other Cirque veterans were brought in to create acrobatic sequences for the Whos in the 2000 live-action version of "How the Grinch Stole Christmas." While on set, Notary began working with some of the extras to create common motions. After seeing this, director Ron Howard elevated him to the role of movement coach.
In the ensuing years, he's been a movement coach or choreographer on blockbusters including "X-Men 2," "Superman Returns," "Transformers: Revenge of the Fallen," "Avatar," "Suicide Squad" and all three "Hobbit" movies. But Notary's specialty has become monkey business.
Since working on Tim Burton's 2001 "Planet of the Apes" remake, Notary has been Hollywood's go-to guy for all things simian. He's portrayed Rocket, Caesar's right-hand man, throughout the new "Apes" trilogy. He starred as Kong in this year's "Kong: Skull Island." He co-stars as Oleg, a man who acts like an ape, in the Swedish film "The Square," which won the Palme d'Or at this year's Cannes Film Festival. And he's choreographing the movements for Dwayne Johnson's "Rampage," next year's movie adaptation of the 1980s video game about apes and monsters destroying buildings.
'The ape Zen master'
But it's his behind-the-scenes work on the "Apes" trilogy that's perhaps the most remarkable. Called "the ape Zen master" by "War for the Planet of the Apes" writer-director Matt Reeves, Notary conducts Ape Camp for all the actors who'll be wearing motion-capture suits that record not only their movements but their expressions for artists to render into realistic-looking apes.
Becoming an ape involves much more than simply acting like one. If you pretend at all, Notary says, "It's like, 'Whoa! Eww! That's disgusting.' It's almost gross."
Following Ape Camp, Notary begins an intimate, one-on-one relationship that borders on psychotherapy with some of the main actors.
"Basically, we start working the second they walk through the door, I'm working with them," he says. "I'll watch how they open the door and walk over and put their bag down. And I'll start just dissecting some of the behaviors and patterns that I'll start picking up on and the energy that I'm picking up on from the actor."
A holistic approach
Notary's first step in helping an actor create his character is breathing and meditation. "It's about creating a safe space immediately so that they understand that this is not about me telling them what to do, at all. It's about me guiding them into discovering what they already know about themselves, but it's just covered up with life and stuff. I kind of take the garbage away, and I pull all that meaningless stuff away and get down to the essence of the self.
"It's like cleaning house rather than straightening up," Notary continues. "A lot of actors come in, and they try to straighten up a character, but then they've got all that (stuff) underneath the couch and underneath the carpet and stuffed away in the corner that is influencing and making that character very similar, if not the same, as the last character they played."
Part trainer, part life coach, Notary takes a holistic approach to his movement work. "Basically, it's becoming a more well-rounded person, which is what it's all about for me," he admits. "It's really not about making movies. If it was, I wouldn't be in the business, because I feel like what we do, the work we do, is more important to them as people than it is for the character in the movie."
An unlikely career
Even with 17 years in Hollywood, Notary says he didn't realize this could be a career "just until recently, actually. Every time I work on a movie, I think, 'Wow! I get to work on another movie? Wow! That's amazing.' "
Now he's expanding his behind-the-scenes work by directing the second unit on motion-capture pioneer Andy Serkis' version of "Jungle Book." Notary and his good friend Serkis have made nine movies together, including the "Apes" trilogy, in which Serkis portrays the lead ape, Caesar.
"Without Terry, apes wouldn't feel so alive," Serkis said in a statement. "He teaches you movement skills, but more than that, he teaches you how to just be and not feel you have to over-show anything."
Together, they're helping prove to the world that motion-capture work is every bit as legitimate as any other form of acting.
"When people see us on set, they're, like, 'Oh my God, you guys are really actors,' " Notary says, still with a bit of disbelief. "And it's, like, 'Yeah!' "
Becoming a superhero
Using motion-capture technology, Terry Notary portrayed The Hulk in 2008's "The Incredible Hulk." Now, he's working with current Hulk Mark Ruffalo on his movements on the Atlanta set of "Avengers: Infinity War" and its still untitled sequel.
He also spent two weeks with Josh Brolin, developing his motions as the villainous Thanos.
"Something that you invent from scratch is really, really fun. Super rewarding," Notary says. "It's super challenging, though."
And each character is approached with a different physicality in mind.
For The Hulk, Notary says, "his whole thing is this gravitas, this bigness driven from the back. Some characters are driven by the knees. Some characters are driven by the gut. Like, dwarves are just gut-driven."
Notary also provided the motion-capture work as Tim Roth's Abomination in "The Incredible Hulk," and he brought The Silver Surfer to life in 2007's "Fantastic 4: Rise of the Silver Surfer." With the upcoming "Avengers" sequels, he's adding two more comic-book characters to his resume.
The way Marvel swears its actors to secrecy, Notary can't talk about his roles. But he'll be portraying Groot as well as one of Thanos' closest allies.
"I'm playing a couple of characters," Notary says, careful not to violate any of the terms of his contract. "I'm really happy about that."
Contact Christopher Lawrence at clawrence@reviewjournal.com or 702-380-4567. Follow @life_onthecouch on Twitter.