Local author's fantasy series comes to small screen
October 26, 2008 - 9:00 pm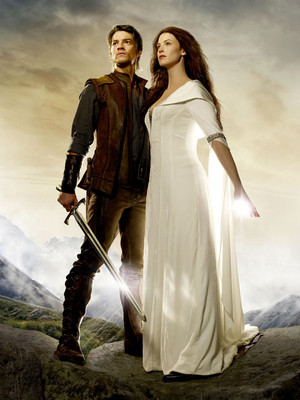 Over the years, it's been pretty easy to marginalize the fantasy genre. After all, aside from the occasional Hollywood blockbuster, the closest the sword-and-sorcery set usually gets to the mainstream is the songs of Ronnie James Dio and the murals on the sides of custom vans.
But leave it to Southern Nevada author Terry Goodkind, who never set out to write fantasy in the first place, to create a series of books so compelling they not only sold more than 20 million copies, they brought "Spider-Man" writer-director Sam Raimi to the valley looking to turn them into his first TV series since "Xena: Warrior Princess" left the air in 2001.
Goodkind and Raimi clicked immediately during their meeting — the kind of event that could have headlined Comic-Con, Dragon Con or any other gathering where attendees dress like extras in "Tournament of Kings" — and the results can be seen in the two-hour premiere of "Legend of the Seeker" (6 p.m. Saturday, KVBC-TV, Channel 3; future episodes will air at 7 p.m.)
"It's a difficult thing to wrap your head around when you see actors in a beautiful setting saying lines you remember writing in your office a decade ago," Goodkind says of the series. "It's very gratifying, it's thrilling, it's scary, all at once."
For the uninitiated, "Legend of the Seeker" focuses on Richard Cypher (Craig Horner), an Everyman living in the forests of Westland, who learns he's a Seeker — a hero prophesied to rise up and fight evil wherever he can — and the first true one to come around in a thousand years.
With the help of a Confessor named Kahlan Amnell (Bridget Regan) — she's part of an ancient order of women sworn to protect a Seeker — and Zedd (Bruce Spence), a wizard who gives him the powerful Sword of Truth, Richard's destiny is to kill the ruthless dictator Darken Rahl (Craig Parker).
Full disclosure: The only fantasy I'm usually interested in involves Audrina from "The Hills," a Costco-size drum of Funyuns and a quiet evening of Mexican wrestling on Galavision.
But "Legend of the Seeker" is stunning, with its lush New Zealand backdrops that I can't wait to see in HD. The fight scenes have all the balletic grace of medieval-style John Woo, minus all the doves. And as the Confessor, Regan is beautiful in a way that makes my inner nerd stand up and take notice.
Goodkind's fans, though, should be prepared for episodes that branch off from events in the books.
It's not that the original stories weren't of interest to Raimi, who says when he read them, "I was just swept away like I am during the best of the original William Shatner 'Star Trek' episodes." Or to his producing partner, Rob Tapert, with whom he made "Xena" and "Hercules: The Legendary Journeys," as well as the shorter-lived "Cleopatra 2525" and "Jack of All Trades." The changes, they say, were made simply because no one writes books with stories that have a beginning, middle and end every 50 pages or so.
"The most important thing, at least for me, is that we remain true to the heart and soul of the characters," Raimi says. "What they represent, what they stand for, the good things that they're fighting for … those will all be intact."
Goodkind, who's currently writing a mainstream, contemporary thriller set for release next fall, says he'd been approached about the TV or movie rights for years. He compares his decision to hand over the books to Raimi and Tapert to Zedd's entrusting Richard with the Sword of Truth.
Zedd did this, he says, not because he thinks Richard is "always going to make the same decisions he would make, or that he's always going to be right, or that he's always going to succeed," but rather "because he knows he's a person of integrity who will always do his best."
"While they may not do things that I always agree with, or that I would have done that way," Goodkind says of Raimi and Tapert, "I know that they're doing it with the best of intentions, and they're doing their best job."
Christopher Lawrence's Life on the Couch column appears on Sundays. E-mail him at clawrence@reviewjournal.com.
ELSEWHERE
Las Vegans are hanging tough in two new reality shows.
Brittany Flickinger has survived the first four episodes of "Paris Hilton's My New BFF" (10 p.m. Tuesdays, MTV).
And Lina So made it past the first cut, so to speak, in "Scream Queens" (10 p.m. Mondays, VH1), which will award the winner a role in "Saw VI."
— REVIEW-JOURNAL