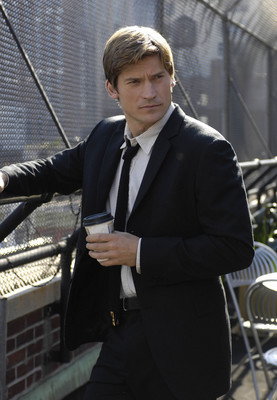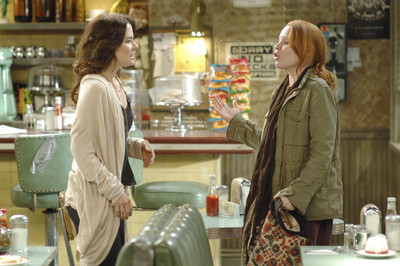 A recognizable star. A high-concept idea. Maybe something from a critically beloved writer. There's really no right or wrong way to launch a slate of new midseason programming.
OK, it turns out there's one wrong way: having your show's romantic male lead sexually assaulted by a monkey.
Granted, with two, sometimes three nights of "American Idol" each week, Fox doesn't need any of its new shows to be a hit. It doesn't necessarily even need them to be good. But seeing Tony-nominee Craig Bierko on the wrong end of a lusty simian — even before the opening credits of his new comedy "Unhitched" — can't be good for business.
Even worse for business: That (mostly implied) ape rape is pretty much the highlight of the network's four new series that also include "New Amsterdam" and the upcoming "Canterbury's Law" and "The Return of Jezebel James."
Aside from some of the cruder elements, the calling card of executive producers the Farrelly brothers, "Unhitched" (9:30 p.m. Sundays, KVVU-TV, Channel 5) is a fairly typical three-guys-and-a-girl "Seinfeld" descendant.
In addition to the charming Gator (Bierko), there's Freddy (Shaun Majumder), the naïve doctor, and Tommy (Johnny Sneed), the creep who thinks nothing of sleeping with a stranger during an intervention for her sex addiction.
The least obnoxious moments belong to Kate (Rashida Jones): She dates a Celtics employee who gets her front-row seats, only to learn he's the team's leprechaun mascot; she dates a rock star, only to find out he's "the sickest air guitarist in all of Southern New England."
The frustrating thing is, there's the tiniest streak of cleverness running through "Unhitched," and you can't help but think Bierko and Jones would really click if they were given something smarter.
Significantly smarter, yet somewhat colder, is the immortal detective series "New Amsterdam" (9 p.m. Mondays), starring the couldn't-spell-it-if-your-life-depended-on-it duo of Nikolaj Coster-Waldau and Zuleikha Robinson. (Think "Bones," but with a character who should be a pile of them.)
In 1642, John Amsterdam (Coster-Waldau) was stabbed trying to protect an American Indian girl who soon wove a spell that restored his life. "You will not grow old, you will not die," she told him, "until you find the one and your souls are wed."
Now a New York homicide detective, Amsterdam has been "shot, stabbed, strangled, poisoned (and) beaten." But while chasing a suspect, his heart stopped, convincing him that "the one" was nearby and that if only he could find her, he could finally get on with his life — all 400 years of it.
The series has a few nice touches — Amsterdam's having given up naming his pet dogs, assigning them numbers instead (he's up to 36), and his relationship with Omar (Stephen Henderson), his 65-year-old confidant who was revealed to be Amsterdam's son — but not nearly enough.
Completely devoid of nice touches, meanwhile, is the Julianna Margulies legal drama "Canterbury's Law" (premieres at 8 p.m. today).
It's nice seeing Margulies back on TV, but every character aside from her hard-charging defense attorney just blends into the background. And despite having Denis Leary onboard as an executive producer, there's nothing particularly edgy, unique or interesting about it.
In the span of six minutes, the same character is referred to, by different people, as both a "self-righteous, sanctimonious son of a bitch" and a "feckless puppet." Seriously, who talks like that?
The whole thing looks and feels like it belongs on TNT, between Kyra Sedgwick's "The Closer" and Holly Hunter's "Saving Grace." And I don't mean that as a compliment.
Behind-the-scenes talent also can't save "The Return of Jezebel James" (premieres at 8 p.m. Friday).
"Gilmore Girls" creator Amy Sherman-Palladino's return to TV focuses on children's book editor Sarah Tompkins (Parker Posey), who decides, on what seems to be a whim, that she wants a baby. When she learns she's unable to give birth, Sarah goes the only-in-a-sitcom route, recruiting her estranged, ne'er-do-well, lives-like-a-character-in-"Rent" sister Coco (Lauren Ambrose) to move in with her and be her surrogate.
I love Parker Posey. Always have, always will. But her Sarah is so high-strung — and, quite possibly, just plain high — she comes off as though she were raised by "Frasier's" Lilith and "Project Runway's" Tim Gunn inside Anna Nicole's medicine cabinet.
Nothing in Friday's premiere feels real, although things get better by the April 11 episode — the only other one sent out for review — by which point "Jezebel" has settled into something recognizable as a situation comedy.
Although given its Friday time slot, it may need some help getting noticed for it to still be on the air by then.
Maybe Fox should spring for another monkey.
Christopher Lawrence's Life on the Couch column appears on Mondays. E-mail him at clawrence@reviewjournal.com.
REALITY CHECK Made-for-reality-TV designer Christian Siriano prevailed in the fierce final competition, outlasting Rami and Jillian to win Bravo's "Project Runway." Other reality show contestants getting the boot last week include: "America's Next Top Model": Allison "American Idol": Kady Malloy, Luke Menard, Asia'h Epperson and Danny Noriega "Big Brother": Allison "The Biggest Loser": Bernie "The Celebrity Apprentice": Omarosa "Flavor of Love": Grayvee "Girlicious": Alexis "Make Me a Supermodel": Frankie "Survivor: Micronesia": Joel — REVIEW-JOURNAL