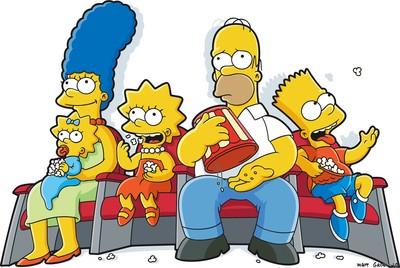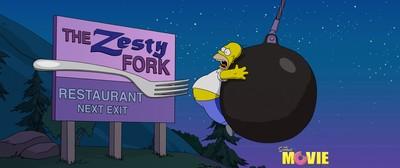 Forgive me, Rev. Lovejoy, for I have sinned. It's been months since my last episode of "The Simpsons."
Also, I coveted thy neighbor "Family Guy."
Make no mistake, my love for "The Simpsons" runs deeper than the toxic waters of Lake Springfield and wider than a pair of Homer's big blue pants.
Over the years, I've acquired enough "Simpsons" memorabilia to decorate a wing here at Casa de Couch. Not a wing I'd necessarily show the ladies, mind you, but a wing nonetheless.
A couple of years back, though, I suffered through a stretch of several weeks when my knee wasn't being slapped and my gut was going unbusted. Eventually, I just stopped watching and started getting my fix from Sunday night's other dysfunctional animated family, the Griffins. (I wasn't alone. Roughly 60 percent of "Simpsons" viewers have abandoned the series in the 15 years since it peaked in the ratings.)
Then, at a recent screening of "The Simpsons Movie," I was struck with a profound sense of guilt, like I didn't even deserve to be there among the faithful. Well, maybe I deserved to be there more than the guy who entered a contest to show off his Homer impression, proudly walked to the front of the packed theater, then beamed as he inhaled the microphone and shouted "Doy!" But I still felt ashamed.
I've broken up with other long-running shows — including other all-time favorites "Frasier" and "ER" — and never looked back. But you know how when a popular entertainer dies, and the cable news channels and celebrity gossip shows will feature clip after clip after we-get-it-already clip of that entertainer's career highlights until you wish you'd appreciated him more while he was alive? Watching "The Simpsons Movie" was just like that. Except with more South Korean-drawn nudity.
It was a great time, but I don't know if I'd go so far as to call it a great movie. It needed a cameo from my favorite character, Gil. (You know, Gil? The hapless salesman based on Jack Lemmon in "Glengarry Glen Ross"? Told you, I'm hard-core.) And how is it that Arnold Schwarzenegger was president? If a faded action-movie hero from Austria were to rise to the highest office in the land, any "Simpsons" devotee worth his Mylar-wrapped collector's edition of "Comic Book Guy: The Comic Book" knows it should have been Rainier Wolfcastle.
But the writing ranks right up there with the best episodes. And I couldn't shake the feeling that I'd made a horrible mistake by turning my back on America's favorite eight-fingered family. So I sought comfort in the only logical place: the Kwik-E-Mart in Henderson.
I'd never seen anything quite like it. Kids were grabbing everything in sight. Little old ladies were posing for pictures with life-size likenesses of Marge. One employee's name tag read Mike Rotch (say it out loud), a tribute to one of the aliases Bart used to prank-call Moe. There was just an overwhelming sense of joy.
And that's the thing I love about this city. The Strip can be full of any number of world-famous celebrities running amok on a given night. (I've made an online proposition bet that, by the time you read this, Britney, Lindsay, Paris or Nicole, or any combination of the four, will have holed themselves up in The Venetian's bell tower with a sniper rifle.) But locals still freak the heck out over something as simple and innocent as re-branding a 7-Eleven.
The store — which, sadly, was de-Springfield-ized last week — was long out of Buzz Cola and KrustyO's by the time I got there, so I gorged on Squishees and pink-icing-and-sprinkles donuts instead.
When I came to, later that day, it was like having been visited by an oversugared, artery-clogging guardian angel. (And this wasn't even the fabled mind-altering, all-syrup Squishee.)
I was finally shown that, as much as "Family Guy" makes me laugh, I've never finished an episode and thought "that was really clever." I wouldn't drive across the street, let alone across town, to see Quahog brought to life. And I can't imagine fans turning out for a "Family Guy" movie in record numbers. (With $74 million, "The Simpsons Movie" finished behind the "Shrek" sequels with the third-highest opening for an animated film.)
So, I'll be there Sept. 23 when new episodes resume, and I suspect I won't be the only one returning with a fresh case of yellow fever.
I rejected "The Simpsons," and I was wrong. That sort of thing might play in Shelbyville, but that doesn't make it any better. There's only one thing I can say in my defense:
Doy!
Christopher Lawrence's Life on the Couch column appears on Mondays. E-mail him at clawrence@reviewjournal.com.
CHRISTOPHER LAWRENCELIFE ON THE COUCH