Netflix, Hulu roll out new horror-themed series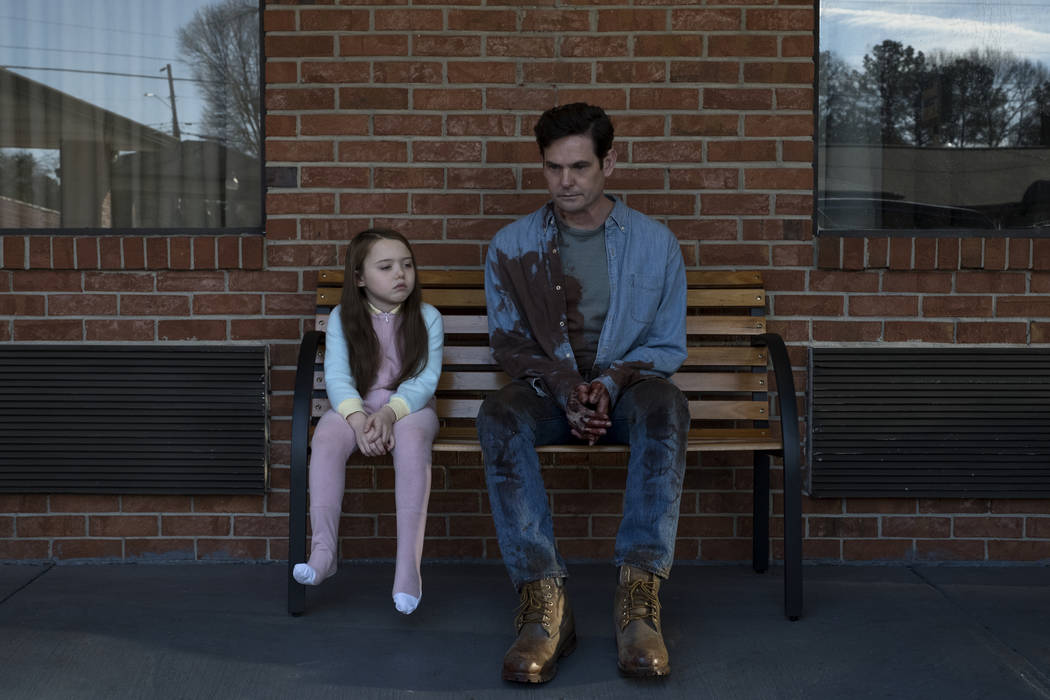 In plenty of time for Halloween, streaming giants Netflix and Hulu are releasing new horror-themed series Friday — you know, for those viewers who aren't terrified enough simply by watching the news.
Netflix's "The Haunting of Hill House," inspired by the Shirley Jackson novel, fully captures the spirit (pun intended) of the season.
In a shift from the book, the series focuses on the Crain family, led by Hugh (Henry Thomas) and Liv (Carla Gugino), who had the misfortune of moving into the titular creaky, hundred-year-old mansion as part of their next flipping project.
Daughter Nell can't sleep because she insists she's being menaced at night by the Bent-Neck Lady. Her twin brother, Luke, can't sleep because he shares a bedroom with Nell, and she shrieks. A lot.
The Crains' time in Hill House is seen via flashbacks as a way of illustrating the traumas that have plagued the children well into adulthood and led to the family's splintering. Oldest brother Steven (Michiel Huisman, "Game of Thrones") has mined some of those tabloid-worthy terrors for his writing career, which was going nowhere until he penned "The Haunting of Hill House," his account of growing up in the most famous haunted house in America. Sisters Shirley (Elizabeth Reaser) and Theodora (Kate Siegel) remained close to the afterlife by living at a funeral parlor, while the twins have lingered near death thanks to a combination of the horrors they witnessed and some poor life choices.
Written and directed by Mike Flanagan ("Ouija: Origin of Evil," Netflix's "Gerald's Game"), "The Haunting of Hill House" practically oozes with gothic horror. Dread, foreboding and general creepiness lurk around every corner in ways seldom seen on television — at least not since Schmidt from "New Girl" got sucked into that bed during "American Horror Story: Hotel." Even Hill House's door knobs, which look as though they were acquired from the Ebenezer Scrooge estate sale, are eerie.
I don't handle horror well, but just watching the first episode late at night in a dark room on my laptop left me wanting more.
Hulu's "Light as a Feather," meanwhile, focuses on four popular high school girls celebrating their annual ritual of getting drunk in a cemetery before a Halloween party.
After one of them accidentally "Carries" the new girl (Haley Ramm) — covering her in a red, bloodlike goo as part of a locker prank gone bad — they invite her to join in their tradition.
She suggests they play the children's game Light as a Feather, Stiff as a Board, with the twist that she'll start the game off by telling each of the people being "lifted" how they'll die in gruesomely specific detail. Then the girls start dying exactly as she predicted.
And people wonder why nobody ever likes the new girl.
There isn't anything particularly scary about "Light as a Feather," which feels like someone chopped a too-long B movie into 10 pieces and called it a TV series.
If you're looking for some actual teen-centric spookiness, though, hold out for "The Chilling Adventures of Sabrina" (Oct. 26, Netflix). Developed as a "Riverdale" spinoff, "Sabrina" isn't quite as bonkers as that CW series, but it's close. And it's about as far removed from the Melissa Joan Hart sitcom as you can get.
Contact Christopher Lawrence at clawrence@reviewjournal.com or 702-380-4567. Follow @life_onthecouch on Twitter.