Past rears ugly head during 'Real World' reunion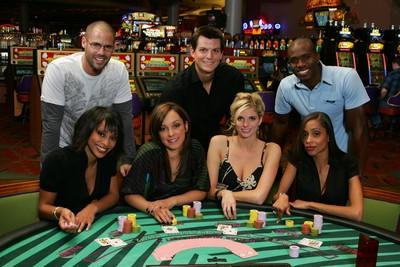 Five years ago, seven strangers were picked to live at the Palms and have their lives taped to find out what happens when people stop being polite and start getting real.
Real loud. Real drunk. And real slutty.
Now older — and hopefully wiser — Steven, Trishelle, Frank, Brynn, Alton, Arissa and Irulan recently moved back into their 28th floor suite for two weeks to tape the six-episode "Reunited: The Real World Vegas" (10 p.m. Wednesday, MTV).
It's the first time a cast of the long-running reality hit has been reassembled, and it's easy to see why the Las Vegas veterans were chosen. Theirs was the season when producers finally seemed to realize that they'd get more drama if they marinated their stars in booze, and it's hard to forget the bathtub threeway with Steven, Trishelle and Brynn that christened the suite.
With that in mind, not everyone was up for the reunion.
"I wasn't thrilled about doing it to be honest," says Steven, who always came across as Mark-Paul Gosselaar's naughty older brother. Frank, he says, was excited about the reunion, and his eagerness convinced Steven, who in turn swayed Trishelle. Eventually.
"I had reservations about editing," says Trishelle, adding that she's both "completely changed" and "a good person" now. "I'm a smart girl. I didn't want to be portrayed poorly again."
Say what you will about "Real World"-ers, but they're remarkably self-aware. Trishelle knows people see her as the girl whose Wikipedia entry reads like a Jackie Collins novel. And Steven, who acknowledges that he's an unsympathetic character, is just now living down his reputation as a player. "After the show," he says, "no nice girls would touch me with a 10-foot pole for years!"
As a result, both of them returned to Las Vegas looking for a little redemption. "I just wanted to make it, like, a positive experience," Trishelle says. "The first time was kind of crazy, and I thought that now that we're all adults, we might get to actually know each other better instead of just drinking all the time."
But once everyone moved back into the suite, there wasn't time to get to know each other — there wasn't even time to have a drink — before the past reared its ugly head.
"People really came back with unresolved issues that they felt was necessary to bring up in the first four hours we were there," Steven says. "There was almost a fight. It was amazing."
"I thought this was going to be the most boring show ever," he continues, adding that he was shocked by some of the arguments. "They could have made a whole season out of our two weeks."
For her part, Trishelle says she was expecting some tension between Alton and Irulan, who lived together for three years after the show. But she wasn't prepared for some of the other uncomfortable moments. "There were definitely some conflicts and some things that went on," she says. "And it was definitely more dramatic than I thought it would be."
Steven swears he wasn't looking for drama. He wasn't even looking for a party. For about the first 24 hours, anyway. Then, realizing he wasn't being allowed to leave the confines of the Palms — better known in some circles as the House That Steven and Trishelle's Pregnancy Scare Built — he figured he'd might as well drink. "We probably had $150,000 worth of bottle service in two weeks," he says, thanking George Maloof for his generosity. "I'm not even exaggerating."
It's kind of fitting, really. Alcohol and random sex were nothing new to "The Real World" — Ruthie almost drank herself to death in Hawaii, and I'm still not sure what went on that night in the shower in Miami — but the Las Vegas cast seemed to make those vices their own in a way that was almost endearing. Since then, other casts have tried to emulate them — while compiling rap sheets that would make the average NFL player blush — but it just hasn't felt the same.
Steven is more blunt. "We ruined 'The Real World,' " he volunteers.
"When 'The Real World' started," he says, remembering benchmarks like the activism of the late Pedro Zamora, "it was really something relevant. And now it's really not. It's the same thing over and over again. It's sex and drinking and fighting and stuff like that."
"I think the show is now dumbed down," he concludes, "and it's sad."
Christopher Lawrence's Life on the Couch column appears on Mondays. E-mail him at clawrence@reviewjournal.com.
CHRISTOPHER LAWRENCELIFE ON THE COUCH
SEE FOR YOURSELF
The cast of MTV's "Reunited: The Real World Vegas" will be at The Lounge at the Palms to watch Wednesday's premiere and will attend the after party in ghostbar. The public is invited to both events.
WHERE THEY ARE NOW
Trishelle Cannatella, 27, L.A. — acting ("Ninja Cheerleaders" comes out this summer), getting her real estate license, opening a bar on Friday
Steven Hill, 29, L.A. — attending college, personal trainer
Frank Roessler, 27, L.A. — attending graduate school
Alton Williams, 27, L.A. — writer, entrepreneur
Arissa Hill, 27, L.A. — global warming activist
Brynn Cain, 26, Portland, Ore. — dental assistant, married with two children
Irulan Wilson, 27, New York — photographer